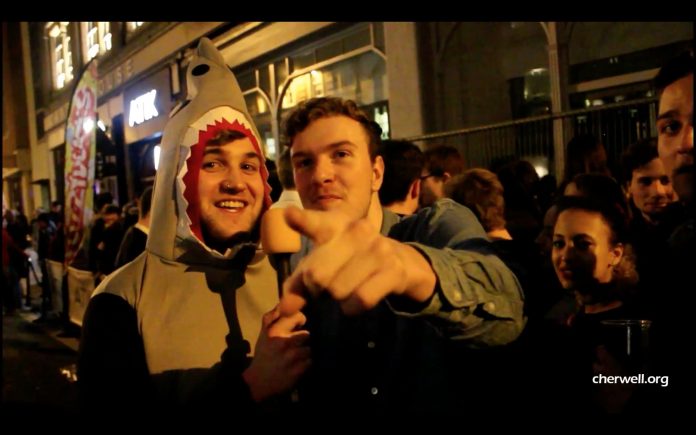 Chatting to a few of my tutors at subject dinner, I brought up my forays into student journalism, which this term led me to ambush drunk students in the street, asking them for an interview. I immediately realised that it would be horribly difficult to describe this to my tutors without swearing, referring to sex, or quoting any of the questions I had asked. This, in a nutshell, is 'Shark Tales': beautiful yet grotesque.
By far the strangest thing about presenting Shark Tales is that I never thought I'd be doing it in the first place. True to my hedonistic nature, I rocked up to the interview after a night out on roughly five hours sleep. Somehow, Cherwell's editors saw past this, were surprisingly charmed by my incoherent ramblings, and quickly caved in to my extravagant list of demands. Before I knew it, I was conversing with intoxicated revellers outside Park End in the freezing cold, wondering where it had all gone wrong.
During our first night of filming, one thing quickly became apparent to me and Jake: manners go a long way. Don't get me wrong, I love receiving unsolicited abuse from strangers while trying doing my job as much as the next person, but being straight up blanked by most people as if we were invisible was in some ways just as harsh. Shout out to all the gentlemen who responded with a polite 'no thank you, have a good evening' to our request for an interview; you're the real MVPs. All the bouncers at Park End and Bridge were lovely towards us as well—we have nothing but respect for them.
Among many students, there was a pervasive fear that I was standing outside a nightclub at 1am with the explicit intention of sabotaging their future careers. Coincidentally enough, a large proportion of such individuals were dressed in suits—although in a shocking, potentially job-destroying disregard for 'lad' protocol, they were not always wearing a suit jacket or a tie. I also noticed that they were dreadfully keen to utter the phrase 'internship' to me. I have a rebuttal to make against this allegation.
There are far more efficient ways to ruin your career than to have you drunkenly proclaim the majesty of hand jobs or clamour something mildly politically incorrect on film. I could plant drugs in your pidge. I could forge a note to your tutor in which you call them a cunt. I could even hack your social media accounts and spout a series of vitriolic, xenophobic, pro-fascist rants whilst simultaneously severing all of your friendships and connections. The point is, you haven't noticed me do any of these things to you yet. So why are you convinced I'm trying to sabotage you outside Park End? You're already sabotaging yourself going by into Park End­–my work's being done for me here.
Of those who did want to speak to us however, I want to use this opportunity to say that the majority of you were absolutely fantastic people. Schmoozing with some of you genuinely made my evening, and not even because you said something stupid or offensive – just by being you. It's obvious that for most of the either/or questions I forced upon you, there wasn't a right answer. Your willingness to take a stab at it anyway was nothing short of commendable. Your entertaining, refreshing, and organic responses amused Jake and me a lot—even if they didn't always make it into the final cut (curse you five minute runtimes). On a related note, I'd like to issue a warning to those appearing on Shark Tales in the future; if you're trying to be funny, you probably aren't.
Taking a more sombre tone now, staying out so late amidst the sea of intoxicated clubbers is akin to being a fly on the wall, a looking glass into another world. One thing my cameraman and I were repeatedly confronted with during filming was street harassment and sexism directed towards women – whether they were giving an interview, entering and leaving the club, or being looked after by a friend. It's a sad reality this endemic is still present.
Similarly, men pathetically attempting to prove their machismo by physically threatening me and/or Jake need to just quit. We didn't retaliate because we were holding expensive recording equipment that didn't belong to us. You didn't follow through with violence because you're all cowards, harnessing intimidation to gratify yourselves with some false feeling of dominance. To the trio of 30-somethings who yelled they'd have a drunk girl of Asian ethnicity 'fucking deported' and tried to intimidate Jake and I because she rejected their inappropriate advances, to the chubby, tiny ginger who got all up in my face (oddly enough, only when his friends tried to restrain him) because I asked him about grime music, to the absolute tosser who harassed and pushed us for half an hour, sabotaging several interviews: you are the worst kind of people.
However, this was but a blemish on my time working on the show. In one sense, it was therapeutic: my recent decision to reign in my bacchanal tendencies for the time being was in part motivated by the show. It's also provided a fantastic icebreaker in pretty much any social situation at university, particularly with individuals I've spoken to on camera. Working in a nightclub out of term time will certainly be a lot more boring now I can't ask drunk people whether they prefer savings bonds or bondage.
Despite having had a wonderful experience presenting, editing, and producing the show, I've declined the opportunity to present a second series of Shark Tales. Sadly, I doubt that my first-choice for the position Malala Yousafzai will be interested—such a vital, distinguished, high stakes web series isn't all that suited to a Nobel Peace Prize winner. Therefore, Cherwell will soon be holding auditions for a new host; if you're keen to become the fresh face of Shark Tales, be on the lookout for information – interviews will be taking place at the start of Trinity term!
Special thanks to my close friend Jake Solomon for agreeing to film, edit, and produce the show with me, Zack Schneider (pseudonym) for filling in for him for the final episode, and to Theo Davies-Lewis and Esme Ash for being simply amazing broadcast editors, helping us throughout the term and supporting us on this journey. I'd also like give thanks to Cherwell's erstwhile editors Manny Spring and Ellen Peirson-Hagger for choosing me to present the series.
If you're sitting there thinking, 'Oh shucks Sam, I can't cope without seeing you on my Facebook feed every week!', then fear not, for you can always check out my music, rap battles or blog.
Sam x