Comedy has been unexpected but welcome throughout the RSC's Rome season. Following on from the hilarity of Titus Andronicus, Angus Jackson's ultra-modern production of Coriolanus is similarly eager to engage the audience through humour. While this artistic decision may perhaps seem incongruous – Coriolanus is one of Shakespeare's most overtly political plays, with seemingly little opportunity for light relief – the cast's commitment to balancing light with dark is outstanding. When Coriolanus (Sope Dirisu) visits his enemy Aufidius, for example, the servants' humorous intonation diffuses what could otherwise be just yet another tense scene.
Similarly, it is interesting to see Aufidius' eventual acceptance of Coriolanus played for laughs. Rather than Aufidius' speech being delivered with its usual gravity and emphasis on the severity of their past battles, James Corrigan (Aufidius) instead chooses to deliver the lines about how "I have nightly […] dreamt of encounters between thyself and me; we have been down together in my sleep," in such a way that the audience is left not only giggling but also with a greater sense of the 'bromance' that briefly develops between the two. It's an unusual interpretation that really works – not only does it make Aufidius' ultimate betrayal all the more poignant, but moreover highlights beautifully how Shakespeare can be endlessly re-interpreted by each successive generation of actors and audiences.
The star of the show is Haydn Gwynne as Volumnia, Coriolanus' overbearing mother. Her characterisation is superb, clearly ambitious for her son but also showing the audience glimpses of frustration. As a fiercely intelligent woman in a society where she cannot rule in her own right, this is the natural interpretation of Shakespeare's character, but one which I have never seen portrayed with such overt exasperation before. Paul Jesson is a wonderfully grandfatherly Menenius, too, with just the right balance of eloquence and manipulation to define the character as an experienced political peacemaker.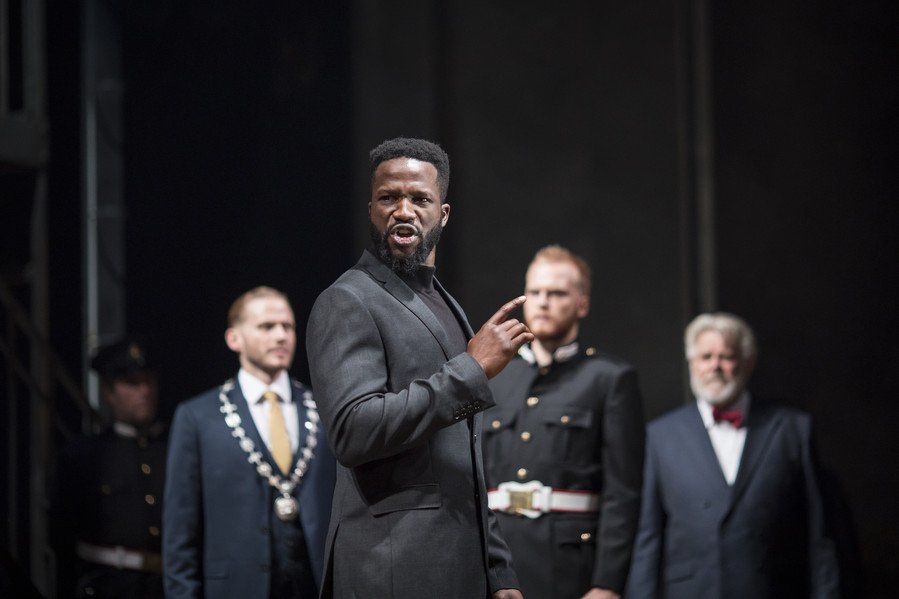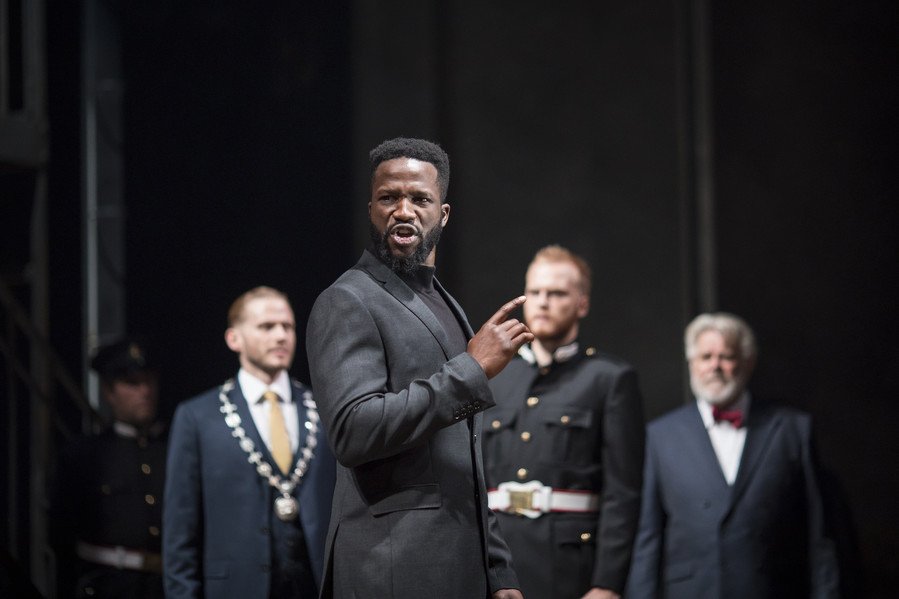 If anything, the characterisation of Coriolanus himself was slightly too sympathetic. While Sope Dirisu is certainly excellent in his portrayal of the warrior driven to and from power by his mother's ambition, he lacks some of the arrogance necessary to explain the character's disdain of the general populace.
Nevertheless, Dirisu and fight director Terry King must be commended for some extraordinarily compelling stage-fights; many modern productions offer more stylised interpretations of conflict, but the performances in Coriolanus are scarily believable and it seems possible that there will be bones broken by the end of the run!
A brutally minimalist set complements the war-torn setting of the play impeccably. Three enormous grill-style security shutters frame the back of the stage, with a thin curtain to distinguish between indoor and outdoor scenes. Diverse lighting effects are primarily responsible for setting the scene – lighting designer Richard Howell creates a consistent vision of a battle-scarred world in the near-future via a rich array of harsh back-lighting creating uniform patterns through the shutters, and descending metallic lamps give a sense of past splendour.
"The lighting creates a consistent vision of a battle-scarred world in the near-future"
While this does sometimes make the stage resemble an Argos advert, without it much of the setting would be lost. Soft lighting from above draws attention to a beautiful parquet floor to put the audience in mind of the corridors of municipal government buildings, while a later decision to shroud the stage in darkness with just a few patches of harsh white light upstage forces the audience's attention to Coriolanus as he strides in and out of shadow.
Overall, this compelling production has great potential and is sure to go from strength to strength as the run continues.
'Coriolanus' runs until October 14th in Stratford-upon-Avon, and will transfer to London from November 6th-18th.