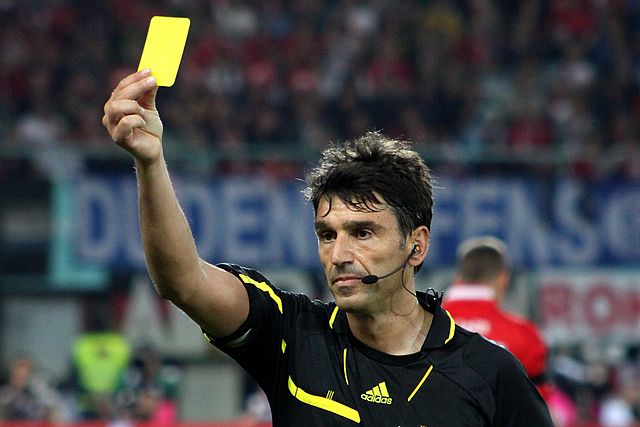 Football is a game consisting of two teams of eleven, but there is one person on the pitch that this description does not account for. The man in the middle, the thin black line between order and chaos, the most influential figure on the pitch – the referee. In the lightning-paced world of college football, where captains can forget to pay refs' fees and refs themselves can forget to turn up, sometimes the responsibility lands in your lap, and you'd better be ready when it does.
Although squad rotation means that they're not likely to ref more than a half per game, taking the black can present certain challenges for college footballers. Brought up on a diet of blood, sweat and tears, needing to adopt an unpassionate approach to a match is an extremely big ask for players, especially if they are asked to ref straight after being subbed off. Even the most mentally flexible players struggle to rise above the situation at the flick of a switch. While no respectable ambassador of the sport would officiate with deliberate bias, it is not easy to stifle the celebrations when their would-be teammates score, nor to forget that they're no longer marking a particular opponent and clear them out in a 50/50. Critics might accuse these players of indiscipline, but it is important to remember that being a referee is temporary; being a custodian of college pride is a lifetime responsibility. You can never blow the final whistle on your college.
This is a fact that many of the refs' would-be teammates tend to forget. When college footballers think with their hearts as well as their heads, as they are wont to do, their teammate-cum-ref is lost to them. Where once they saw a comrade in arms they now see only a malevolent watch and whistle. Flashes of vitriol may be directed the ref's way, especially if the match if finely poised, or worse, turning against their would-be team. However, their true nature as a fellow player affords the ref patience in these situations, and all is forgotten once the prodigal son returns to the fold at the end of the half. Alternatively, other players might always see the refas a teammate, to the point where they sometimes attempt to pass to them. To avoid such situations, some kind of distinctive clothing is advised. Past options have included but are not limited to a bib, a coat, and a scholar's gown.
Of course, challenges from former teammates are not the only ones that a hastily appointed referee has to face in a game. There is also the physical challenge. Imagine spending 70 minutes marauding up and down the left flank, running yourself into the ground for your team. Then, when you are eventually subbed off for a well-deserved rest, you find that you never even make it to the touchline. Instead, you're made to swap shirts with the previous ref and keep up with the game for another 20 minutes. It's a thankless task, but someone has to do it, you might well tell yourself as you struggle to mask your exhaustion. But why, you may add, does that someone have to be you?
---
For Cherwell, maintaining editorial independence is vital. We are run entirely by and for students. To ensure independence, we receive no funding from the University and are reliant on obtaining other income, such as advertisements. Due to the current global situation, such sources are being limited significantly and we anticipate a tough time ahead – for us and fellow student journalists across the country.
So, if you can, please consider donating. We really appreciate any support you're able to provide; it'll all go towards helping with our running costs. Even if you can't support us monetarily, please consider sharing articles with friends, families, colleagues - it all helps!
Thank you!