Oxford University is facing fierce criticism for fossil fuel exploration investments, following the revelations in the Paradise Papers earlier this week that showed Oxford has invested tens of millions in offshore funds.
A student protest calling on the University to "pay your taxes!" took place earlier this afternoon. Campaigners accused Oxford of "lying to its students, faculty, and the world".
Over 50 students gathered to protest against the University outside the Oxford University Endowment Management (OUem) headquarters. Following several speeches from protestors, including a Labour city councillor, they delivered a symbolic financial transparency form to OUem.
The protest was organised by third-year students Tom Zagoria and Lucas Bertholdi-Saad, both of whom are former co-chairs of Oxford University Labour Club (OULC). They were joined by representatives from Oxford University Climate Justice Campaign (OCJC), Oxford SU Campaign for Racial Awareness, and On Your Doorstep, as well as other students. 
Speaking to Cherwell during the protest, a representative from OCJC, Julia Peck, said: "Our separate movements – climate justice, racial equality and the Labour Party which represents a socialist vision for living together as a society – are looking for a university that does not act like a corporation but instead acts like the beacon of education social progress that it is supposed to be."
Peck added: "It was a really fantastic opportunity for different Oxford groups implicated in the newest revelations to come together and demand some transparency and, more importantly, a fundamentally different role in the University."
Bertholdi-Saad, one of the organisers, told Cherwell: "This is the start of a longer campaign. We really want to hammer home this message and bring this message through the common rooms, through the University democratic structures – those which still exist – and make sure that the change happens permanently."
The protest was organised following the publication of the Paradise Papers earlier this week which revealed revealed the Guardian had made investments in multiple offshore funds. Coller International Partners V – one of the University's two off-shore funds – invested $1bn in Shell.
Xtreme Coil, one of Shell's business partners, also received funding from Oxford. The firm specialises in "innovative and efficient drilling rigs". Other Shell ventures that received funding are invested in "production and exploration" technologies.
Over half of Oxford's colleges were found to have placed money in offshore funds. The full list includes All Souls, Brasenose, Christ Church, Corpus Christi, Exeter, Jesus, Lincoln, Magdalen, Merton, Nuffield, Queen's, Somerville, St Antony's, St Catherine's, Trinity, University, Wolfson, and Worcester.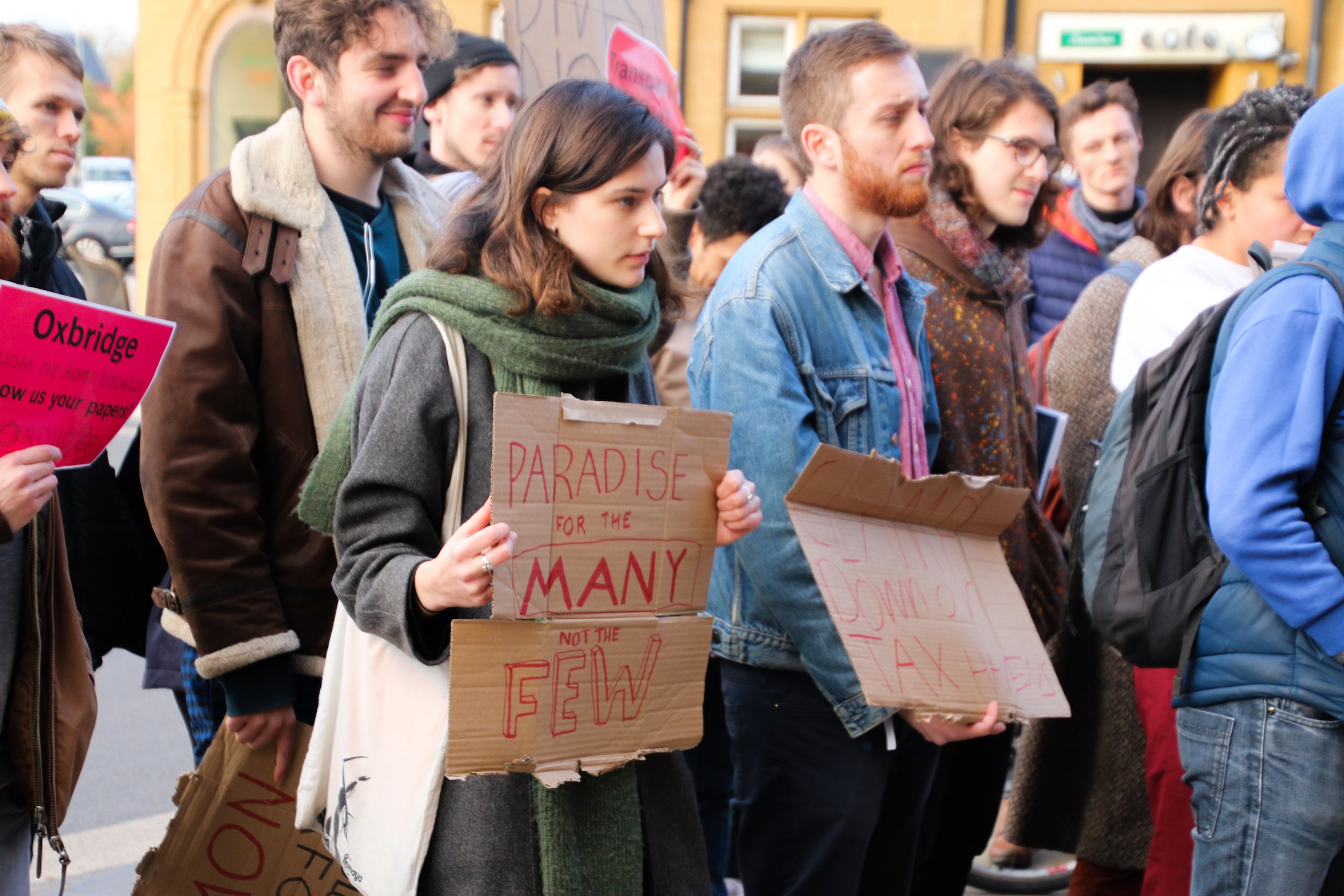 As part of the protest, organisers held a "teach-in" to educate those present about the meaning of these papers. Speeches were then given by the organisers, as well as representatives of the other campaigns, before the symbolic financial form was given to OUem.
A representative for On Your Doorstep, Alex Kumar, told the crowds: "This is a story about a university that can afford to invest tens of millions of pounds in offshore funds and deep-sea drilling, but cannot afford to invest in basic human dignity within its own city.
"It has become clear that it's down to us now to provide the University with the moral compass it has clearly been lacking."
The Paradise Papers revelations follow pressure for both Oxford and Cambridge to divest from fossil fuel companies.
In a statement earlier this week, OCJC sharply criticised the University, saying: "The Paradise Papers revelation is shocking and infuriating, but it is in line – unfortunately – with the current Oxford administration's practices of denial and obfuscation and the University's colonial, exploitative history."
Speaking to Cherwell before the protest, Zagoria and Bertholdi-Saad said: "It is disgraceful that the University has been pumping money into private equity partnerships based in tax havens, in order to invest in areas such as fossil fuels.
"These revelations are symptomatic of a system in which the wealthiest institutions can act with- out scrutiny and without regard to global inequality or the urgent need for climate justice."
The report also revealed that Jesus College and Magdalen College invested in another corporation – Dover Street – which has indirectly invested in controversial retailer BrightHouse. BrightHouse has been accused of selling electrical goods to people with learning disabilities at high interest rates.
Oxford SU, along with hundreds of academics from Oxford and Cambridge, have previously called on Oxford to divest from fossil fuels.
In a statement, Oxford University told Cherwell: "As charitable trusts, Oxford University's endowment is exempt from UK tax. The taxpayer therefore does not lose a penny from our investments. The investments generate some £80 million a year which is spent on key academic priorities in Oxford.
"These include the majority of our scholarships and bursaries for students, vital research across medicine, the sciences, social sciences and humanities and our globally outstanding teaching. That is £80m for UK education and research which the taxpayer does not have to fund."