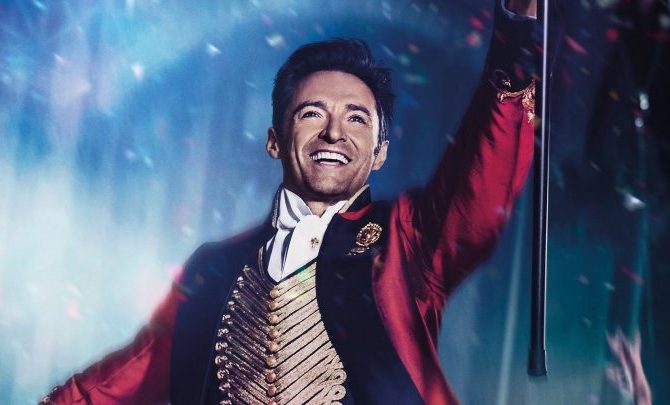 The Greatest Showman is a textbook example of Hollywood revisionism – taking a seedy historical story and drowning the cinematic retelling in enough saccharine feel-good gloss that it ceases to appear as problematic a story as it once did.
It tells the story of P.T. Barnum, a charlatan who created an enormously profitable business by parading a circus of unusual people before the masses, and turns it into a one-man showcase for Hugh Jackman to win himself a Golden Globe. Jackman is predictably fantastic, and well-supported by Zendaya, Zac Efron and newcomer Keala Settle. That should be all there is to say, right?
Unfortunately not. The Greatest Showman isn't just glossy – it's actively pointing its spotlights into the audience so they're blinded to the hollow centre of this subversively cynical venture. Michael Gracey is the film's first-time director, but he made his name directing commercials, and it really shows. The film is able to hold your attention in 30 second bursts, but even while it does that, you can feel the charade of what it's trying to sell you crumbling under its own artificiality.
The narrative the film is desperately trying to peddle is that Barnum was an uplifter of the downtrodden, a champion of diversity, providing opportunities to people who society had given up on.
While such a fairy story is patently untrue, completely rewriting the exploitative and harmful acts that the real-life Barnum made his fortune from, the worst thing the film does is absolutely fail to celebrate diversity even on its own hopelessly artificial terms. The supporting "oddities" in Barnum's circus are never fleshed out as individual characters, and even as a group are frequently sidelined in favour of Jackman's well-worn song and dance routines.
While the film likes to pretend that it's an equal-opportunities affair, it's telling that Gracey and Jackman's virtue-signalling ultimately serves to exploit the marginalised as Barnum did, using them when it suits the film's purposes and then sidelining the very people who were marginalised in real life.
Even ignoring the film's hollow virtue-signalling, its presentation is just shoddy. Forgettable music numbers are hampered by woefully incoherent editing, continuity errors pile on top of implausible leaps in logic, and the visual effects are as poor as the ugly and uninspired production design.
The film should be the cinematic equivalent of Chicago's "Razzle Dazzle": "Give 'em an act with lots of flash in it/And the reaction will be passionate […] How can they see with sequins in their eyes?" But in the case of this unfortunate critic, it was less Razzle Dazzle and more Hopeless Pocus.
---
For Cherwell, maintaining editorial independence is vital. We are run entirely by and for students. To ensure independence, we receive no funding from the University and are reliant on obtaining other income, such as advertisements. Due to the current global situation, such sources are being limited significantly and we anticipate a tough time ahead – for us and fellow student journalists across the country.
So, if you can, please consider donating. We really appreciate any support you're able to provide; it'll all go towards helping with our running costs. Even if you can't support us monetarily, please consider sharing articles with friends, families, colleagues - it all helps!
Thank you!