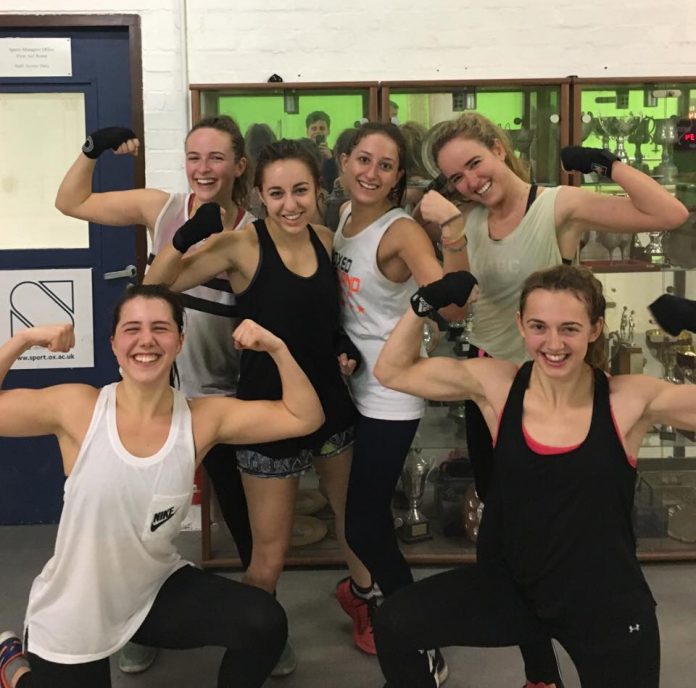 I spoke to Lydia Welham, captain of the University's women's boxing team on Sunday. Despite her seniority in the boxing set-up, her passion for the sport is a recent development, having only discovered boxing a little more than a year ago. She tagged along with a couple of friends to a training session, and was surprised by just how much she enjoyed it, and has never looked back since.
Countless training sessions later, the Oxford University Amateur Boxing Club (OUABC) is now preparing for their biggest term, with the Bucs championships (for the women), Town vs Gown, and Varsity all on the horizon. Many boxers come to Oxford with little or no experience, and their success is a testament to the ability of their coaching staff to produce such a quick turnaround. As Lydia herself said: "The advancement of women's boxing is a testament to Head Coach David Mace's expertise and commitment to training each boxer to achieve their highest potential."
It is also demonstrates the dedication of the boxers themselves. While I was struggling to shake off a post-bop hangover, Lydia had come straight from a training session. No Sunday morning lie-ins for the boxers. Training is everything. Although it is never possible to fully replicate the intensity of a real match, the combination of technique work, cardio, and sparring certainly comes close.
It's about more than simply throwing punches, as you have to work out your opponent's style as you fight, assessing your options while constantly keeping your defences up. You have to be thinking all the time, like in a chess match, but with much more immediacy. There's nothing quite like it. With the Bucs championships taking place over the first weekend of February, perhaps the tough training schedule is not surprising. The competition is divided into different weight categories, with universities from all over the country represented by one boxer per category.
Despite the relative lack of experience common among Oxford boxers, they have dominated the competition in recent times. This year's women's team will be hoping to maintain Oxford's status as the best in Britain for a fourth consecutive year. Despite this ongoing success, Varsity remains the primary focus, taking place at the end of Hilary. At Varsity level, men's boxing is more established, with matches across nine weight categories compared to three for the women last year, but women's boxing is on the rise.
Having only accepted their first female members 14 years ago, OUABC has become one of the most successful in the country, an achievement that Lydia believes has its roots in the club's inclusive atmosphere. Men and women train together, especially unusual for a club of over 100 members. The male boxers not only welcoming women into the club, but celebrating their success.
Their sense of community is integral – Lydia likens it to a family. Every year, around 20 of the most committed boxers, go away on a training camp together. With little opportunity for chat at regular training sessions, the active social calendar affords them the opportunity to build close relationships.
Moreover, leaving Oxford does not mean leaving boxing behind, as the club enjoys a strong alumnae network that has yielded funding for a new training gym and a new women's kit in recent times. Oxford's past boxers remain keen to support the club's future, and women's boxing is playing an increasingly prominent role in that future. Lydia is optimistic that this trend is set to continue.
---
For Cherwell, maintaining editorial independence is vital. We are run entirely by and for students. To ensure independence, we receive no funding from the University and are reliant on obtaining other income, such as advertisements. Due to the current global situation, such sources are being limited significantly and we anticipate a tough time ahead – for us and fellow student journalists across the country.
So, if you can, please consider donating. We really appreciate any support you're able to provide; it'll all go towards helping with our running costs. Even if you can't support us monetarily, please consider sharing articles with friends, families, colleagues - it all helps!
Thank you!