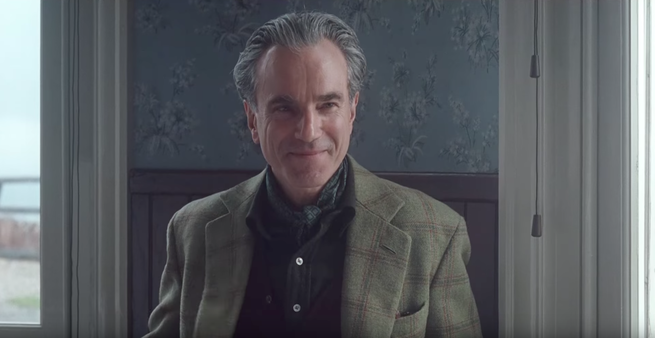 Phantom Thread is a quietly profound masterpiece. It is epic in its intimacy, able to make the darkest impulses of human nature exquisite, as confounding as it is profound, perfectly gilded with romantic flourish while never feigning perfection in its subjects.
That's a mess of contradictions to open a review, and it illustrates the difficulty anyone tasked with talking about this film has to contend with: how do you discuss something which is brilliant precisely because of what makes it ineffable?
The story follows Reynolds Woodcock (played by Daniel Day-Lewis, in ostensibly his final performance after announcing his retirement from acting), a couture dress designer in the 1950s. He is a genius at his craft, but he is also exacting and exasperating for those around him, such as his sister/business manager Cyril (the indomitable Leslie Manville), and his new muse Alma (Vicky Krieps).
To say much more about the story would be to spoil what makes Phantom Thread so intoxicating. It's written and directed by Paul Thomas Anderson, the auteur behind films such as There Will Be Blood and The Master which, much like Phantom Thread, deal with charismatic and powerful men and the ramifications of their personalities on those around them. But each film is as different from the others as they could be – There Will Be Blood is full of bluster and verve, The Master is cerebral and melancholy, while Phantom Thread conceals an intoxicatingly dark heart beneath a bewitching veneer of respectability. Phantom Thread also continues Anderson's well-established fascination with dysfunctional familial relationships, despite being, first and foremost, a scintillatingly drawn love story. The web of loyalties, knowledge and desires that Anderson weaves between his three principal leads (two of whom, Day-Lewis and Manville, have been recently Oscar-nominated) is thrillingly understated, and often surprisingly funny.
In a film where the performances are so well-rounded and all-encompassing, it can be easy to overlook the more backgrounded technical aspects of the filmmaking – or more accurately, it would be easy to overlook them if they weren't just as superlative as the performances. The editing is pitch-perfect, the cinematography spellbinding, and the costume and production design in a perfect harmony that is only outdone by Jonny Greenwood's sumptuous score (which has finally netted him the Oscar nomination he so richly deserves).
Over the Valentine's period, 50 Shades Freed will likely attract the most buzz, but you'd be doing yourself a disservice to overlook Phantom Thread. With a director in perfect control of such idiosyncratic material, Day-Lewis perhaps could not have chosen a better cinematic swan-song, and you owe it to yourself to bask in the sunset of his astonishing career.
---
For Cherwell, maintaining editorial independence is vital. We are run entirely by and for students. To ensure independence, we receive no funding from the University and are reliant on obtaining other income, such as advertisements. Due to the current global situation, such sources are being limited significantly and we anticipate a tough time ahead – for us and fellow student journalists across the country.
So, if you can, please consider donating. We really appreciate any support you're able to provide; it'll all go towards helping with our running costs. Even if you can't support us monetarily, please consider sharing articles with friends, families, colleagues - it all helps!
Thank you!