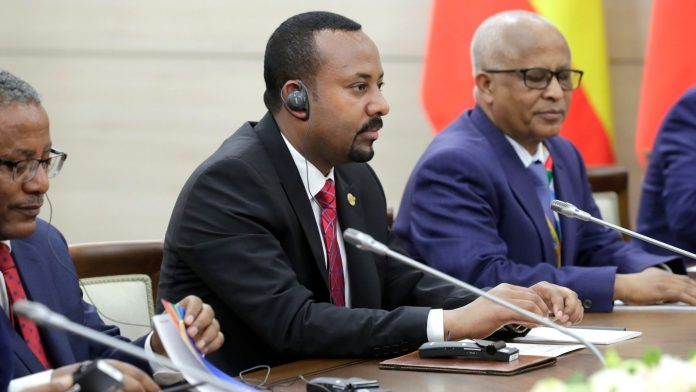 This year's Nobel peace prize was awarded to the Ethiopian Prime Minister Abiy Ahmed. In his eighteen months in office, Prime Minister Ahmed has torn down Ethiopia's old authoritarian regime through a series of liberal reforms. His domestic policy includes liberating thousands of political prisoners and the press, inviting exiles back to Ethiopia, removing a ban on political parties and promising free and fair elections in 2020. He's moved the economy towards free-market capitalism by opening up key sectors such as telecommunications, permitting foreign investment alongside an ambitious infrastructure program. The economy is set to expand by 9% in 2019 alone. What secured him the prestigious Nobel prize, however, was "his efforts to achieve peace and international cooperation" through the peace deal he negotiated with Eritrea in July of 2019. Their bitter two-year border war, which left between 70,000-100,000 dead, ended in 2000. But conflicts periodically erupted for years afterwards. This historic agreement thus marked the end of twenty years of military hostilities between the neighbouring nations.
Yet Prime Minister Ahmed's Nobel success has not been without criticism. Detractors argue his prize is premature. Despite his laudable achievements, they may be right. Ethiopia's liberal transformation, while necessary, has ignited ethnic-nationalism and inter-community violence which is threatening Ethiopia's political stability. An estimated 3 million people have been displaced from their homes. There are around 80 different ethno-linguistic groups in Ethiopia, currently divided between nine semi-autonomous states. Under the constitution, however, each ethnic community has the right to establish its own state. The previous government prohibited the different communities from doing so. While its rulings were oppressive, one is not hard pressed to see why eighty different states would be unfeasible, ungovernable and potentially dangerous deepening of ethnic divides. Yet with the political freedoms Prime Minister Ahmed has introduced, separatist groups have been able to voice old animosities and violently demand regional autonomy. The Prime Minister has so far failed to deal with such hostilities effectively.
Moreover, there is a growing fear that his peace agreement with Eritrea has not lived up to expectations. Directly following the agreement, the border was opened on September 2018, allowing families to reunite and diplomatic relations to strengthen. Since then, however, the land border has been closed again by Eritrea, likely due to the tens of thousands of refugees who fled Eritrea to escape poverty, indefinite conscription and human rights abuses. The repressive political situation in Eritrea remains steadfast after the agreement, with restricted freedoms of the press, speech, association and religion. This begs the question of whether the Nobel committee's decision to celebrate the peace agreement between the two countries has partly served to legitimise President Isaias' authoritarian rule. Although it must be said that it is no Mandela-de Klerk joint award, with the Nobel committee only acknowledging how President Afwerki "grasped" Ethiopia's outstretched hand.
Prime Minister Ahmed himself, however, has also started to show a capacity to permit repressive measures. With discontent rising after news broke of his Nobel success, authorities dismissed petitions for demonstrations to be held in Addis Ababa and did not waste time putting a civic clampdown into place. It was a worrying move from a Nobel peace laureate.
Yet the award was not bestowed upon him for being perfect. As the committee stated in its press release, "much work remains" in Ethiopia. His Nobel peace prize recognises both the great steps he has taken as well as encouraging the steps he still needs to take.
The peace deal may be signed, and there may be no active fighting, but it is vital Prime Minister Ahmed continues to put pressure on Eritrea to live up to its promises of an open border. Ethiopia should continue to engage in constructive dialogue with Eritrea, but Prime Minister Ahmed can now also use his newly-gained Nobel authority to encourage President Afwerki to reform Eritrea's authoritarian laws.
Most importantly, the Prime Minister cannot let up on the liberal reforms he put into place in Ethiopia. Lasting and peaceful foreign relations with Eritrea and other east-African nations depend on him successfully controlling the situation at home. To do so he must effectively deal with the growing threat of ethno-nationalism. In 2020 he faces his biggest challenge in this respect: elections. He will be up against strong challenges by nationalist parties such as the Oromo Liberation Front and the Tigray People's Liberation Front. How he deals with different demands from these groups before the elections will be crucial to his success. He must stay committed to his belief in his philosophy of 'Medemer' (togetherness). Navigating the nationalist's desire for the creation of autonomous states, while avoiding the dangerous ethnic divisions this could create, will be a precarious tight-rope walk. His best chance is to keep nationalist opponents included in discussion and decision making, as well as both allowing and controlling legitimate political protest.
Success can quickly go to a leader's head: Nobel esteem and the £900,000 that comes with it even more so. President Abiy take note of the warning implicit in the Nobel committee's statement that "many challenges remain unsolved" within Ethiopia: to live up to his prize he must now go out and solve them.
---
For Cherwell, maintaining editorial independence is vital. We are run entirely by and for students. To ensure independence, we receive no funding from the University and are reliant on obtaining other income, such as advertisements. Due to the current global situation, such sources are being limited significantly and we anticipate a tough time ahead – for us and fellow student journalists across the country.
So, if you can, please consider donating. We really appreciate any support you're able to provide; it'll all go towards helping with our running costs. Even if you can't support us monetarily, please consider sharing articles with friends, families, colleagues - it all helps!
Thank you!