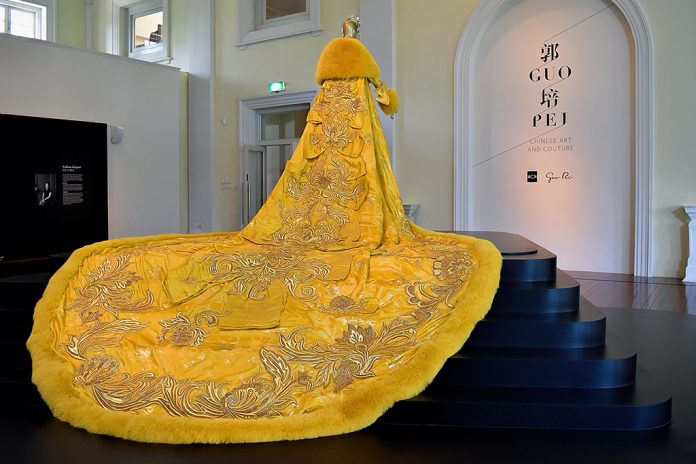 Remember the 2015 Met Gala, when Rihanna wore that yellow dress, the fifty-five-pound empress's cape which fluttered across the red carpet and left the Wintour congregation starry-eyed? Or perhaps you know of the domed golden gown, the Da Jing, that featured in the Metropolitan Museum of Arts' 'China: Through the Looking Glass' exhibit. Well, this embroidered regal whirlpool pulsating with heritage and artisanship leaves one name on the lips of every onlooker: Guo Pei. Yet, despite her designs being shown at Paris Fashion Week, her creative army of 300 embroiderers and 200 designers in mainland China, and the generous spread of awards in her workshop, Rose Studio, Pei has had to overcome definite hurdles.
In an interview with the Wall Street Journal, Pei recalls an international media interview that she gave twenty years ago, and how she was told not to introduce herself as a Chinese designer but 'just a designer'. When she showcased her work alongside Chanel and Dior at Paris Fashion Week, she was only the second Chinese artist to do so. She also tells the Journal that while she was growing up around the time of the Cultural Revolution in the 1960s, fashion designers were thought to be seamstresses in China, and that 'no-one knew that clothes were supposed to be designed'.
Meanwhile, Pei has just showcased one of her most captivating collections: Fall 2019 'Alternate Universe'. Magically spun from a sustainable pineapple hemp fabric, the show doesn't fail to show typical Pei opulence, with creations such as the Siamese-twin Marie Antoinette dress and the final piece, the sunburst flower-wall dress, which took seven years to complete.
We can see that in the face of adversity, Pei continues to flourish. Talking about the flurry of omelet memes of Rihanna's dress, for instance, she smiles at the Wall Street Journal camera and laughs, glowing with admiration at 'how these people can be so creative'. Essential to her work is preserving Chinese heritage; her embroidery has a strong link with the past Chinese royal family. To Pei, the inheritance of intangible cultural heritage is akin to blood lineage, and the strength of this reflection in her work is why she will only continue to power forward in the fashion world.
---
For Cherwell, maintaining editorial independence is vital. We are run entirely by and for students. To ensure independence, we receive no funding from the University and are reliant on obtaining other income, such as advertisements. Due to the current global situation, such sources are being limited significantly and we anticipate a tough time ahead – for us and fellow student journalists across the country.
So, if you can, please consider donating. We really appreciate any support you're able to provide; it'll all go towards helping with our running costs. Even if you can't support us monetarily, please consider sharing articles with friends, families, colleagues - it all helps!
Thank you!