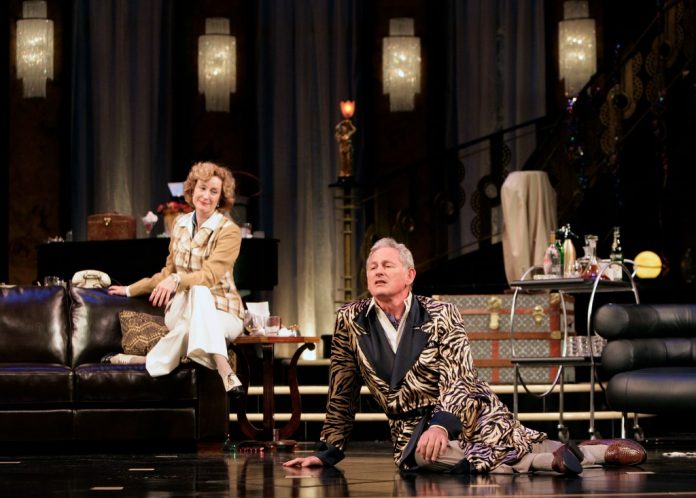 Present Laughter, a 1942 play by Noël Coward, recounts the days leading up to the departure of Gary Essendine, an actor, for his tour in Africa. Before he can leave, however, Gary finds himself caught in a very complex web of relationships, drawing in but not limited to his estranged wife, work associates and a string of admirers. Needless to say that this leads to a series of comical and ridiculous events.
When commenting on the actors themselves, each and every one was visibly rooted in their character and as a result, delivered very convincing performances. Gary (Octavia de Clare), a self pitying bon viveur, captivates the audience with her high spirited and energetic performance. Liz (Imogen Front) and Monica (Elise Busset) are the level headed, stabilising forces in Gary's life, striking a healthy balance with the animated Gary on stage. Unknowing Henry (Ben Morris), panicky Morris (Abigail Howe) and the 'predatory' Joanna (Robyn King) add an interesting dimension to the play through their complicated relationship. One cannot gloss over Gary's 'sassy' servants, Miss Erikson (Ben Morris) and Fred (Justin Kendall), who do not shy away from pointing out their employer's insecurities and putting in their two cents on the situations Gary finds himself in. The persistent Daphne (Imogen Stracham) and Mr Roland Maule (Luke Richardson) can also be relied on for endless entertainment, in their relentless pursuit of Gary (as well as a certain character's 'unique' laugh). Through the characters' silly antics and witty quips, there was never a dull moment in the play!
The props and costume departments put a considerable effort into emulating the 1940s, creating a very rich yet not crowded set. From the rotary dial telephone (which plays a key role in the play) to the chic dresses, the 1940s were very accurately depicted. Intricate details like matching the shade of an actor's lipstick to that of her shoes created an overall aesthetic experience and personally, did not go unappreciated. What I found to be interesting was how the stage extended to the seating area, establishing a connection between us and the characters, drawing us deeper into Gary's many dilemmas; in fact, before the play even opened, Daphne lay sleeping before us, setting the scene. Lighting and sound effects were kept simple and minimalistic, leaving little space for error and led to the smooth running of the play.
Overall,Present Laughter was a delight to watch, not only because of the clever script or the brilliant performance by the actors but because of the evident attention to detail. Therefore, if you are looking to have a good laugh coupled with quality theatre, don't miss out on Present Laughter.
---
For Cherwell, maintaining editorial independence is vital. We are run entirely by and for students. To ensure independence, we receive no funding from the University and are reliant on obtaining other income, such as advertisements. Due to the current global situation, such sources are being limited significantly and we anticipate a tough time ahead – for us and fellow student journalists across the country.
So, if you can, please consider donating. We really appreciate any support you're able to provide; it'll all go towards helping with our running costs. Even if you can't support us monetarily, please consider sharing articles with friends, families, colleagues - it all helps!
Thank you!