I've been using lockdown to hone my cooking skills. More than once I have had a pot on the hob during a tutorial. Towards the end of term, one bemused classmate demanded, 'Izzy what's that awful noise!' as I was clattering pans and shutting drawers. I thought I was on mute. And while I've been baking, cooking, grilling and frying my way through these long lockdown days, there's one creation that I've returned to time and again – the galette. No, not the savoury cousin of the crêpe – though oozing with cheese, wilted spinach, and perhaps some mushrooms, I would highly recommend this Breton speciality – on the table today is a somewhat ersatz, rustic, rough-and-ready tart. With no complex techniques, weird gadgets, or tricksy flan rings, yet sufficiently impressive, this is the perfect party piece for any time of year.

So, you're stuck indoors, probably still in pyjamas even though it's three in the afternoon, and cooking seems like the ideal form of productive procrastination. How to begin?

For the pastry

Pastry has a bad reputation for being very difficult to get right, something best left to the professionals. Not true. Here is a foolproof recipe, adapted from Serious Eats – after trying several pastry recipes and many adjustments, I've found this to be the tastiest and most reliable version.

Ingredients

120g all purpose flour
A generous pinch of salt
120g butter, cut into cm cubes, fridge cold
60ml water, freezer cold
Method

Combine flour with the salt in a medium mixing bowl. Add the cold butter and toss to combine, so each cube is covered in flour. Smush the butter flat, but do not rub in! This is really important. Stir in the water with a spoon and knead only until the pastry forms a ball. Wrap in cling film and put in the fridge for ten minutes.

Flour a surface and roll out the pastry into a rectangle about 25cm x 40cm. In your imagination, divide the dough into four lengthwise. Fold the two outer quarters over the middle two quarters. Then, as though you were shutting a book, close the two sides together. You should have a long thin rectangle. Fold one third into the middle, then the other third. Into the fridge again!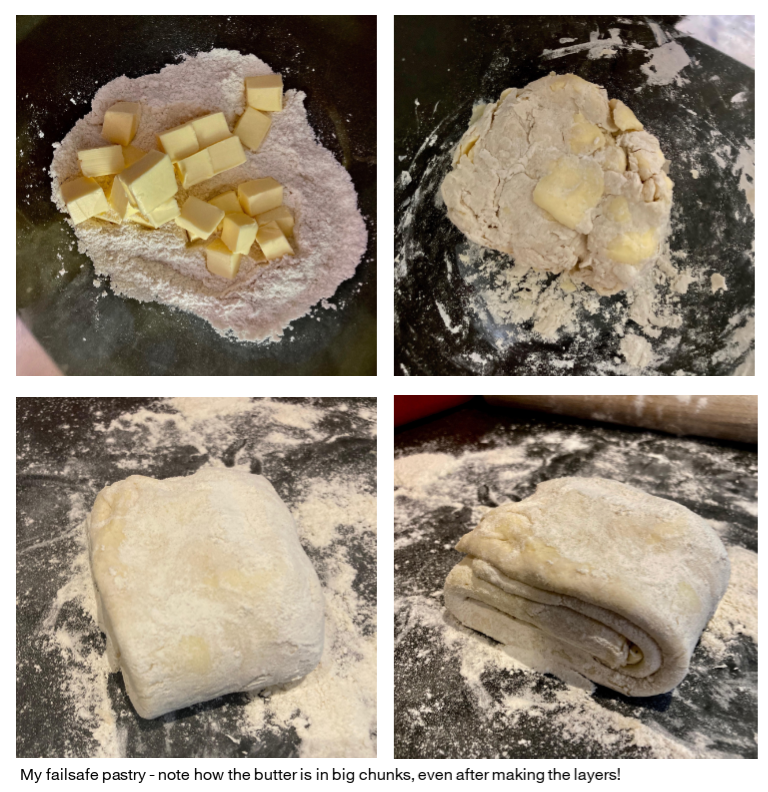 After another ten minutes, take the pastry out of the fridge and roll it out into a big circle on a well-floured surface. Don't worry if it's uneven, that is part of the charm! Transfer onto a baking tray, cover with cling film and put this in the fridge for at least two hours.

For the filling

And so to the filling! There is no one recipe for this part – it really depends on what's in season and what you have in the fridge, making it the perfect lockdown recipe. Some sad-looking onions sitting in a corner, a tonne of tomatoes on the turn, a bunch of asparagus if you're lucky, and hey presto, you've got the makings of a delicious pie filling. Or should that be hey pesto?! More on that later…

Pick two or three vegetables. Of course there are some classic combinations (mushroom and leek, for instance) but really anything goes! Onions are nice caramelised in a big saucepan, tomatoes love a good roasting in the oven, watery vegetables like spinach or mushrooms should be sautéed until the water has been cooked off. Once prepared, allow your filling to cool down.

Construction

Preheat your oven to 175°C fan, then get ready for some speedy galette construction! To ensure the butter in the pastry doesn't melt, pre-prepare all your toppings and keep them to hand. If you're using cheese, grate it (cheddar or gruyere) or slice it (goat or mozzarella). Break an egg into a bowl and whisk, ready with a pastry brush if you have one.

Once refrigerated for the full two hours, take your pastry circle out of the fridge. This is where the pesto comes in. Spread a thin layer in the middle of the pastry, leaving a two-inch border around the edge. Alternatively, for an onion or tomato filling, mustard would make a good substitute for the pesto. Then, working quickly, layer your filling on top. Again, this doesn't have to be precise, although I like to have two layers of cheese, one in the middle and one on the very top. When all the filling has been used up, fold the edges of the galette over the filling, brush the pastry with egg (adding a sprinkle of parmesan, if you feel like it!) and put it into the oven.

Bake for 25 minutes, or until the pastry is golden; place a foil cap over it to prevent burning. After another ten minutes or so, take it out of the oven with a flourish, and marvel that you've made something so gorgeous! One galette feeds my family (four of us) and is perfect with a side salad.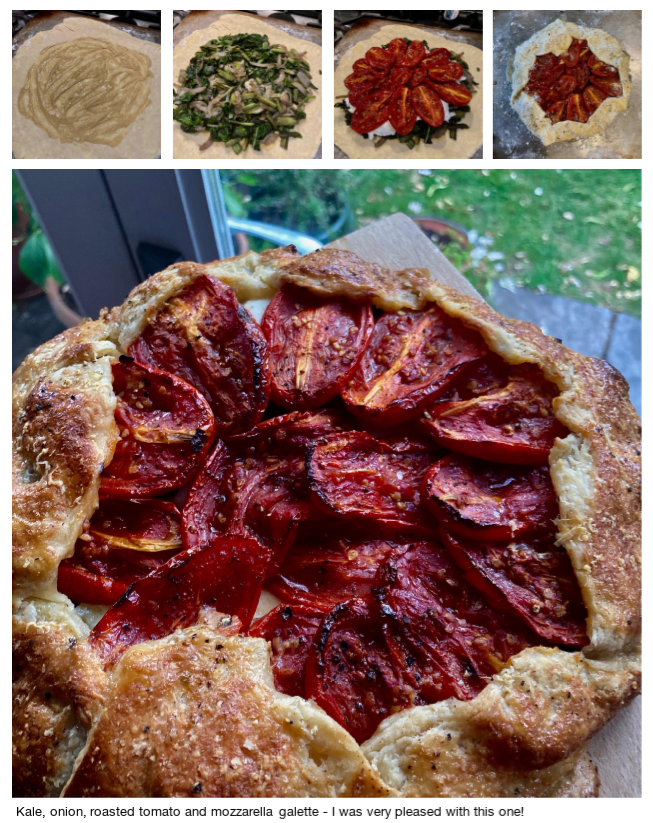 So that's it! I promised it was simple and I really hope you will give it a go. A galette is also highly adaptable. If you feel like spicing things up a bit, roast some sweet potato, squash, or pumpkin with a bit of cumin, ginger, or even chilli powder. A Provençal take may feature rosemary, thyme, and oregano-roasted tomatoes. If you're a pie fanatic, why not make double the pastry and fill the second circle with fruit? Strawberries, peaches, plums, blackberries, blueberries and rhubarb would all work wonderfully. A sprinkle of demerara sugar just before the galette goes into the oven creates a glorious golden effect.

Here are some websites to look at for further inspiration. There are also vegan and gluten-free versions, so keep an eye out for those if you're interested. Finally, subscribe to #greens_and_grains for more delicious dishes and colourful creations!

https://food52.com/blog/11538-how-to-make-any-savory-galette-without-a-recipe
https://www.seriouseats.com/2019/05/how-to-make-savory-vegetable-galettes.html
https://tasty.co/article/hannahloewentheil/sweet-and-savory-galette-recipes
https://www.bonappetit.com/recipes/slideshow/galette-recipes
https://www.brit.co/savory-galette-recipes
Images via Isobel Saunders