An update from Oxford Social Impact, 28/04/2021:
After the publication of this article, we became aware of two main concerns which we would like to address:
Clarifying the views of organisations we were inspired by, 80,000 Hours and Effective Altruism.
Providing a more balanced view of consulting.
Despite being inspired by the work of 80,000 Hours and Effective Altruism, we have no affiliation to either. We would never wish to misrepresent their views on topics such as careers in consulting and their opinions can be found here. 80,000 Hours does not include consulting in their current list of priority career paths.
In this interview we talk about consulting as our upcoming Social Impact Programme is at the core of what we offer – pro bono consulting for nonprofit organisations.
We have presented consulting positively, but we recognise that this does not reflect the full breadth of opinions. A quick Google search will return controversies surrounding various management consulting firms, and it's important to evaluate this before deciding on a career in consulting, or any other career for that matter.
As a full-time consultant, you will be paid to spend the majority of your time working for corporate clients who are primarily concerned with increasing efficiency and profit. For example, consultants may recommend downsizing or reducing wages to cut costs. This has a negative social impact and can further issues such as socio-economic inequality.
While a consultant may wish to bring socially impactful decisions to the table or work exclusively on pro bono projects for nonprofit clients – this is not always possible, especially early in one's career.
We hosted speaker events to talk about impact investing and pro bono consulting in Hilary. We recognise that many corporate organisations have had their share of controversies in the past, but we support organisations taking steps to increase their social impact without endorsing everything they do or have done.
Moving forward, we are continuing to place an emphasis on promoting positively impactful nonprofits with a reliable track record. We conducted our Social Impact Programme with an organisation providing grants to refugee-led organisations in sub-Saharan Africa in MT20. It is one of our priorities to give organisations such as these a platform to speak at Oxford, as well as continuing to work on similar projects.
Oxford Social Impact is a society founded in 2020 by Oxford students Alfie Bullus, Scott Hextall, Naa Odoley Ntodi, Henry Grandage, and Conor O'Sullivan. As part of our Society Spotlight series, we spoke to two of the founders, Hextall and Grandage, about what exactly OSI is, what it offers students, and how it can achieve a wider social positive impact.
What is OSI?
Oxford Social Impact is a new society for students who are interested in social impact! While trying to avoid using too many clichés, social impact can mean wanting to improve the communities and lives of others. As a society, we're hosting career and speaker events to talk about social impact work, as well as offering unique research and insights into global issues. 
This Hilary, we hosted BlackRock to talk about achieving impact by mapping financial investments to the UN's Sustainable Development Goals. Similarly, we also hosted Boston Consulting Group (BCG) to talk about their work with the Rwandan Government to tackle malnutrition.
We used to think that social impact work could only be found in your usual nonprofits, NGOs, and charities. However, we realised that we couldn't be more wrong about this. Whether you're interested in finance, marketing, or law, there are always opportunities to make a difference. This is why we're so keen to host events from these organisations and other inspirational speakers, to talk about the wide range of social impact opportunities that are available, no matter the industry or career.
Our other aim is to be an advocate for social change through our OSI Insights. Being an advocate starts with being aware and learning about an issue. Whether it's understanding the representation of women in politics around the world, or learning about the growing deficit in humanitarian aid funding around the world, both can be heavy topics to read about. Through unique visuals, graphs, and infographics, we've been able to capture brief summaries of these global issues. These are our 'Insights' – storytelling empowered by data.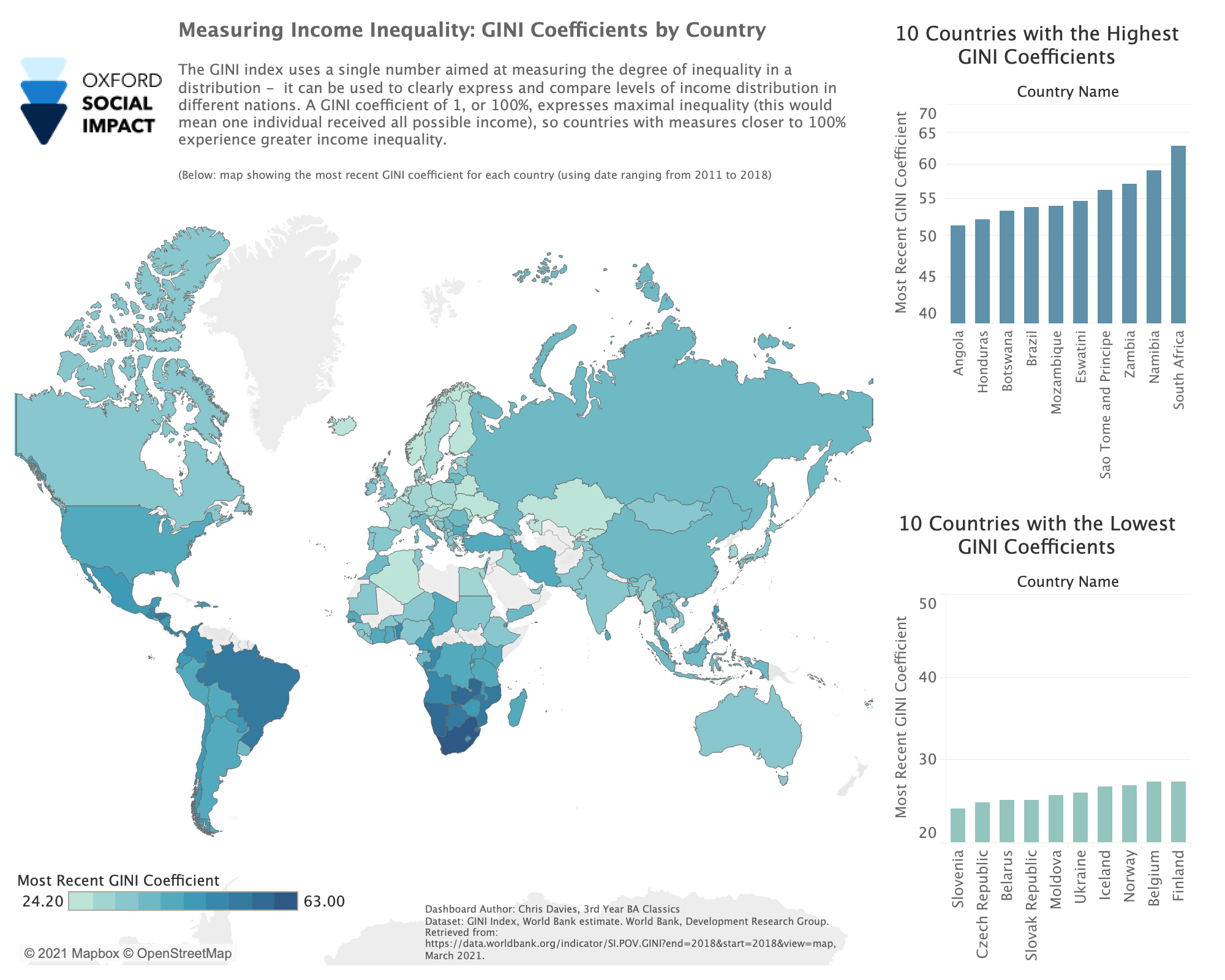 What inspired you to start OSI?
We were inspired to start Oxford Social Impact by the Effective Altruism movement and the book 80,000 Hours. Effective Altruism is a philosophy about determining the most effective ways for an individual to improve the lives of others, while 80,000 Hours is a book about having the largest positive social impact via your career. There is a large global Effective Altruism community and even a local group at Oxford. We'd highly recommend checking them out on Facebook to learn more! 80,000 Hours was written by two Oxford DPhil students and informs the reader of high impact careers available to students, backed by research and studies from Oxford academics. As a society, we've decided to explore a similar area by focusing on popular careers among Oxford students, providing our members with information about the social impact opportunities available within them.
What is consulting?
Consulting involves providing expertise on a topic to a client. Clients can range from the UK Government to large corporations like Google and Apple.
Students at Oxford who may not have any particular expertise, often go into strategy consulting at firms such as McKinsey and BCG. There, you'll be influencing client decisions that will affect their future, and sometimes the rest of the world. For example, Microsoft just announced that they will be carbon negative by 2030. This decarbonisation strategy is difficult to implement, so they may hire a consulting firm like BCG to help them make the decisions needed to achieve their goals.
As a society, we'll soon be offering a termly Social Impact Programme from Michaelmas onwards. This is an opportunity for students to work with nonprofits on unique and interesting 6 week projects, where they'll be able to get a taste of what consulting is like, while also working for organisations that help others!
What are some concerns people have about the field?
There are three concerns that people often have about consulting:
High pressure and poor work-life balance.

Frequent travel from Monday to Thursday every week is common.

Not having enough expertise/knowledge to be a true 'consultant'.
The first two concerns are often true, unfortunately! This means that consultants usually only stay for 2-4 years before leaving, often to work at an ex-client. The third concern often doesn't matter – it's usually expected if you're an undergrad. It instead means that you'll learn a lot by working for clients across a wide range of industries to build your expertise and knowledge. Therefore, consulting is a great opportunity for someone unsure about what they want to do after University.
How can consultancy be used for a positive social impact?
Consultancy gives you the power to influence decisions at the highest levels of management within governments and organisations. A consultant can make sure that positive social impact is an important factor at the forefront of the decision-making table. 
As a direct example of positive social impact, BCG consultants worked with the Rwandan Government to tackle malnutrition and stunting which affected 35% of their youth population – nearly 590,000 children. They worked with locals in the Kabagago Village, Nyabihu, to identify the main causes of stunting. They then provided awareness training and workshops for community health workers, mothers, and village leaders, and scaled the solutions that showed results in this village, to other Rwandan villages. They've seen incredible continued progress, even after finishing the project, showing that their work is having an enormous positive social impact on these Rwandan communities.
As a society, we recently worked with a US-based charity that gave small grants ($5,000- 10,000 USD) to refugee-led organisations in Southern Chad, Malawi, and Uganda. Over 8 weeks, a team of five of us researched and interviewed other grant-making charities, to understand who they are, how they operate, and their transparency methods. This led to us connecting our client with other organisations working in a similar space to promote teamwork and knowledge sharing, while also presenting our findings on how our client could learn from them to improve their own grant-making process and transparency.
What are some potential career options that students can pursue if they are interested in the field, but don't want to be a "corporate sellout?"
Working for a non profit or a charity requires all the same skills as working in a corporate role, and can be far more rewarding. Other options may be doing research, or working for the government, where your field of influence is enormous. Many corporate firms get involved in social impact, so it is possible to make a difference regardless of where you end up.
Who can get involved in OSI, and how?
Everyone can! We are looking for people from all backgrounds who can offer their own unique insight and expertise. Whether you are a graphic designer, want to get involved in research and coding, or want to improve your marketing skills, there is a role here for you. Getting involved in consulting societies like OSI is an excellent experience to make your CV stand out. Working in a society that conducts in-depth, analytical work is a skill that is invaluable to whatever career you decide to follow. Currently, OSI offers talks from individuals in leading firms such as BCG, but with a focus on their work in social impact. Soon, our Social Impact Programme will give you the opportunity to work as a consultant with a client-facing a real problem, looking for your advice.
Art by Katie Sanchez.