CW: abortion.
Several Oxford political societies, groups, and other students have condemned Oxford Students for Life's stall at the Freshers Fair. Oxford Students for Life are an anti-abortion society that claims to "seek to promote a culture of life at the university".
This comes as students at the University of Exeter complained about a similar society, Exeter Students for Life, for also having a stall at Exeter's freshers' fair. Over 5000 have signed a petition calling for their removal from the fair. Exeter University's Student Guild stated that "debate and deliberation shouldn't be suppressed" in response to calls for the society to be shut down.
The Oxford Students for Life have previously had stalls present at past freshers' fairs. The society is registered with The Proctors' Office at Oxford.
Oxford Feminist Society stated on their social media pages that they take a "firm stance against the pro-life organisations being promoted at the SU Fresher's Fair".
The society added: "The stalls' ideology is a threat to the safety, health and autonomy of women*. The reproductive policy of the SU to 'support the rights to choose' and to 'campaign and extend students rights of practical access to an abortion and extend rights of choice over pregnancy' are undermined by having an anti-abortion stall."
Holly Stapleton, the Class and Women´s rep at the SU told Cherwell: "It is uncomfortable, and hard seeing them there. It's quite in your face and uncomfortable, and I want to reiterate that we are pro-choice."
In response to criticism, the President of Oxford Students for Life, Anna Fleisher, told Cherwell: "Like most student societies of the University, we use the SU Freshers Fair to promote our mission and events. We are a secular, non-sectarian society, seeking to promote culture of life at the University and beyond, by fostering discussion and education on beginning and end of life ethical issues like abortion and euthanasia, from a pro-life perspective.
"As someone who describes herself as a pro-life feminist, I believe promoting discussion and serious reflection on issues like abortion which affect women so profoundly is not only deeply worthwhile but necessary."
The JCR welfare reps at Teddy Hall, Gregory Halliwell and Katie Long, stated in an open letter to the SU: "We are deeply troubled by the presence of an anti-abortion society at the SU Freshers Fair. I hope you will not give this society a similar platform in the future."
In a joint statement, LGBTQ+ SU Campaign and LGBTQSoc told Cherwell: "We as a campaign wholeheartedly support the rights of women and other people with uteruses to make their own decisions about their reproductive health. We stand in solidarity with all those affected by abortion bans and other attempts to infringe upon reproductive rights.
"These efforts are rooted in misogyny and a denial of bodily autonomy, both of which we condemn. Bodily autonomy is a central value of LGBTQ+ community and a key goal of our campaign."
Freshers at the fair itself were critical. Ash, a first-year at LMH said: "I don´t think that a society that seeks to repress the reproductive rights of half the population should be allowed to be given a platform like that."
A student who wished to stay anonymous said: "[This is] triggering for survivors of rape and sexual assault, who had no choice at all, and were then confronted in this manner"
Some of the University's student political societies also commented on the stall. The Co-Chair of Oxford University Labour Society, Oliver Boyland, told Cherwell: "I don't see why they have a platform here at the Freshers' Fair. Obviously, their views are pretty abhorrent, probably quite triggering so it does seem questionable that they are being supported."
Angus Parker, the President of Oxford University Liberal Democrats, told Cherwell: "We support the society's freedom of assembly and speech, but it is not appropriate for such unwelcoming rhetoric to appear at an event that is meant to be inclusive to all students."
In a statement, Oxford University Student Union said: "Oxford SU has a current and live policy on supporting reproductive justice which was voted in by Student Council. This represents the views of Oxford SU on reproductive rights, as well as that of the student body. Oxford SU is unequivocally pro-choice and supports all people's right to make their own decisions regarding their bodies.
"We believe that no one should have to see their fundamental rights being up for debate, and for that, we apologise.
"We understand, and to some extent anticipated, the emotive responses and frustrations towards the presence of an anti-abortion stall at the Freshers' Fair. The stalls present represent only their own views, and not necessarily those of the SU, and the Students' Union has no say over the creation and existence of student societies. Societies are registered and approved by the Proctor's Office and we are not a part of this process.
"Oxford SU also has to adhere to the University Freedom of Speech regulations which we are mandated to follow. This is especially the case for events hosted on University-owned sites, like University Parks. We hope this goes some way to explain the presence of this stall at this year's fair, as well as every year before.
However, Oxford SU has to stand with and for its students. As an organisation, we want to learn from this to ensure that this policy does not overshadow our commitment to student mandates and welfare.
"We understand student concerns and have linked our complaints and scrutiny procedures… We would also encourage any students who are concerned with the University's and Government's stance on freedom of speech to get in touch with either Oxford SU or the University directly."
On the second day of the Freshers' Fair, a group of protesting students took down the stall and put the contents in a black bin. They were stopped by security, and refused to leave until they were sufficiently assured the stalls would not be reinstated. As of 13:47, the stall was running again.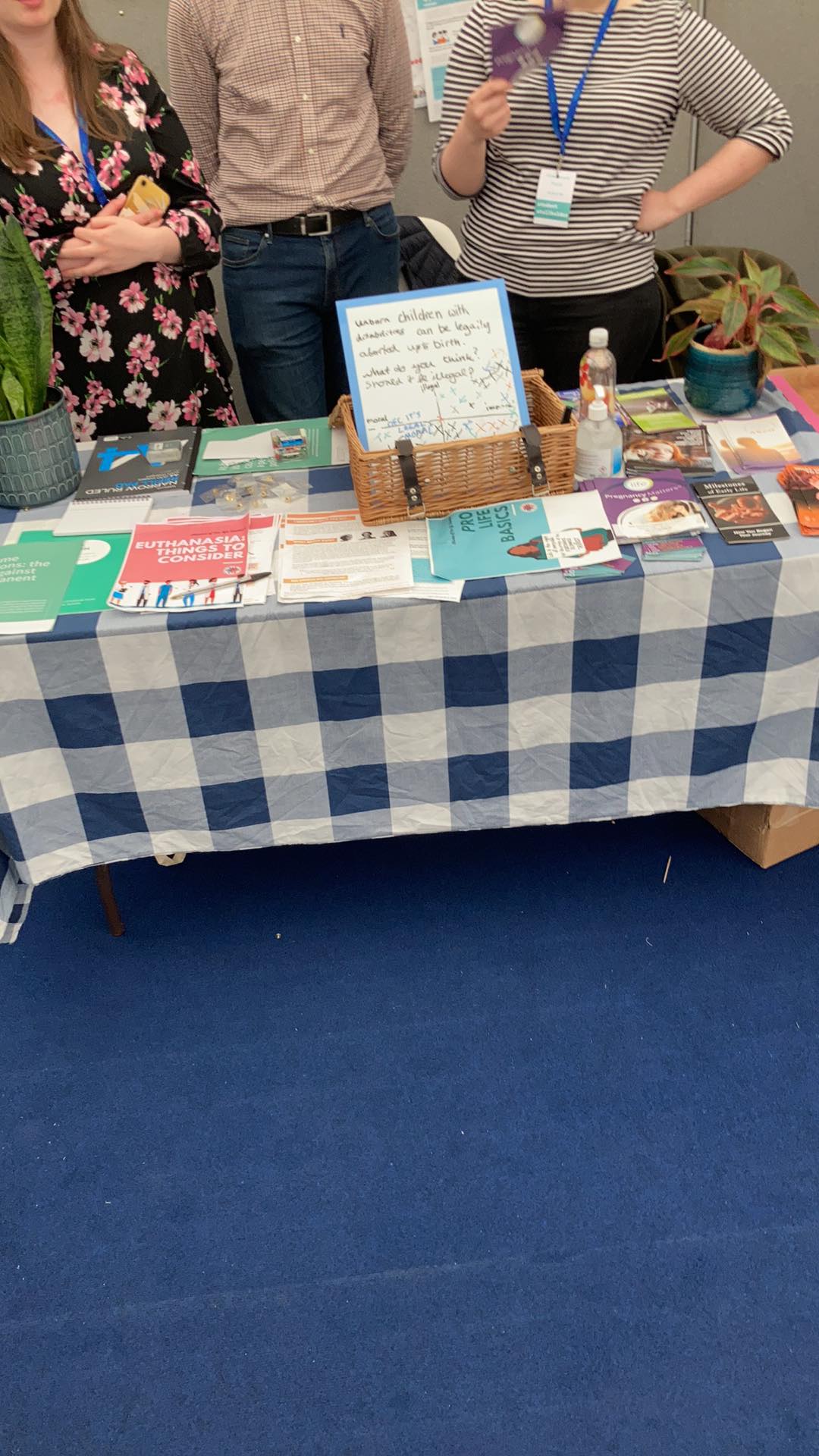 For confidential advice or support, you can visit the Livewell Oxfordshire- British Pregnancy Advisory Support website , or call their telephone line on 03457 30 40 30, open 24 hours a week.
Image: Pieter Garicano
14:54, October 7th: This article was updated to include updates to the Oxford University Student Union's statement.
22:37, October 7th: The second image in this article was replaced to better display the stall's contents and protect individuals who were not members of the Oxford Students for Life committee.