Oxford 78-71 Brookes
The thing with writing about uni sport is that basically nobody was at the match, and the responsibility falls on me to take you through the motions of what happened. But the score hangs unapologetically above these words, and the story seems pre-told: a narrow victory over Brookes. There were probably some moments where it was close and some moments where Oxford pulled away and it was dramatic till the end and everyone was pleased and we all lived happily ever after. Annoyingly, this is exactly how it was.
But put aside your narrative templates for the moment and come down to Iffley Road. It's the second league game of the season and the Blues are warming up to play their biggest rivals in a division where, historically, to get promoted, you need to win close to all your matches. As a spectator, you join me on the unwelcomingly hard school-hall benches by the entrance to the court. The Brookes benches have a decent smattering of supporters, our benches a bit less so. I try and extract some information from the warm-ups. The Brookes players look a bit bigger, a bit more imposing. Oxford seems to be getting in a few more threes than before the last match. Nothing jumps out at me, and the game tips off.
The game tips off and this time, I'm determined to understand things a bit more. Immediately, the match seems faster paced than last week. There is more movement and slicker passes. Everyone just seems a bit more on the ball. Yet the scoreboard is barely changing. Every attack seems to be thwarted at the last moment.
Last week, I said that drives on a fast transition, i.e. running up to the basket before the opposition gets back in defence, are "quite straightforward". But this requires correction, because although Oxford keep getting the ball quickly up the court, the opposition are are also quickly getting back to defend. These fast counters generally end with one offensive player streaking towards the hoop, and one defensive player streaking after him, and one player jumps and the other player flies, and everyone else looks on. At this point, only one player can succeed. Either the shooter manages to manoeuvre the ball over/around the defender, or, alternatively, the defender blocks it, the shooter falls to the floor, and the opposition subs are on their feet, cheering.
This first quarter is characterised by a lot of this defensive cheering, and not much else. It ends 12-7. And still, nothing quite has jumped out at me. The play has been higher quality than last week but there's not been much drama, and characters have not yet emerged. Though Oxford are ahead, it's not an indication of who's going to win this game, because this game hasn't really begun.
The players walk back onto the court and someone on the bench near me crows at Orin Varley, the captain, and star player from last week, "hey Orin, you know you've got to get it in the basket, right?" Orin smiles in a please-shut-up kind of way and the second quarter begins. Straight away, Orin is driving, gets past one, gets past two, but is blocked. Soon after, Charalampos (Harry) Kokkalis, a Blues player always with a particularly serious expression on his face, is driving, gets to the hoop and whips the ball out wide, flying off the court in the process. This drive-and-pass tactic is one Jamie, the coach, has been trying to encourage. Eventually, the move leads to a three, and Oxford have built up a lead. It's 17-9. The engine of the game seems to just now be lightly rumbling, the gears starting to turn.
There's a free throw—the unimpeded shot(s) you get when you've been fouled. Free throws have this mysterious power to cast silence over the room. There's no passes to call for, or positioning to be organised, so everyone just watches and waits. But through the silence, the Brookes coach, a bearded guy in a t-shirt and khakis, calls out plaintively to his players "give me some good defence now please". And for the next couple minutes, Oxford fails to score, and Brookes come back, and it's 17-17. There are four minutes to go. The gears are turning a bit faster.
Josh Soifer comes on. I hadn't realised he had been off for so long. He'd got into foul trouble early in the match, so Jamie had saved him and now it seems it's time. Josh is a bit of a beast. He's a 6'5" Canadian with one of the more powerful builds on the team. As his first action, he fails to score a two but gets it in on the rebound. It's unclear to me how certain players consistently get rebounds when these situations look to me like a crush of people with no clear way to negotiate them, but Josh tells me you just get the knack for it, so I guess that's fair enough. Where the ball's going to go, how to react to the different directions players come from: it's all so quick, you just get a sense for it. And the height and strength help too.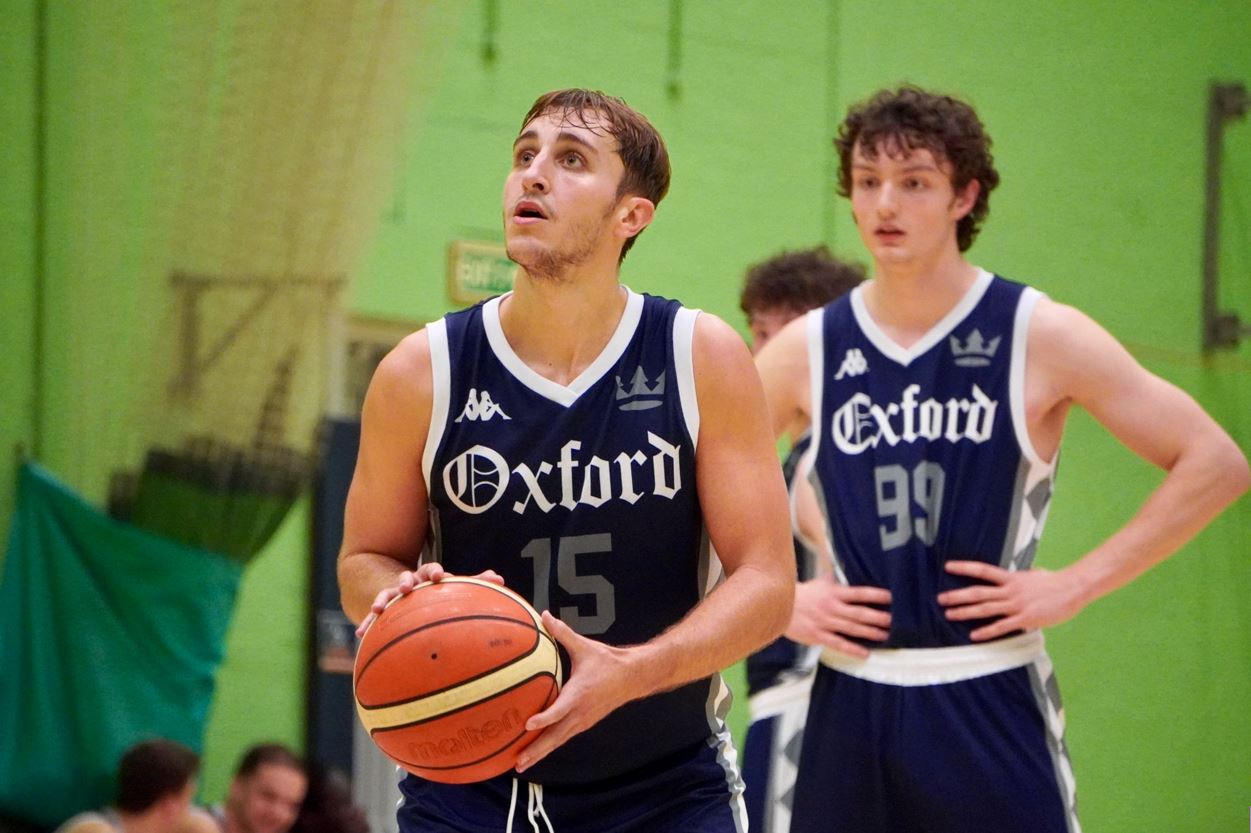 Orin scores a big three. Our critic on the bench shouts "finally!". Alex Koukouravas, a first-year grad with professional BBL experience and a clearly high basketball IQ, hits a massive three straight after. Oxford are in the lead again. And now they've transitioned fast, and flying towards the hoop, but it's not straightforward, it's blocked, and Brookes go mental, and I'm writing notes so fast. Brookes hit a three. Orin misses a three. Brookes get a two. Oxford miss. Another two for Brookes. Another two for Brookes. Harry gets a foul. He misses both free throws. The buzzer goes. It's half time, and it's 27-29.
The game just exploded, as if that slow-scoring opening was compressing energy that had to be released. Everyone on the benches is looking around at each other. In professional sport, the notability of a moment is confirmed through texts from friends and through social media. The instances take on greater significance because they are filmed and shared and commented on. But here, there is nothing to consecrate the moment. And it's not that it was so unbelievable. It's just that it was noteworthy, yet only lives on in the words I've written here. And the story is only a story because the moments live on and add up to something in memory and in ink.
The Blues come out for the third quarter. They're two down. Everybody gets back in their hard, wooden seats and watches a ten-minute masterclass. Akin Akinlabi, a player who seems to have some leadership qualities, who is the guy who shouts 'hu-stle!' in between the shouts of 'defence' when on the bench, hits a big three. Soifer links up with Sam Ajakaiye—6'6", though not very intimidating—to produce a great two. Down the other end, Sam blocks, and it falls to Orin who hits another three (another shout of "finally, Orin!").
The Brookes coach is back to shouting about better defence, but this time it doesn't work. And Alex is having the quarter of his life. As Jamie says later, it seemed like every shot he went for was guaranteed to go in from the moment the ball left his hands, especially 'shots off the bounce' (i.e. some dribbling and then a shot). As the quarter closes, one of the more belligerent Brookes players shoots a successful three from a mile out and lifts his hands in the air like 'is that enough for you?' but it's not enough because it's 63-50, and the buzzer goes.
The Oxford players lumber over to their bench. As Jamie praises them, they have that exhausted but satisfied expression that comes from success under pressure. As much as training and team socials can do, there's nothing as good for bonding as a big collective effort in circumstances that require it. They've bonded in the same way that you do with people you do a big hike with, or who you go through an essay crisis with. There's an understanding and appreciation built that does not need to be stated.
In some way, it feels like I've just seen the A-team, the Oxford Blues at their best. Yet this isn't the A-team. Akin is not fully a starter. Sam has been third-choice in his position up to this point—his two superiors are both ill. But Akin's put in one of his best performances. And Sam has really seized the opportunity. And Alex is serving up shots to remember—he ends the game on 25 points. And Josh S is in full power mode. And Orin, though not getting that many points, has been defending Brookes' best player without really getting any rest breaks. And still, Orin, along with Akin and Josh S get 'double doubles', i.e. they get double figures in both points and rebounds.
So many individual performances. And the players are competing with each other for those precious game minutes. But in this moment, at the end of the third quarter, they're all just happy for each other, and talking about the shots, and the blocks, and they're deeply held together, as a team.
When I look back on my notes, I'm surprised how tight it got towards the end. I didn't remember that with 2:22 to go, there were only three points in it—it was 70-67. I think that spell in the third quarter just made me trust the team. There was some sense of inevitability. Throughout the match, Brookes were only ever ahead by two or three points. They just were not as good. And though it ended with only a 7-point margin, the way Oxford closed out the game, especially the last 40 seconds, with confidence and calm, makes me pretty optimistic about the next match against these rivals.
The game ended 78-71, and as I said at the beginning, it panned out pretty much in the way that score suggests it did. But as I also hope to have demonstrated, the predictable story is still worth telling because, forgive the earnestness, the power of sport is to be a reliable producer of drama and characters and narrative arc. The game was tepid and understated until that explosion at the end of the first half. But that outburst seemed almost inevitable because the game had a plot to unveil.
And now you've met Orin, and Josh, and Alex, and Akin, and Sam, and there are many more players for you to meet—they just have to prove they're worth meeting. A patchwork of moments produced a rollercoaster between drawing and winning, and the job of the players, as we look forward to the next game and games in future weeks, is to insert themselves into that patchwork, and, I guess from their point of view, to make it less of a rollercoaster. From a narrative perspective though, I say keep the rollercoasters coming.
Image Credit: Oxford University Basketball Club.