On Tuesday 26th October, a local rendition of a global child displacement story unfolded in Oxford as crowds packed the streets to participate in 'The Walk', a public performance centered on 'Little Amal', a 3.5-metre Syrian refugee girl in giant, mobile puppet form.
The Walk, spearheaded by Good Chance Theatre, draws together local stories and artistic expressions to depict the experiences of unaccompanied refugee children around the world. After travelling more than 5,000 miles and making stops in villages, towns, and cities across Europe, Little Amal was first greeted by a jovial crowd outside Oxford Botanic Garden before she ventured inside to meet a giant puppet of Lewis Carroll's Alice, provided by the Story Museum, Lead Producer of Amal's journey in Oxford.
In the Botanic Garden performance, the Red Queen, one of Alice's key nemeses, angrily scattered Amal's memories across Oxford after interrogating her and demanding to search her bag. The two girls were compelled to search the city for the lost memories, making stops along High Street, Broad Street, Cornmarket Street, and Christ Church Meadow.
The narrative for Amal and Alice's meeting was penned by Syrian author and illustrator Nadine Kaadan and commissioned by the Story Museum, with creative direction by Jeremy James. Kaadan gathered material for Amal's memories through a collective effort, by running a workshop with refugee women from Syria, Iraq, and Palestine living in Oxford.
The idea of Amal carrying a 'bag of memories' was inspired by stories from Kaadan's refugee friends, whose journeys in dinghy boats and through refugee camps permitted precious little luggage. "One of my friends packed USB disks with as many memories as possible from his laptop," Kaadan recalls. "Your bag is empty, but it's actually so heavy with so many memories, culture, and tradition that you're bringing with you."
Kaadan, who looks back on Amal's visit as "one of the most overwhelming moments of [her] life", enthused about the participation of Oxford locals, noting especially how many local refugees had contributed to and engaged with Amal, including many from her homeland. "The beauty of it," she reflects, "is the community of Oxford coming together to create the event, rather than [it being] a tokenistic thing made by elitist artists."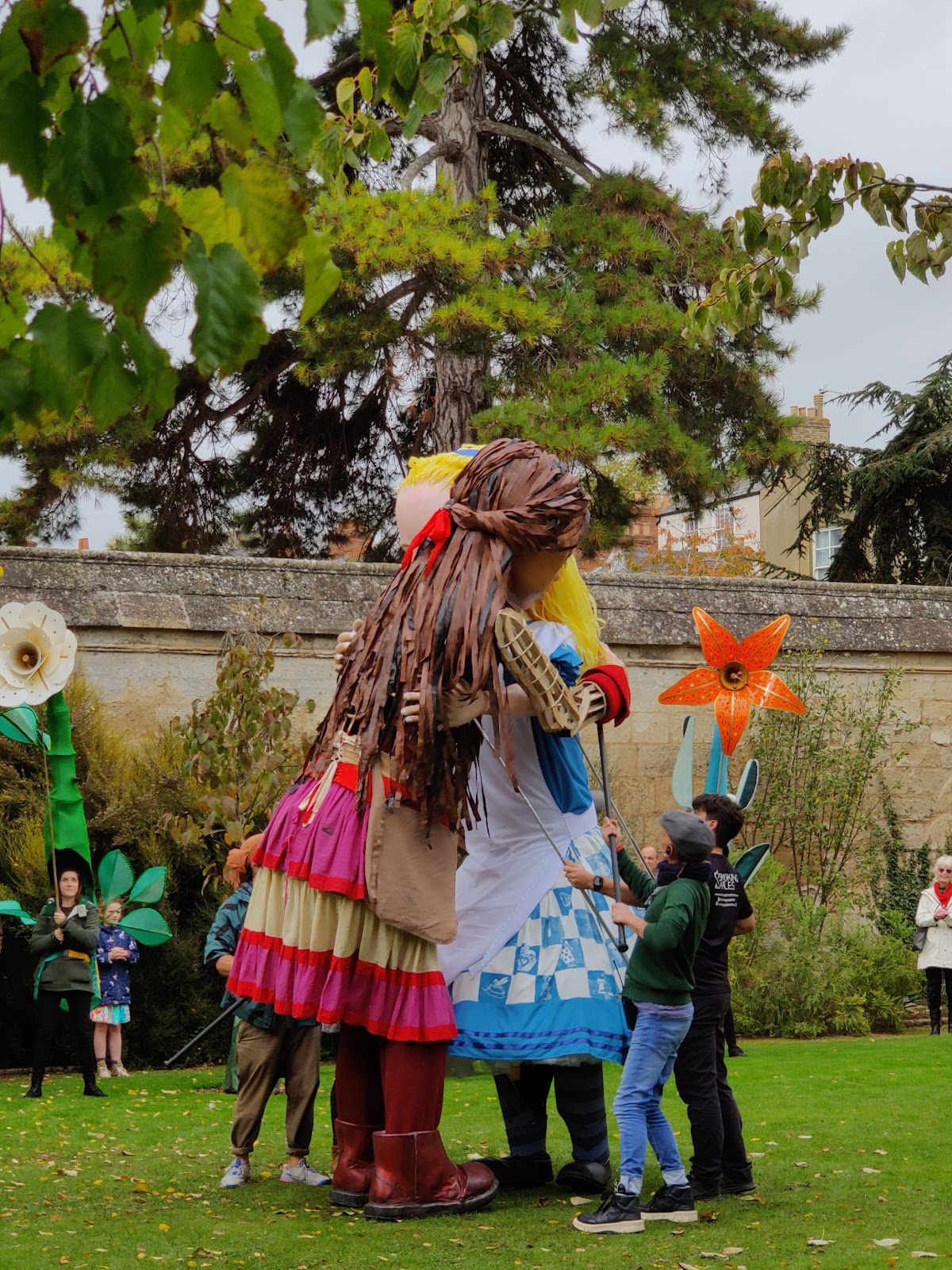 Artistic, emotional, and political expression sprung up in response to Amal's visit, with Oxford organisations, groups, and members of the general public weaving song, dance, protest, and other activities into the tapestry of the parade. Participants held small handmade puppets of Amal, created in workshops run by women's community group Iraqi Women Art and War. On High Street, Amal relived her pre-war memories of after-school football by playing with children from the Rose Hill Youth Football Club. As she entered Christ Church Meadow, she was greeted by pupils from local schools and members of the public singing a Song of Welcome, composed by Holly Khan, Story Museum resident artist.
Throughout the afternoon, Oxford community street band Horns of Plenty followed in the footsteps of Amal and Alice in a lively, jazz-infused procession. They were joined by the Red Queen, giant flower puppets, and young dancers who portrayed roles from the Red Queen's minions to Amal's childhood friends injured in the Syrian war. "If we could play at something like this every day, it would be heaven," said Andrew, a trumpet player in the band, making a chef's kiss gesture.
Touches of Syrian and Levantine culture peppered the path of Amal's search for her lost memories. Outside the Botanic Garden, Amal gifted a floral collared dress to Alice, which represented the new dress her mother had given her on the first day of Eid. In front of Weston Library, she opened a giant bilingual book that included illustrations of Amal, Alice, and the Clock of Homs, an iconic landmark of Homs, a city destroyed in the Syrian Civil War. In Merton Fields, the festive crowd shared stuffed grape leaves and other food common in the Levant region, as instructors from the Oxford Dabke group rallied people to dance the dabke, a Levantine folk dance, against the colourful backdrop of banners saying "Welcome" in multiple languages.
"[These memories] empower refugees and remind everyone that they don't have anything on their back, but they have so much more behind them with their memory and culture," says Kaadan.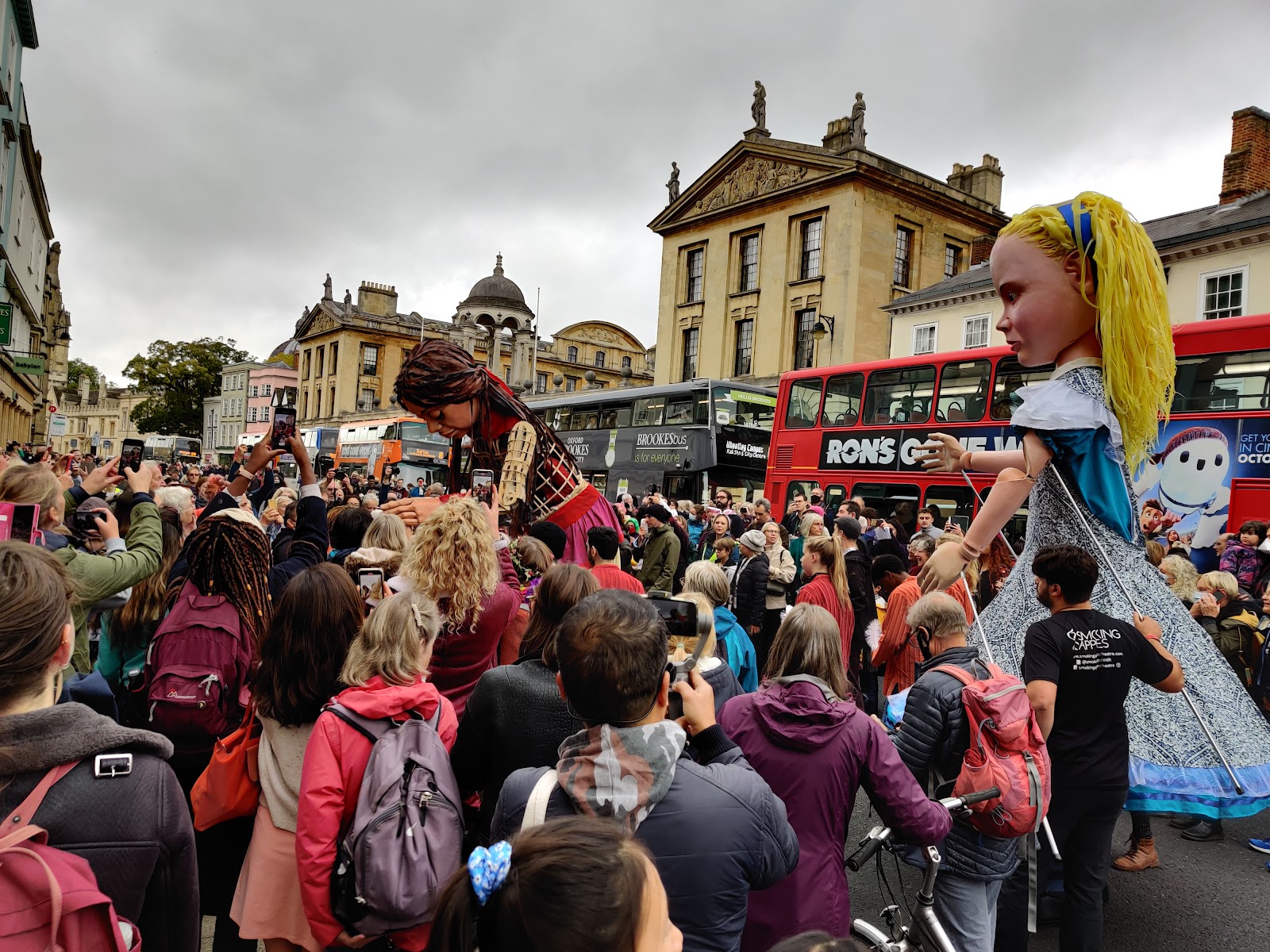 Amal inspired many moments of emotional connection throughout the walk. Before entering the Botanic Garden, she paused to interact with parents and children lining Magdalen Bridge, extending a hand to those who did not have tickets to the performance in the Garden. In the middle of High Street, she bowed her head evocatively to greet a woman using a wheelchair. Lizzie, a drama practitioner in the procession, recalled the moment.
"One thing that made me cry was when the puppeteers were able to spot the woman, and Amal just stopped. I just went, 'Oh!' I had seen her just before, and she was a bit nervous and anxious that she wasn't able to see – the crowd was moving so fast she couldn't get anywhere else. That was so sweet."
Political expression also appeared throughout the event. In the Botanic Garden performance, the Red Queen echoed real-life xenophobic and anti-refugee rhetoric with exclamations such as "You're the wrong colour!" and "Go back to wherever you came from!" Oxford Against Immigration Detention (OAID) protested at the gates to Christ Church Meadow, with signs that proclaimed 'Migrant Lives Matter' and 'Reunite Refugee Families'.
Local politicians and leaders in support of refugee causes were heartened by Oxford's response to Amal, including Edward Mundy, City Councillor for Holywell, and Tom Fletcher, Principal of Hertford College, University of Oxford.
"This is a very big crowd," remarked Councillor Mundy. "It shows that people here care about refugees. They wouldn't want legislation that would discriminate against refugees or make them lose their rights to cross borders. If there is a war here, we have the right to seek asylum in France or a neighbouring country. We can't take that away from people."
Fletcher, who served as British Ambassador to Lebanon when the country hosted 1 million refugees, says that the University and the Oxford community need to "turn this sense of solidarity and compassion [in the Walk] into hard, practical support" in the form of "initiatives to support security, justice and opportunity for refugees". He urged refugee access programmes "at all points of the academic pipeline", "research that has a practical impact on security, justice, and opportunity for refugee communities", and advocacy using Oxford's "powerful voice".
One such programme extending the impact of Amal's visit has been the 'Beyond Amal' educational initiative, a collaboration between the Story Museum and Asylum Welcome which trains participants in storytelling and communication skills that they can bring to workplaces.
Kadaan also called the project an "artistic intervention" that challenges the new Nationality and Borders Bill recently introduced by Home Secretary Priti Patel in Parliament, which criminalises refugees based on the routes they take to safety.
"All of the hard work is really just changing narratives about refugees." Kaadan stresses.

"Everyone is there to have fun and celebrate, when refugees usually are pitied and looked at in a charitable way. That's how I wanted to celebrate refugees—[for them] to be treated as a celebration other than as a burden."
The award-winning Syrian author also voiced hope that the story about the "classic British character and a Syrian refugee" will "turn into a book that stays on our bookshelves.
"Events are amazing, but stories stay forever."
As the crowds in Merton Field lingered long after Amal had moved on towards her next stop, drama practitioner Lizzie shared her view on the reasons for the Walk's success: "The arts generally have three threads: aesthetics, personal expression, and  social change. That puppet is absolutely stunning – the face was so poignant and really well performed. The social change: the number one issue around this is to break down borders, to challenge racist migration and immigration policies. And then, you've got personal expression. Amal was so beautiful and had an emotional impact on people. I saw lots of people in tears. You've got the three threads happening beautifully and concurrently."
"It has been very poignant," Shaista Aziz, City Councillor for Rose Hill and Iffley, told Cherwell. "What Amal shows is the best of humanity in a time when we don't see that very often in terms of the rhetoric of leaders of the country." 
"The most wonderful thing is that people look happy, they are smiling, joyful, really, really excited to see Little Amal. And I think that is beautiful."
Featured Image Credit: Joshua Low