As the news broke that Russian forces are invading Ukraine, students, academics and members of the Ukrainian community in Oxford gathered on the Radcliffe square to protest the war and show solidarity with Ukraine.
While attendance was initially sparse, the audience quickly swelled as news of the impromptu gathering spread. Soon, there were over 100 people in attendance, chanting "Glory to Ukraine, glory to the heroes' ' and "Stop the War". Protesters held placards in Ukrainian and Russian demanding an end to the conflict and action from the international community. Some chanted "Путін — хуйло", meaning 'Putin is a dickhead'.
Speaking to Cherwell, Kateryna Marina, President of the Oxford University Ukrainian Society said she hoped the protest would "get as many people out as possible to stand up to the Russian invasion. Today was shocking and unprecedented. But this has been building up for some time." She continued that she was grateful to see so many people showing their support for Ukraine.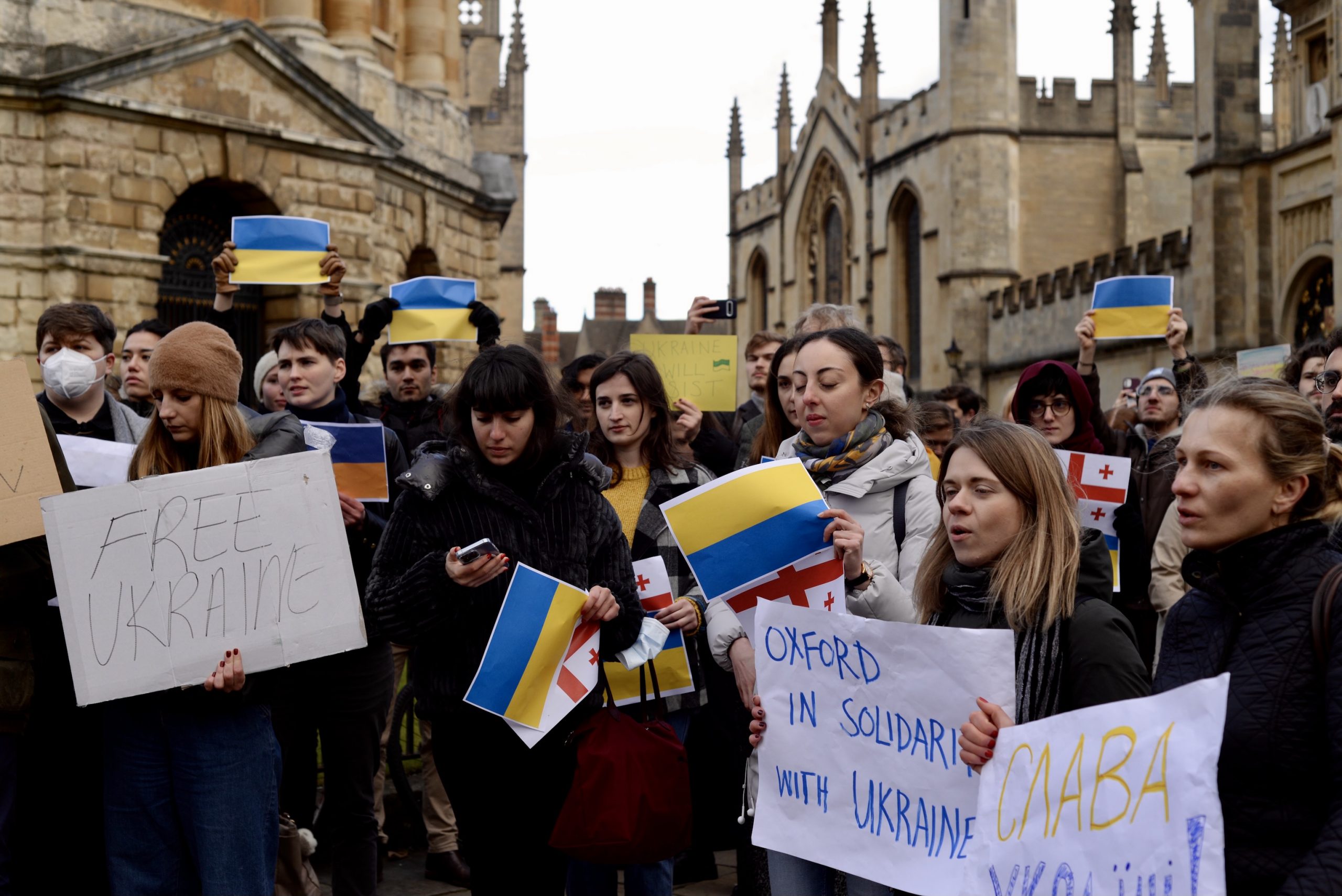 Alongside Ukrainians and their supporters were citizens from other countries in the former Soviet Union. Megi Kartsivadze, from Georgia, told Cherwell that the invasion of Ukraine brought back memories of the 2008 Russo-Georgian War. "This is déja vu for me. I remember Russian aggression – this is a sensitive issue for me. It is in the interests of the world to stand in solidarity with Ukraine," she said.
Yustina, a Lithuanian MPhil student at Oxford, arrived at the protest with a friend, both wrapped in Lithuanian flags. She spoke to Cherwell: "It's our common concern. It isn't just Ukraine… it surprises me that people are not that impacted here, at the University in general. I don't think it was a big surprise that this happened. You could feel this coming"
Attendees gave impromptu speeches expressing their horror and concern for friends and family in Ukraine. "We don't know what to do. We are lost in our thoughts and our minds," said one. The protesters also emphasised the importance of celebrating Ukrainian culture and identity, saying they would "sing and dance" to lift their spirits.
After the protest moved to Radcliffe Square, the protesters played and sang the Ukrainian national anthem. One protester explained to onlookers that the lyrics describe how the enemies of the country would vanish to leave behind a free sovereign Ukrainian nation.
The Oxford Ukrainian Society is currently raising funds for organisations providing medical support in the country.
Image Credit: Cyril Malik