DJ Cuppy is a busy woman. "I flew back in from Monaco yesterday" she tells me as we prepare for a photoshoot in her lush North Oxford house. Later that evening, she's DJing at an Oxford Ball. "And tomorrow, I'm back in London for my show on 1Xtra". It seems surprising that she finds time for anything else, but along with music she runs the Cuppy Foundation, a charity which last year fed 70,000 Nigerian children a day. On her days off, she rubs shoulders with celebrities like Anthony Joshua, flying across the world on lavish holidays. She says that Jack Dorsey, Twitter's founder, called her the most influential black woman on the platform. She also happens to be a graduate student, here in Oxford.
Florence "Cuppy" Otedola, 29, is the daughter of Nigerian oil tycoon Femi Otedola. Born in Lagos, she moved to London at age 13 and is currently undertaking her third degree, following a BA in Economics at King's College, London, and a Masters in Music at New York University with a MSc in African Studies at Lady Margaret Hall, Oxford.
When I meet her, she's impossibly charming and – decked out in her trademark all-pink – impossible to miss. At any given question, she launches into a beginning/middle/end monologue so effortless it seems rehearsed, and she pretty much directs her own photoshoot, pointing out the spots with the best lighting and moving at two-poses-a-second (much to our relief, as inexperienced students).
While education has clearly been a big part of Cuppy's life, it may seem initially at odds with her lavish celebrity lifestyle. However, she makes no effort to hide her student status – recent Instagram posts have seen study sessions interspersed with videos of club appearances and interviews (with, of course, the caveat that the studying was done in her family's home in Monaco). She told me that sometimes she felt she was living "between two lives"; Cuppy the student and Cuppy the DJ, even doing research and working on essays backstage at shows.
Here, in Oxford, it is Cuppy the student that clearly shines through. She tells me about her thesis, on mobilisation strategies for women in Nigerian politics, and her other academic interests. In fact, she explains that one of the reasons she came to this degree in Oxford was because it involved field research – something she hadn't done before.
In every way, Oxford life seems like an escape for her. Her home in Oxford – while undoubtedly an upgrade on standard student digs – is a far cry from her life in London, a home filled with pink and award cabinets, not to mention an entire recording studio. "Oxford allows me to be a little bit more present. And, you know, yeah, I think it's really nice that sometimes, what is expected of me as an Oxford student is to just learn, rather than what's expected of Cuppy which is to perform and deliver."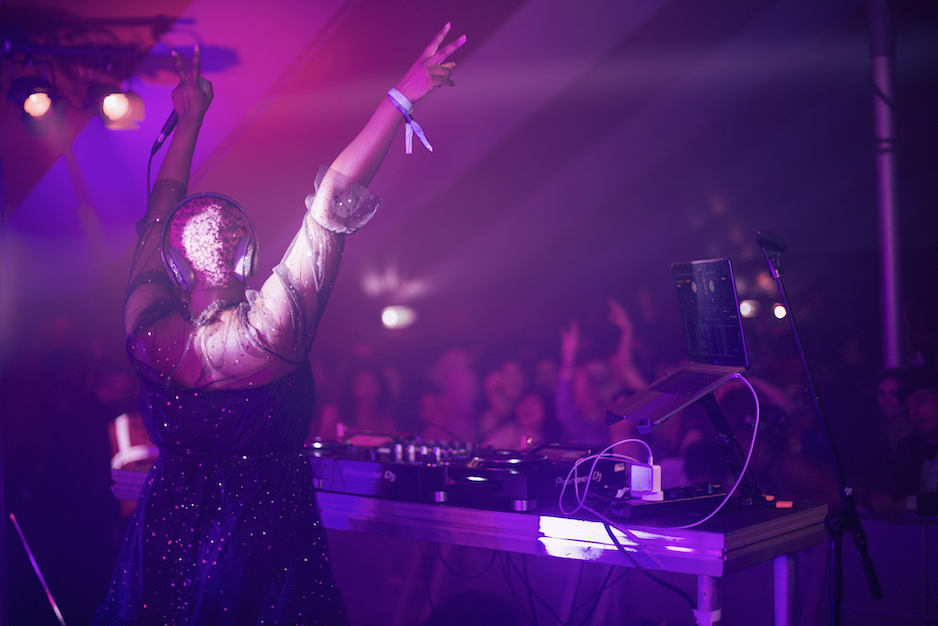 That being said, with nine million Instagram followers – whom she calls her "Cupcakes" – alongside a host of high-profile roles such as Pepsi's "DJ Ambassador", her fame is hard to escape. On Radio 1Xtra, she finds herself "every weekend talking to millions of people, then I'm on stage of festivals, DJing with thousands of people." With the weight of such an enormous following, does she find it hard to reconcile her public persona with her private one? "What I really struggle with is informal settings" she says. "That mental state of pressure and performance sometimes isn't needed. And I find it hard to turn it off".
However, her biggest impact is not in Oxford; in 2017, she founded the Cuppy Foundation. The charity started with her personally sponsoring seven young fans. Then, she excitedly recounts that "we started getting hundreds of applicants…I couldn't just keep sending people money from my account". Eventually, the Foundation became more structured and began fundraising from outside, joining with Save the Children to take advantage of their infrastructure.
One major event was the Cuppy Gold Gala, a fundraising event held at the Hilton in Abuja and attended by many of Nigeria's upper crust, including her billionaire father Femi, vice-president Yemi Osinbajo, and Aliko Dangote, Africa's richest person. "I kid you not, by chance," she says, "I happened to raise 14 million pounds."
Eventually, she partnered with Save the Children, as well as the United Nations, to deliver programs such as malnutrition awareness, breastfeeding sensitivity training for religious leaders, and COVID PPE to disadvantaged communities in Nigeria. The Foundation's website describes her as "a beacon, a light for those in darkness, a home for those without shelter, a shield for the defenseless."
So what's next for Cuppy? She hasn't released any music since 2021. While she took a break from DJing over Hillary, she's still found the balance difficult: "even just coming in this afternoon, I've got to rush back for a gig, then I've got to come back tomorrow, then I've got to rush back to the BBC…I'm 30 this year, right. So I maybe don't have that zest that I used to."
While she has a massive interest in education, she's not sure that she'll immediately carry on as a student. She's been offered a fellowship at a prestigious US university, and Cambridge are using her foundation as a case study for their philanthropic centre. She says she'll find it very hard to step out of academia, but "you know, Isaac, I need a break. This is my third degree, my second master's, and I need a break. I'm empowered but exhausted.
Image credit: Daniel Stick