Work has begun to turn busy Oxford thoroughfare Broad Street into a car-free pedestrian park complete with trees, lawns, and outdoor seating for 18 months following the enormous success of a similar scheme last year.
Preliminary designs have been shared on Oxfordshire County Council's website, which said that the project was intended to "promote wellbeing, and a greener cityscape while encouraging less reliance on motor vehicles for local trips". Broad Street is home to Balliol, Exeter, and Trinity, as well as a variety of student favourite businesses like Café Italiamo, the White Horse, Blackwells, and Café Crème.
Last year, To encourage outdoor socialising during the COVID-19 pandemic, cars were banned on the road between July and October, with the western end of the street – where it joins Cornmarket – turned into a pedestrian-friendly area which was enjoyed by 100,000 visitors.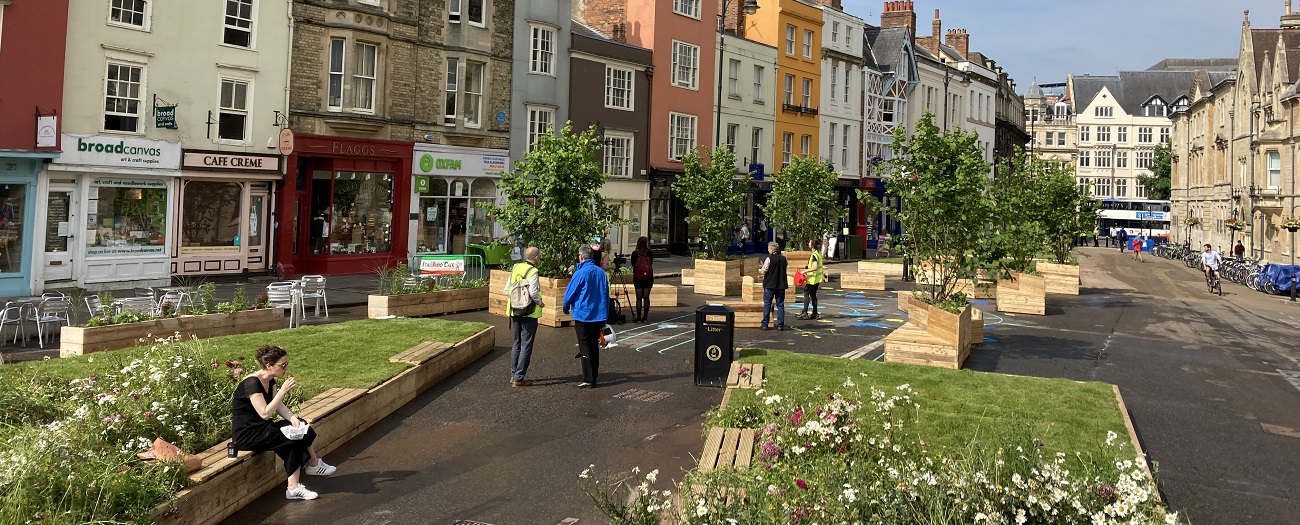 This was hugely popular, with an Oxford City Council consultation finding that 87% of residents believed it had had a positive effect on the city, and notably that a further 80% supported Broad Street's permanent pedestrianisation.
The council also liaised with over 150 interest groups, including colleges, local businesses, Cyclox, emergency services, and many more.
Hakim, owner of Café Crème, said: "We are very happy to see how Broad Meadow turned out. During the project, the number of people coming to Broad Street and staying was a big change – you could definitely see a noticeable difference. Broad Meadow had a clear impact on our business. This new public area was particularly important when we had no students or tourists and really helped our business."
Councillor Liz Leffman, Leader of Oxfordshire County Council, said: "We are really excited that we are delivering the return of this hugely popular space right in the heart of our historic city for everyone to enjoy.
"The new Broad Street project will again be one of the city centre's largest outdoor inclusive public spaces inviting people to meet and relax between shopping, grabbing a light meal, taking in the sights, or enjoying events that can be staged in the vibrant arts space it provides.
She emphasised the Council's commitment to long-term pedestrianisation, saying: "This year, we are proud to be keeping the project open for a longer time. This is in line with our ambition for Oxford to be a city where everyone can walk and cycle safely, and we are hoping that this will become a permanent feature of the city centre."
Image credit: Oxford City Council