In what is often a stressful academic environment, nothing offers greater stress relief than cute animals. College pets are therefore, in my opinion, one of Oxford's best features. Plenty of colleges have at least one, and many are famous enough to have their own Instagram accounts! Whether they be tortoise, dog, or feline, these pets are truly an iconic part of their respective college communities. This column will thus be dedicated to introducing you to the different pets living across Oxford's colleges, and to show the true value of having them in the community for welfare, entertainment, and more!
There's no better place to start with this by looking at the college pets within my own college community at Magdalen. Scrumpy has been our college dog, alongside his feline companion Spangle, since the current President Dinah Rose KC joined the college in 2020. Though the rules of the college had to be changed to allow the pets to join the college and the tapestry in the President's Lodgings had to be cat-proofed, they've been welcomed to the community with open arms, plenty of dog walks, and endless affection.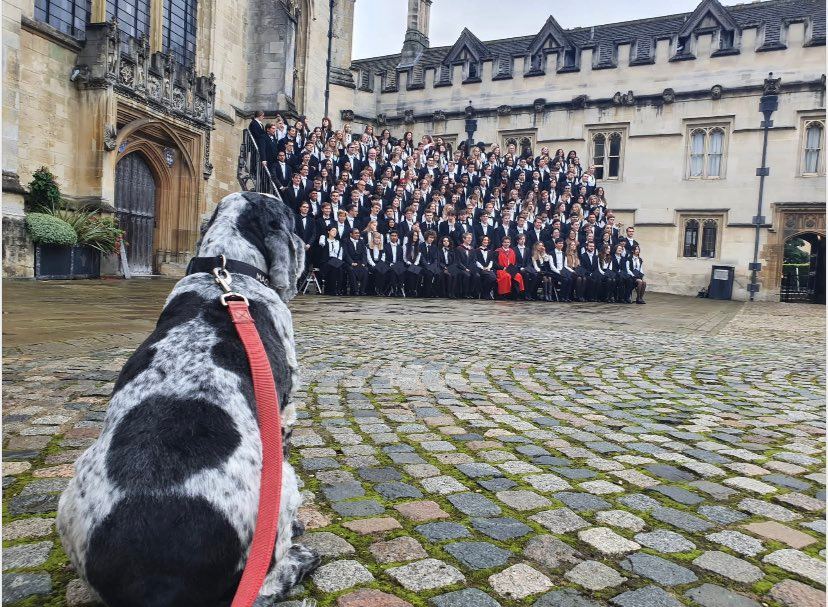 Dinah and her husband Peter were kind enough to answer some questions for me about their beloved pets. Scrumpy, 12, and Spangle, 15, have both been with them since birth, alongside Spangle's more reserved sister Kiki. Both have previously worked as therapy animals through the charity Pets as Therapy, with Scrumpy helping children learn to read at school and both helping out at a residential home for young people with eating disorders. Upon meeting them both, you'd be unsurprised to hear this given how kind and gentle-natured they are. I have fond memories from Trinity 2022 where, whilst we were rehearsing for the Magdalen garden play in the President's Garden, both frequently took to being stage invaders or walking into circles of people looking for pets, though none of us were complaining. Spangle even appeared on stage during one of the performances!
Scrumpy, described in three words as 'Not Oxford Material', may not be the brightest dog, but is always happy to brighten up your day. He's a beautiful cocker spaniel who sports a Magdalen collar around the grounds and who will always stop for a pet. He is available for Magdalen students to walk on weekdays, both a great way to get some fresh air and exercise, and important for welfare, especially for anyone who might be feeling homesick or missing a pet at home. Though I've sometimes found that he isn't keen on a 9.30am walk and might try and go home halfway around Addison's Walk, being able to take him for a stroll is something myself and others have nonetheless found great for escaping academic and other concerns for a little while.
Spangle, described as 'God In Disguise', is a fluffy black and white cat, available for students at the college to book in to stroke at certain times during the week. I remember how, at the very first meeting we had in subject groups with the President in my own freshers' week, Spangle took to majestically walking along the whole table, allowing some of us to pet him during his promenade. Having a cat in the college, especially once we could book to stroke him again, was great for me personally, having cats at home that I missed dearly, and the sessions can be really relaxing. Whether he's starring in plays, or simply being there to pet, Spangle is fantastic to have around the college.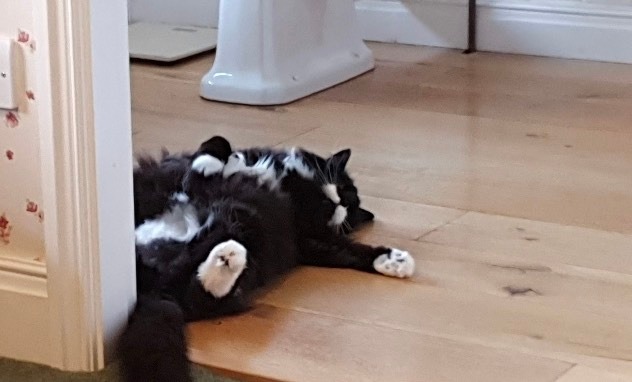 Alongside Scrumpy and Spangle, it's also great to have wildlife around whilst living in a city, especially if you come from near the countryside as I do. The deer at Magdalen are stunning and a key feature of the college, and there's nothing quite like seeing the baby deer appear in Trinity. Though they're not strictly college pets, they're undoubtedly a huge part of the college community. Talk to any Magdalen student – they'll always mention the deer park!
In my own experience, therefore, I can vouch for the benefits of having pets in colleges. Scrumpy and Spangle are great for welfare within Magdalen, as well as being simply adorable. Whether they're college pets or not, animals help many of us greatly with academic stress. There are many more college pets across Oxford, and I hope in the coming weeks to introduce you to at least a few of them!
Image credits: Peter Kessler