Freddie Evans interviews Georg Friedrich, Prince of Prussia, about the history of the House of Hohenzollern and its role in Germany today, his support for Prussia's cultural heritage and for unity within Europe, resolving his family's claims for restitution of property, and some advice for Oxford students.
More than 100 years after the end of the monarchy in Germany, Georg Friedrich and the German authorities are still in consultations on separating state property and private property of the House of Hohenzollern. More than 40 years of communist rule in East Germany left many unresolved issues. These topics made headlines within Germany and beyond.
I was eager to find out more about Georg Friedrich, the family's campaign to recover some of their possessions, and the story of the House of Hohenzollern in contemporary Germany. To gain a better understanding of his background and responsibilities, I asked Georg Friedrich to summarise the family's history and his current role.
"The family history can be traced back to the year 1061. We can almost look back to 1,000 years of family history. That is why I'm looking forward to the year 2061, when I can celebrate my 85th birthday, my golden wedding and a thousand years of Hohenzollern history.
I am actually very proud to be the Head of the House of Hohenzollern. Since my father had died when I was still a small child, I succeeded my late grandfather Prince Louis Ferdinand as Head of the Family already 28 years ago in 1994 when I was only 18. I regard it as my duty to look after our family, to represent our family and to speak on their behalf. In my role as Head of the House of Hohenzollern, I have the great privilege of meeting hundreds of interesting people every year, people from all walks of life. I also very much enjoy our role in preserving Prussia's cultural heritage. Since the abdication of my great-great-grandfather Kaiser Wilhelm II in 1918, my family has had no political role. Yet we are, for example, still the largest lender of art from our private collection to the main state foundations that look after Prussia's cultural heritage. My wife Sophie and I furthermore dedicate a lot of time to supporting charities, including our own family foundation that is looking after disadvantaged children."
The long and distinguished story of the House of Hohenzollern has over the centuries encountered its fair share of controversies, most notably during the earlier part of the twentieth century. The repercussions of Wilhelm II's actions in the lead up to the First World War are still widely debated and have shaped perceptions of the House of Hohenzollern in historical narratives relating to that period. I asked Georg Friedrich how he navigates the unique responsibility of representing the House of Hohenzollern in today's world.
"From my point of view, there is always light and shadow, when viewing one's history, the history of a family, the history of a country, any history in fact. It's extremely important to not leave anything out while looking at history – to view the history at the time when it happened and to consider the context. I believe it important to be impartial but not uncritical in approaching history. I firmly believe that there are lessons to be learned from the failures in the past. History must not repeat itself."
Acknowledging the numerous positive contributions made by the Hohenzollern dynasty, I asked Georg Friedrich about the specific aspects of Prussian and German history and culture which he, representing the Hohenzollern family, considers most significant and worthy of emphasis.
"When the state of Prussia was abolished in 1947, the huge cultural heritage was fortunately largely preserved. In 1957 the new democratic Western Germany established the so-called "Prussian Cultural Heritage Foundation" that would administer the state collections and museums. Until today this foundation is the largest cultural heritage institution in Europe. It makes me very proud that my private collection is among their largest lenders. But, there are many unexpected things one can consider. For example, the home colours of our national football team, black and white, derive from the colours of the Prussian flag."
This reminder of the colours of the Prussian flag shifted our conversation to politics. What was Georg Friedrich's perspective on the European Union.
"In the 1970s, in the middle of the cold war era, my grandfather Prince Louis Ferdinand (1907-1994) gave a remarkable TV interview where he said that he strongly believed that Europe would eventually be united again. That was a long time before the fall of the Iron Curtain and the reunification of Germany. My grandfather always believed in the idea of European unification. I very much consider myself in his firmly pro-European tradition. And while I was personally disappointed when the British people voted to leave the European Union, I strongly believe that the United Kingdom will continue to be a strong member of the European family of nations and a strong ally in defence of our common Western values. Interestingly enough, my grandmother Princess Kira was Russian and at the same time a great-granddaughter of Queen Victoria. Therefore I sincerely hope that peace will also return to the Eastern part of our continent."
One historically transformative figure who championed Enlightenment values was Friedrich the Great, King of Prussia (1712-1786). Through skilful diplomacy, military tactical genius and advanced domestic policy he elevated Prussia to become a thoroughly modern state and formidable European power. Does Georg Friedrich see peaceful co-existence between his legacy and modern principles of democracy and equality?
"Over the past 250 years, there has undoubtedly been tremendous progress in the development of freedom and democracy. Yet some of the core beliefs of Frederick the Great are still valid today: I think that Friedrich the Great's saying "Jeder soll nach seiner Façon selig werden" – "Each must live as he sees fit", is a phrase that says it all. It applies to many things we are discussing at the moment."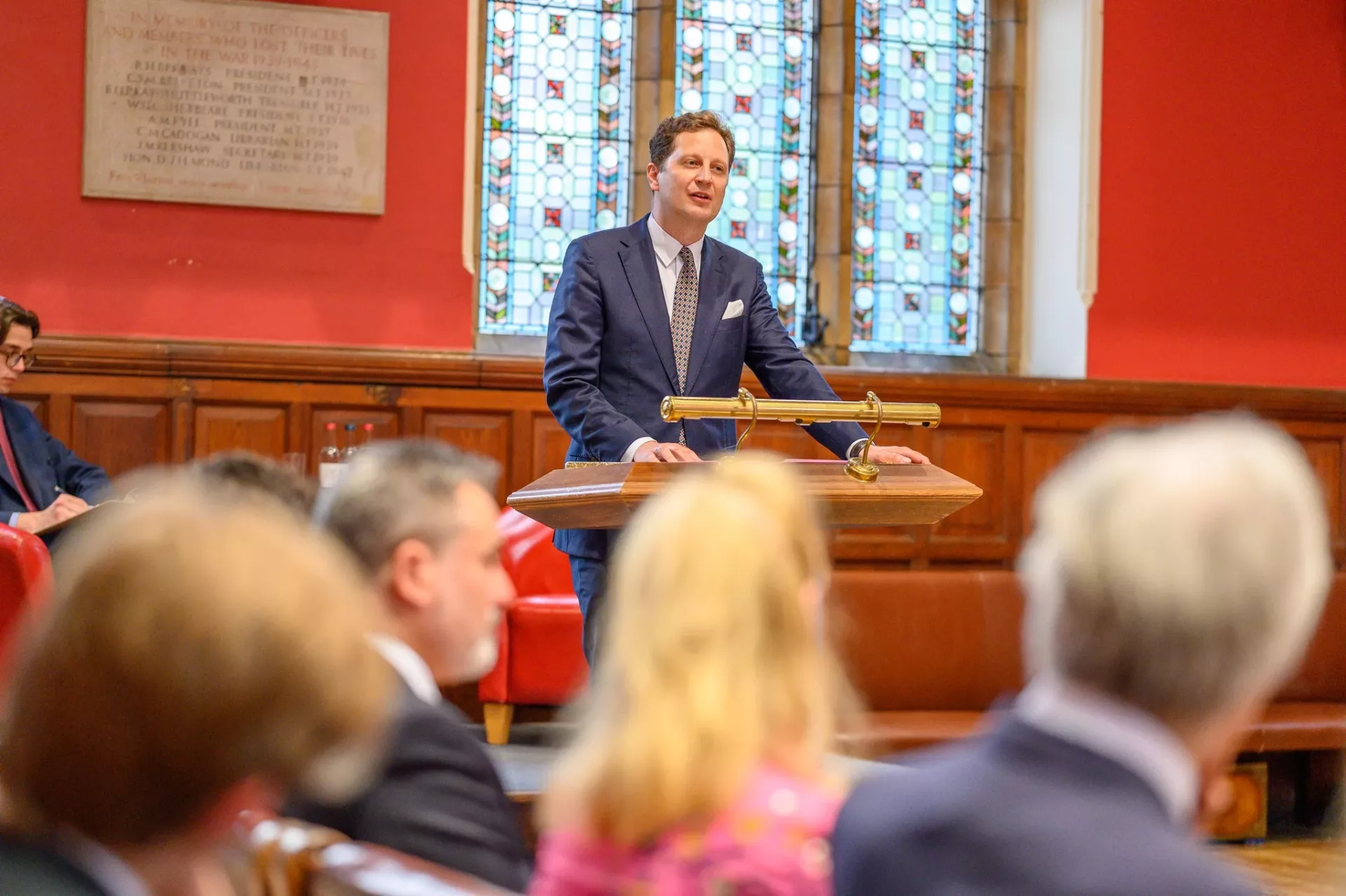 I wanted to hear about Georg Friedrich's assessment of public opinion in Germany and Europe heading towards increased recognition of the Hohenzollern lineage.
"It is not so much about recognition. I always try to do my best by my family, my country and by the charities that are close to my heart. With regards to the history of my ancestors, I believe that it is important that we do not forget about our history and what has made us the way we are. I keep saying that our history is a bit like our parents: of course, one can neglect them, and one can think badly of them. But at the end, one wouldn't be here without them. The same applies to our past. It is, however, important that one keeps drawing the right lessons from what happened in the past."
When it comes to recognition, the British monarchy is unremittingly in the media spotlight. Could Georg Friedrich envision a constitutional monarchy in Germany, akin to the House of Windsor?
"That is definitely not a discussion that is taking place in Germany. Our current constitutional arrangements in Germany have led to the longest time period of peace and prosperity, of growth and freedom in our history. I do not see any reason to change that. If I compare myself to my ancestors, I believe none of them were living in happier circumstances than in the free democratic societies in which we have the privilege of living in today."
Despite not being in a discussion about reinstating the monarchy in Germany, the discussion about restitution of Hohenzollern property is very much in the news there. I asked if he could comment about the current status of his claims for compensation for land and palaces expropriated from his family and return of property including palaces, paintings, the imperial crown jewels, the family library and correspondence.
"It's important to point out that the separation of state property and private property of my family was already settled in 1926, after the end of monarchy, when my family had become private citizens.
During Soviet and communist rule in Eastern Germany, some of our private property was illegally confiscated or stolen, while any property in the democratic Western part of Germany remained untouched. After the reunification, my grandfather applied for restitution of our private property in the former communist part of Germany. When in 1994 I succeeded my late grandfather as Head of the Family I also inherited these open legal questions."
Is it likely that these claims will be successful?
"I have no doubts that all open questions will continue to be resolved in a respectful dialogue between the state authorities and my family. I am very grateful for the close, constructive partnership with the governments on federal and state level in Germany."
I asked Georg Friedrich if he had advice for Oxford students.
"When I was a young boy, especially at school, others thought of me as someone special. They asked me questions like: Do you live in a castle? Does your father have a crown? I felt very awkward by that until I realised that it was absolutely legitimate for them to ask these questions. In those days I had the sincere wish to be "normal". But then I found out for myself that there is no such thing as "normal people". Each and every one of us is special in his or her own way– by their own biography, by their individual talent and ways how each of us can make a contribution to society. Therefore I can only encourage everyone to be open and interested in others and to be conscious of the many privileges we enjoy as citizens of liberal democracies."