Multiple JCRs have mandated their OUSU representatives to vote for the NUS referendum motion being brought to OUSU Council tonight. The meeting will begin at 5.15 at Magdalen College.
David Klemperer, one of Oxford's NUS delegates and a member of the 'Oh Well, Alright Then' slate, proposed the motion which would resolve to hold a referendum in 5th week regarding affiliation to the NUS.
Each college is permitted to send up the three representatives to OUSU Council. Trinity, Merton and Magdalen colleges, amongst others, have mandated all three OUSU reps to vote for the referendum. Other colleges, including Balliol and Somerville, have delegated the representatives proportionately, with two reps to vote to leave and one vote to stay.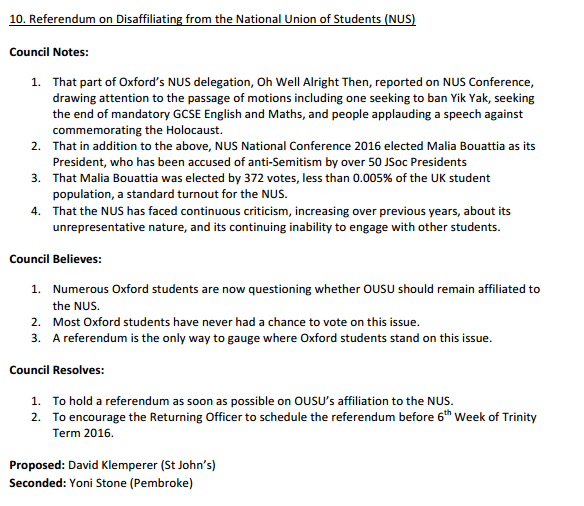 Motions have been highly controversial, with the Balliol meeting taking almost two hours to come to a decision.
This motion comes only two years after a previous referendum regarding membership in the NUS in 2014, which was discarded after allegations of vote-rigging.
The movement to get OUSU to disaffiliate from the NUS this time round was triggered following the election of Malia Bouattia to the NUS Presidency. Nearly 50 Jewish Societies from across the UK penned an open letter to Bouattia criticising her for expressing what some have perceived as anti-semitic views.
A number of students have defended Bouattia, however, with Bouattia herself writing an article in The Guardian defending what she has said.
---
For Cherwell, maintaining editorial independence is vital. We are run entirely by and for students. To ensure independence, we receive no funding from the University and are reliant on obtaining other income, such as advertisements. Due to the current global situation, such sources are being limited significantly and we anticipate a tough time ahead – for us and fellow student journalists across the country.
So, if you can, please consider donating. We really appreciate any support you're able to provide; it'll all go towards helping with our running costs. Even if you can't support us monetarily, please consider sharing articles with friends, families, colleagues - it all helps!
Thank you!