Oxford was brought to a standstill this morning after Prince Charles and Camilla toured the Covered Market on a surprise visit.
The visit was well-attended by hundreds of tourists, students and town-dwellers, to see the royals make their way through the market visiting several shops along the way.
When asked for her opinion on the Covered Market, Camilla exclusively told Cherwell that she thought it was "pretty nice".
She added: "I haven't been here for a long time. My son was a student so I used to come when he was here".
The route included a greengrocer, a cake shop, The Oxford Cheese Company and Brown's café, before concluding with Charles briefly speaking to members of the public before departing.
BREAKING: Prince Charles & Camilla are in the covered market on a state visit to Oxford. Here they are inspecting The Oxford Cheese Company. pic.twitter.com/TdxPS3RFJR

— Cherwell (@Cherwell_Online) May 16, 2017
Speaking to one student, Prince Charles joked: "Shouldn't you be at lectures?"
Students at the Turl Street colleges were uniquely placed to witness the impromptu visit, primarily attracting students from Lincoln, Jesus and Exeter.
Ellie Thomas, a first-year English student at Lincoln College said: "My friend texted me because she was down here and there were loads of police and people thought it was a bomb scare.
"We came running out of Lincoln which is obviously really close and got into the Covered Market and started taking pics.
"We were forced into a little group out on the street and he came and spoke to us which was really weird. He came over before he got in the car and had a little bit of a chat."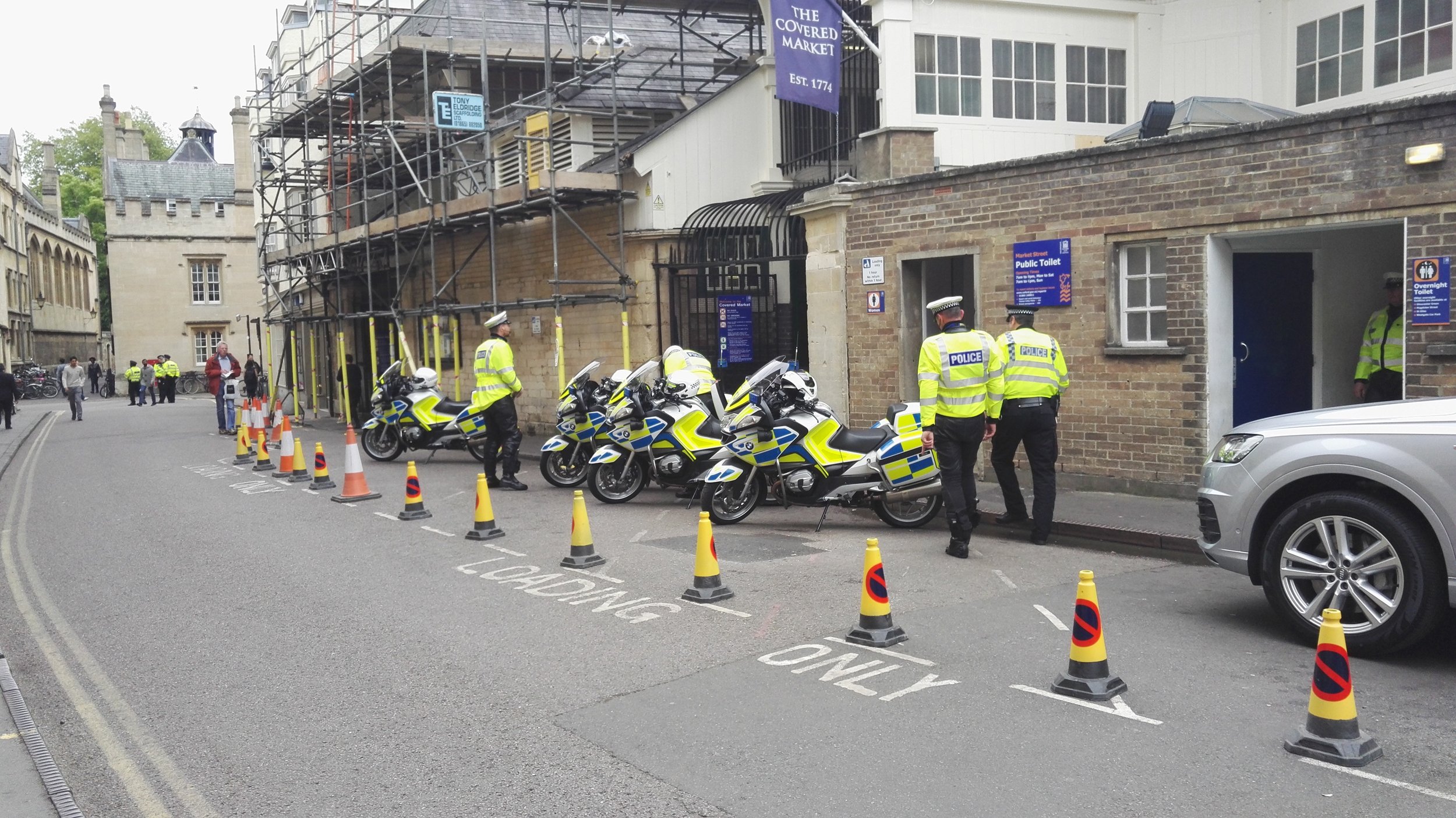 Lottie Lee, a first-year History and Politics student, also at Lincoln, said: "He was talking about how quaint he thought the Covered Market was and how he was really happy that it was still up and running. That was so fun."
Branwen Phillips, studying CAAH at Lincoln: "[That was] a bit of an eventful trip to Pret. One of the girls was like 'I was just going to Pret' and he said, 'I haven't heard that one before'."
Reporting by Akshay Bilolikar, Daniel Curtis, Jack Hunter