It was previously the complaint of privileged students struggling to access some of Oxford's most famous colleges, but now the city's former Lord Mayor has complained of "tourist hell" blocking up streets during the summer months.
Mary Clarkson, a Labour city councillor, said more needs to be done to prevent the roads becoming too clogged up, as the city has become "absolute chaos".
Before heading off to the Edinburgh Fringe, Clarkson said in a tweet she would be glad to take some respite from "the tourist hell of our small city of Oxford".
Some of us are coming up for a brief respite from the tourist hell of our own small city of Oxford. https://t.co/mPSWOrxqu7

— Mary Clarkson (@maryoxford) August 4, 2017
She added that as a result, living in the city is "impossible" during the summer.
Whereas Oxford is pretty much impossible between June- October. Cycle lanes all full of illegally parked tourist coaches & pavements blocked

— Mary Clarkson (@maryoxford) August 4, 2017
Speaking to the Oxford Mail, Clarkson said: "There are places it's particularly bad. On Saturday and Sundays St Giles, which is a dangerous road for cyclists anyway, cycle lanes have been totally blocked by coaches. A lot of their drivers were unable to see cyclists by them. They have been leading tourists into the traffic. You cannot walk along some of the pavements.
"You need to manage the coaches and the tourist groups and it would make everything better if they said 'you can walk two abreast. When you're going to give a talk about Oxford, you don't need to stand in fire exits'.
"I am not saying: 'don't have tourists'. I am saying: 'think about the other residents of the city'. We live in a lovely city and we should expect people to come all year round. The people making money from tourists, they need to think about what they're doing."
Her comments come after a senior priest at Oxford's University Church complained of "disrespectful" tourists who came into the church just to take selfies.
Students have previously taken to the Facebook page Oxfeud to voice their anger at the number of tourists in the city. One contributor echoed Clarkson's comments by saying the number is "too damn high".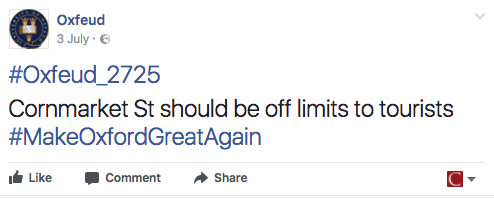 Another complained of tourists blocking the entrance to their college.