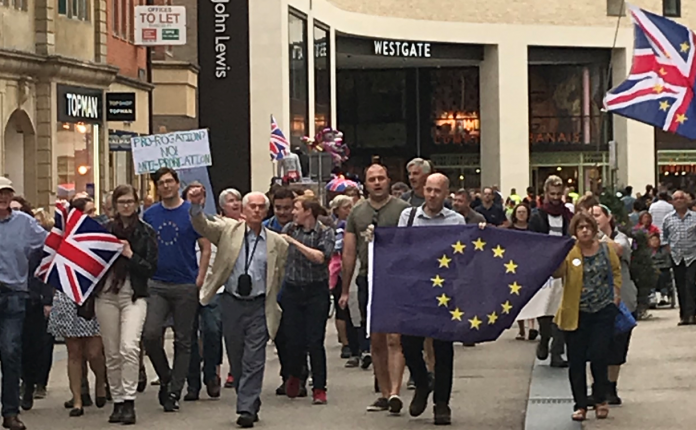 Amidst national uproar, protestors who oppose Boris Johnson's shutdown of parliament gathered in Bonn Square, Oxford, before marching to the Town Hall last night.
Witnesses report the crowd holding pro-EU banners, including the slogan 'Stop the Coup', as well at Union and EU Flags.
Dr Graham Jones, who chairs the Oxford region of European Movement, the independent pro-Europe activist group, said the following;
"We've come here spontaneously, from many different backgrounds and we span three generations. We are here to tell our Oxfordshire MPs that they must resist this abuse of powers (sic) by whatever means necessary."
"this is the greatest issue facing our country since the Second World War and our elected representatives have the right and the duty to debate it".
This protest comes only days after Oxford MP Anneliese Dodds signed the cross-party Church House agreement to block a no-deal Brexit. Ms Dodds said, "I've signed it because of depth of feeling of my constituents against a no-deal Brexit, especially in relation to the impact on BMW in Cowley, scientific research and our EU citizens in Oxford". She was one amongst around 160 MPs who are understood to have signed the agreement at the time.
Photo by Jonathan Black
---
For Cherwell, maintaining editorial independence is vital. We are run entirely by and for students. To ensure independence, we receive no funding from the University and are reliant on obtaining other income, such as advertisements. Due to the current global situation, such sources are being limited significantly and we anticipate a tough time ahead – for us and fellow student journalists across the country.
So, if you can, please consider donating. We really appreciate any support you're able to provide; it'll all go towards helping with our running costs. Even if you can't support us monetarily, please consider sharing articles with friends, families, colleagues - it all helps!
Thank you!