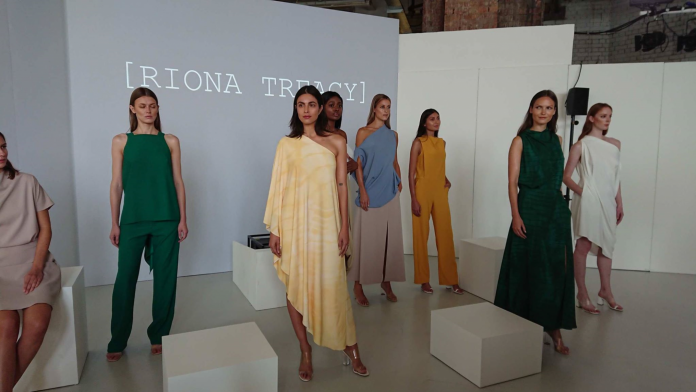 This year the opportunity arose for me to attend the shows and presentations of some of London Fashion Week's more independent and up-and-coming designers. Amongst the wealth of talent showcased this year, I noticed a vaguely discernible division of many of the brands I saw into two broadly perceptible aesthetic groups: on one side the streamlined, elegant, pastel-paletted workwear-esque delights of designers such as Shopyte (my personal favourite), Riona Treacy, Wen Pan, and Isabel Manns, and on the other the edgier (for lack of a better word), darker, more youthful, grittier, street wear-esque creations of the likes of Underage and Polish designer Pat Guzik. Perhaps this polarisation was as not as strongly pronounced outside of this small collection of designers, but the contrast of sartorial moods produced a refreshing interplay of light and dark from one show to the next, in what can feel like a very long week in the fashion calendar.
All photos taken by Georgia Corrigan at the London Fashion Week 2019
---
For Cherwell, maintaining editorial independence is vital. We are run entirely by and for students. To ensure independence, we receive no funding from the University and are reliant on obtaining other income, such as advertisements. Due to the current global situation, such sources are being limited significantly and we anticipate a tough time ahead – for us and fellow student journalists across the country.
So, if you can, please consider donating. We really appreciate any support you're able to provide; it'll all go towards helping with our running costs. Even if you can't support us monetarily, please consider sharing articles with friends, families, colleagues - it all helps!
Thank you!