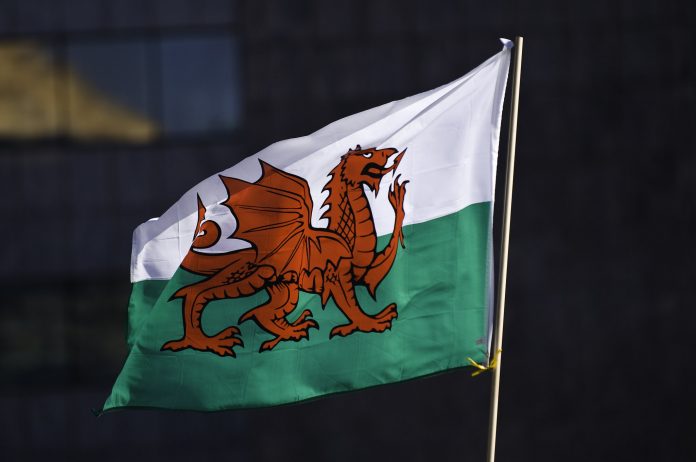 In 1960 a bill sponsored by Liverpool City Council was brought before Parliament requesting to flood a Welsh village, Capel Celyn, to create a water reservoir for Liverpool. They did not require planning consent from the relevant Welsh local authorities, and despite the fact that 35 out of 36 Welsh MPs opposed the bill, it was passed. The members of the community fought for their rights for eight years, but were ultimately unsuccessful and removed from their homes. The valley was flooded and all local buildings and homes were destroyed, including a cemetery with the bodies of villager's family members. The tag 'Cofiwch Dryweryn', 'remember Tryweryn', is still alive throughout Wales, graffiti-ed on many abandoned buildings and bridges. This moment gave rise to Welsh devolution and the creation of the National Assembly of Wales. Yet many people believe that devolution is not enough.
The first recorded use of the Welsh word for nationalism, cenedlaetholdeb, was recorded in 1858. The demand for Welsh independence has always existed, but in the past decade it has been on the rise. YouGov published a poll in September 2019 where 24% of participants said they would vote for an independent Wales if there was a referendum tomorrow.
Interestingly, Brexit changes this statistic. 41% of people backed an independent Wales if the rest of the UK leaves the EU. This is a significant rise from previous polls conducted in 2018 by Sky that suggested only 8% of Welsh people supported independence. Brexit, like Capel Celyn, has changed perspectives on the Westminster government and the union itself.
This push for independence has old roots. Since Wales was conquered by England, a cultural and linguistic cleansing took place. Despite the fact that Welsh is one of the oldest surviving Celtic languages, Parliamentary reports deemed it 'evil' and 'morally inappropriate', banning the use of Welsh in schools. Children were punished and often beaten in schools for speaking Welsh. There are reports that this took place until the 1930's. As a result, many communities in Wales are predominantly English-speaking and unable to engage with elements of Welsh literary history and culture. Welsh people have been forced into an Anglicised cultural identity, and this has had an impact on the political relationship between England and Wales.
Wales has always had a fraught relationship with Westminster and the union. Despite being a culturally distinct region, due to Wales's small population, Welsh MPs make up just 6% of the House of Commons, so their needs are often ignored. One in four Welsh people live in poverty and the public resources are lack funding. There are weak transport links between the north and south, with some Welsh towns being almost completely isolated. Many people blame this on systematic unde-rfunding and exploitation from Westminster and austerity.
Since Brexit there has been a huge surge in interest for Welsh independence. This May, there were nationwide marches, with thousands demonstrating in Cardiff alone. Numerous Welsh town councils have voted to declare their support for independence including Aberystwyth, Caernarfon, Caerphilly, Blaenavon and Machynlleth. Young people are expressing their activism over social media platforms. YesCymru, a Welsh independence organisation, has become increasingly present on the mainstream platforms, and the general election can no longer avoid the topic of Welsh independence.
Brexit is in the hands of a government that has repeatedly betrayed the Welsh people and refuses to acknowledge their mistakes. Wales voted 53% for Brexit in the 2016 election, which surprised many analysts. The professor Danny Dorling released data suggesting that the referendum result was in part due to English voters who live in Wales: border towns and areas of central Wales with large English communities had higher leave votes, whereas Welsh-speaking areas had high remain votes.
But pro-Brexit Welsh voters cannot be forgotten, and certainly many frustrations with governance resulted in a leave vote in communities. Despite the fact that Wales receives a higher amount of EU funding than the rest of the UK, voters felt disengaged and forgotten in struggling communities. However, Wales has not been mentioned once in any of the proposed Brexit bills, and a motion to require Welsh and Scottish legislature to approve of the final Brexit deal was rejected by both the left and right in Westminster. This is a poignant suggestion that both Remain and Leave voters in Wales have not been acknowledged in Brexit negotiations, and their attempts to bring power back into their communities has failed.
So, where does this leave Welsh voters in the 2019 December Election?
Wales typically has been a Labour heartland, only once in recent history has it voted Conservative, in the 2009 EU Parliament elections. But Brexit, and now the rise of Welsh Independence, has fragmented the Labour vote.
Welsh Labour, who on the whole do not support Welsh Independence, have struggled to maintain their support in the Welsh Assembly, as they are viewed as being too supportive of Westminster. However, if Labour seats begin to switch to Plaid Cymru, or even have their vote diluted because of it, there will be problems for the party's potential for a majority in the House of Commons. This has already happened in Scottish seats, where Labour lost an unprecedented amount of seats to SNP due to the rise of support for Scottish independence.
In the general election, Welsh voters will be forced to choose between their political allegiance and desire for independence. It is a choice that surely cannot be seen as democratic, and it further dilutes the voice Welsh votes have in Westminster. It suggests that Wales needs a referendum on Independence in the next decade.
Only a referendum will allow voters to accurately voice their opinions on Welsh independence and the future they see for Wales, particularly in the context of Brexit. If Welsh Labour do not acknowledge this, they risk disenfranchising many Welsh voters. Plaid Cymru's result in this coming election is therefore no indicator of the true demand for Welsh independence, and the democratic necessity of a referendum should not fall on Plaid Cymru's shoulders.
Welsh independence does not exist in a vacuum; it is part of a wider cultural turn away from British imperial power and domination. It is a call to hold Westminster responsible for the damage it has caused communities and the destruction of Welsh culture. It also is a representation of the ways that austerity, and now Brexit, are failing the UK people. Many of the problems that Wales faces economically and politically are present in other deprived communities of England that feel like they have been abandoned and ignored by Westminster politics.
A push towards Welsh independence must be aware of this and become a movement not just for Welsh people. Instead, it should be a movement that fights for the better democratic governance of England. Westminster must learn from its mistakes it has made in Wales and implement changes in the way it governs communities with unique social, cultural and economic needs.
Whether Wales sees a referendum in the next decade, and regardless of its outcome, these are the lessons that need to be learnt from the call for independence. It has never been more clear that the union is not working for the people, and no matter how tired Welsh voters are, they seem ready for the fight.
---
For Cherwell, maintaining editorial independence is vital. We are run entirely by and for students. To ensure independence, we receive no funding from the University and are reliant on obtaining other income, such as advertisements. Due to the current global situation, such sources are being limited significantly and we anticipate a tough time ahead – for us and fellow student journalists across the country.
So, if you can, please consider donating. We really appreciate any support you're able to provide; it'll all go towards helping with our running costs. Even if you can't support us monetarily, please consider sharing articles with friends, families, colleagues - it all helps!
Thank you!