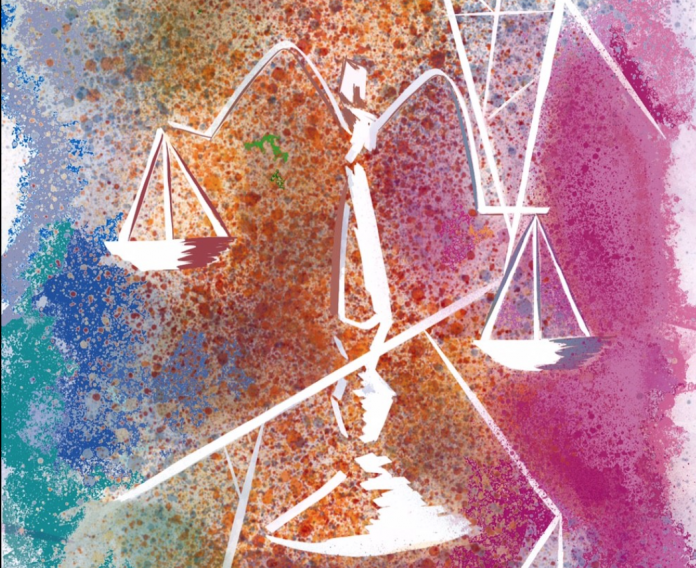 In Measure for Measure, one of Shakespeare's problem plays, Vienna is depicted as a city of vice and perdition, such that the situation seems hopeless.
The Duke, played by an appropriately neurotic and overdramatic Albert McIntosh, leaves the city, giving full powers to Angelo (Bella Stock). In order to bring order to the city, laws are implemented more rigidly, and Claudio is arrested for breaking them. From there, this one-hour play about justice begins, in a whirlwind of colours and witty banter, with a brilliant all-but-one female cast. However, while it is mostly a comedy, content warning for sexual assault, which is treated with great thoughtfulness throughout the play.
Dorothy McDowell's production is clearly stylised and shows a peculiar, fun creative vision. When the posters say that it is a colourful production, they are not lying. From the costumes (Rebecca Perez), with a monochromatic theme for each character, to the set design (Lauren Komer), this play is a delight to look at. The audience is treated to a commenter/Mariana (Gabriella Fitzgerald) playing the sax while waiting for the show to start and you can enjoy the aesthetically-pleasing stage.
The cast was overall enjoyable to watch. Stock's perennial frown and intimidating mannerism, the fervour and desperation shown by Madison Onsager, who plays Isabella, Claudio's sister, Fitzgerald's irony and quiet indignation, all of these, from the smallest to the biggest detail, show a cast who understood their characters. While at times they overplayed them a bit too much to maintain believability, it was never such a problem that they became caricatures, and they quickly subdued their overacting.
The actors were also brilliant at carrying out fast and witty conversations, especially in scenes with more than two characters. In those, the actors were competently coordinated, testimony to McDowell's skill as a director. In particular, whenever Emily Hassan and Margot Worsely, who played Lucio and Mistress Overdone respectively, were on stage, they played off the other actors with such ease and charm that they seem to have perfected how to act a genuine conversation. A separate note must be made for the absolutely brilliant actress that was Lola Beal as Escalus: she was subtle when needed, incredibly believable and conveyed her emotions easily – she made me want to actively look for her again, which does not happen often.
Moreover, this is an adaptation that is enjoyable for fans of the original. The lines are mostly the same, although cuts and rearrangements were needed to fit everything in a one hour slot. However, it could be confusing for someone with no knowledge of the original plot points, as very little explanation is offered for certain actions.
It is not necessary to read the original, but flicking through the plot may be helpful – especially if you are not comfortable with Shakespearean language. Some minor technicalities in the lighting department – at times, the actors were lit weirdly, as if the focus was not supposed to be on them – did not impair my enjoyment of the play.
Overall, with actors that are able to deliver a performance that is both fun and competent, it was an incredibly entertaining, aesthetically-pleasing experience from start to finish.
---
For Cherwell, maintaining editorial independence is vital. We are run entirely by and for students. To ensure independence, we receive no funding from the University and are reliant on obtaining other income, such as advertisements. Due to the current global situation, such sources are being limited significantly and we anticipate a tough time ahead – for us and fellow student journalists across the country.
So, if you can, please consider donating. We really appreciate any support you're able to provide; it'll all go towards helping with our running costs. Even if you can't support us monetarily, please consider sharing articles with friends, families, colleagues - it all helps!
Thank you!