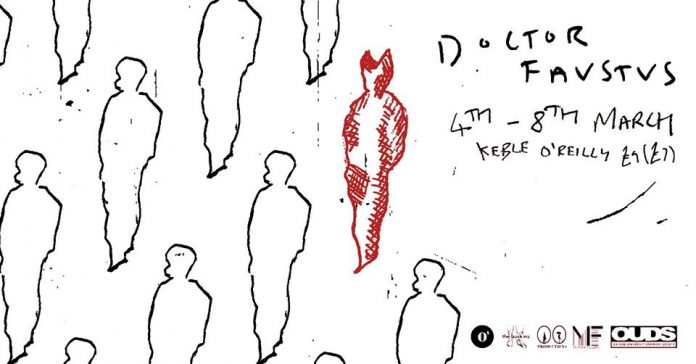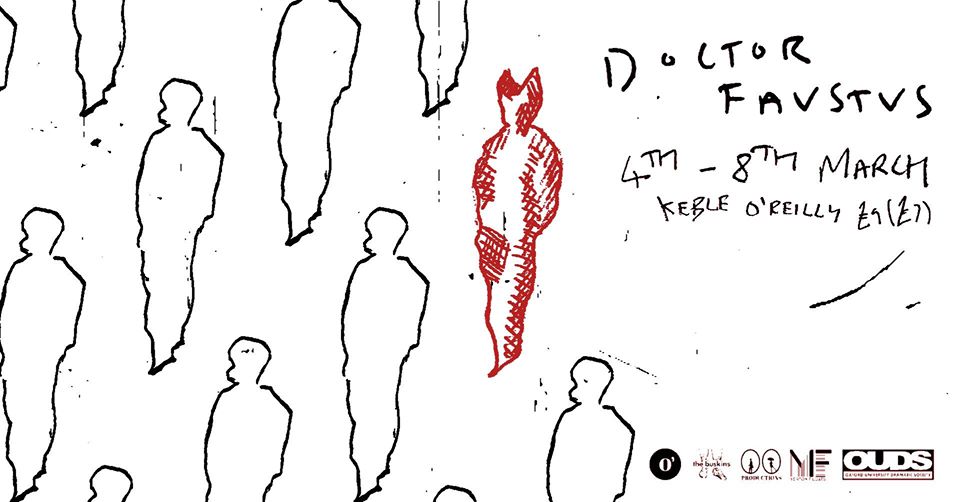 "Why this is hell, nor am I out of it."
As clawing hands ooze from behind a bookshelf, as twisted shadows creep against the walls, as light flares across the stage, 00Productions' adaptation of Christopher Marlowe's Doctor Faustus at the Keble O'Reilly Theatre keeps its audience wonderfully suspended between the mortal world and the imminent threat of inferno.
Caroline Taylor introduces the play as the Chorus, immediately setting the high standard of performance with a natural grace. Henry Waddon then commands the stage as the brilliant, yet hubristic, Doctor Faustus. Opening with a wine-glass in hand and drunk on the prospect of uninhibited power, it would have been easy to render Faustus as a wholly Machiavellian villain. However Waddon's Faustus is one who is engaging and relatable, making his moral corruption all the more frightening. Amongst his narcissistic gushing, the sensitivity Waddon conveys in Faustus' realisation that God "loves thee not" is remarkably touching. Such a convincing portrayal of the gradual and pitiful decline into hellish torment is testament to Waddon's remarkable ability to navigate the extremes of human emotion with a natural sincerity. Gemma Daubeney is sinister yet exciting as Mephistophilis. Despite her menacing edge, there is a playful energy to her performance, and her enraptured glee in wreaking havoc lends light to an otherwise dark narrative.
From Alice Penrose's set; the ticking clock looming above, and disordered bookshelves; to Will Hayman's lighting design, the visual elements of the production were absolutely excellent. The introduction of the seven deadly sins springs to mind as a particular visual highlight of the performance. With twisted limbs and clacking tongues, the wonderful grotesqueness of the sins was magnified by lights shifting in colour and an undercurrent of ominous sound that permeated the auditorium. Embedding speakers in the set was an especially effective move in this sense, with the sounds of hell fully integrated and resonating throughout the theatre: hell and the mortal world felt fully intertwined.
Doctor Faustus is emblematic of the best theatre Oxford University has to offer, both in terms of performance and in terms of its creative vision. With loud pyrotechnics and convincingly bloody special effects, Doctor Faustus is by no means for the faint-hearted. Thoughtful and inspired, Amelia Rogers' direction ensures that this 16th century play is revitalised with a tantalising mix of wonder and despair, unleashing the true horror of a man meddling with the devil.

---
For Cherwell, maintaining editorial independence is vital. We are run entirely by and for students. To ensure independence, we receive no funding from the University and are reliant on obtaining other income, such as advertisements. Due to the current global situation, such sources are being limited significantly and we anticipate a tough time ahead – for us and fellow student journalists across the country.
So, if you can, please consider donating. We really appreciate any support you're able to provide; it'll all go towards helping with our running costs. Even if you can't support us monetarily, please consider sharing articles with friends, families, colleagues - it all helps!
Thank you!