Research by the social mobility charity upReach shared with Cherwell has begun to reveal the tangible effects of the grading approach used by Ofqual in widening educational inequalities. Subjects almost exclusively studied in independent schools have seen a significant rise in A* and A grades, and A-Levels more common in the state sector saw the greatest interference by the system used to moderate grades – a sign that the slight increase in grades in 2020 was not applied evenly across the education system.
The charity estimates that, based on the vast differences in size between typical independent schools and state Sixth Form colleges, state school students' grades were 20% more likely to be downgraded than private school students'.
Sixth Form and Further Education colleges were worst affected by the recalculation of grades by the government body due to their generally larger classes and cohorts. Schools with small cohorts for given subjects were partly shielded from the algorithm and Centre Assessed Grades (CAGs), the marks sent to exam boards by teachers, were used more frequently. It remains unclear what effect Monday's announcement that the government would now use CAGs will have on university options, given that many courses have now had their places filled.
The findings come as the majority of Oxford colleges continue to make statements concerning individual approaches to results day, with first Worcester, then Wadham and St. Edmund Hall, and now New and Jesus Colleges confirming that they would admit every UK offer-holder regardless of their final grades.
Some have questioned whether the current controversy is merely the product of a vocal minority of disappointed students. Grades have seen a moderate increase this year. The percentage of entries awarded an A or A* rose from 25.2% to 27.6% and the number of C or above grades went from 75.5% to 78%. Indeed, in a statement three days before Results Day, the chair of Ofqual, Roger Taylor, wrote that "we have erred on allowing greater leniency" and promised the slight rise in grades seen above.
However, upReach's research concludes that this increase was primarily absorbed by students at independent schools rather than those in the state sector.
It was subjects such as Latin, Classics and History of Art, predominantly studied at independent schools, which saw the greatest rise in A*s. Over 70% of schools entering students for these A-Levels were private. At the other end of the spectrum, subjects such as Psychology, Sociology and Business Studies, much more common in state schools, saw the smallest rise in grades. In Sociology, the rise in A*s was just 0.1%, compared to an average of 7.7% for classical subjects. Thirty times more students study A-Level Sociology at state Sixth Form or Further Education colleges than at independent schools.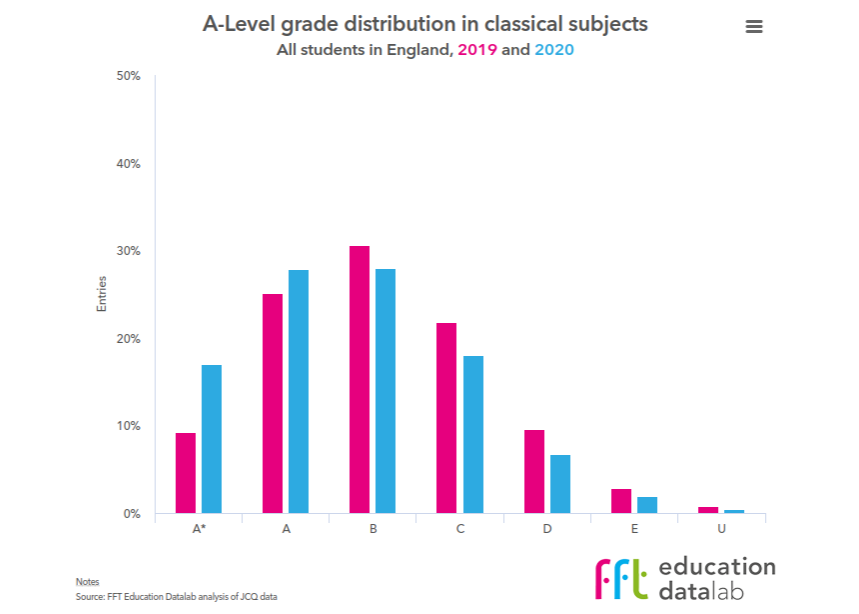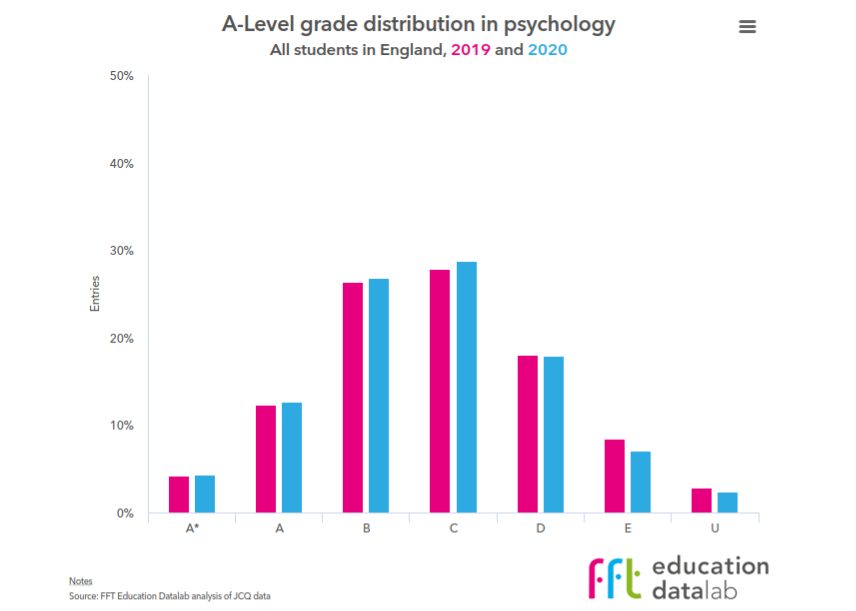 John Craven, Chief Executive of upReach and author of the report, told Cherwell: "Ofqual's flawed methodology resulted in rampant grade inflation in "private school" subjects such as Classics. By their own definition, Ofqual and the government have thus failed in their attempt at maintaining a "Gold Standard" by capping grades. Popular subjects more commonly studied at Sixth Form colleges saw no grade inflation. This has unfairly destroyed the dreams of thousands of ordinary students."
Craven called the news that the government would revert back to using CAGs the "least worst option given where we'd got to". He continued: "This will be welcome news to all those the algorithm disadvantaged. However, it has major implications for the university sector, and it is not yet clear that all will be able to honour their offers given capacity constraints – even if the student numbers cap at each university is indeed lifted.
"And this is not a "perfect" social mobility solution by any means, given that students from lower socio-economic backgrounds are more likely to be "under-predicted" grades – both historically, and – quite dramatically – in the teacher awarded grades put forward by schools in 2020. The risk now is that universities "top up" their student numbers, but the social mix reflects that less-advantaged students were under-predicted by teachers relative to others. And it may risk the viability of some less academically selective universities if students with higher grades now choose a different one with their higher grades."
On Sunday, Oxford University announced that it was admitting a record number of state school students – 67.8%, up from 62.1% in 2019. Nevertheless, there remains a significant disparity between the make-up of Oxford and the UK, where an estimated 93% of domestic students are educated within the state system.
Image Credit: Chatham House
This article was amended on 17/08/2020 at 4:55 pm to reflect the government's announcement that it would now use Centre Assessed Grades rather than the Ofqual algorithm.