Oxford's iconic Broad Street has taken on a new look for the summer in the form of 'Broad Meadow': a temporary, public, green space.
A flower meadow can now be found amongst the usual Broad street sites, including Balliol College, the Old Bodleian Library, and the Sheldonian Theatre. The meadow opened to the public on July 1st after the Oxford City Council received approval to close part of Broad Street to traffic. Councillor Susan Brown, Leader of Oxford City Council, and Tom Haynes, Deputy Leader and Cabinet Member for Green Transport and Zero Carbon at at Oxford City Council, officially welcomed members of the public to enjoy Broad Meadow.
Installation of wooden seating and planters began on June 26th by Oxford Direct Services (ODS). The design was created by LDA design, and the City Council confirmed that the design was informed through discussions with local stakeholders, businesses, and advocacy groups. Groups involved in the conversation included cycling groups like Cyclox, and representatives of disability groups through the Council's Inclusive Transport ant Movement Forum.
The use of local suppliers and recycled materials was prioritised, with re-used furniture displaying laser-cut slogans like 'I used to carry vaccines'. Dafydd Warburton, Director at LDA Design, said: "The design and delivery of this new space for Broad Street ready for the summer has been intense. All along the way, we wanted to use recycled materials and local markers."
He continued: "Currently the space [Broad Street] is heavily contested, with pedestrians confined to narrow pavements. This is a fantastic opportunity to test new ideas for a more inviting public realm."
While Broad Street still retains two-way cycle and cercle access outside the hours of 8am-9pm, the area is much more pedestrian friendly. This is part of a broader movement to pedestrianise Oxford. Councillor Tom Hayes said: "The creating of this large outdoor public space will be a shot in the arm for the whole of the city, helping to bring people together safely. Our aim is to pedestrianise more of the city and give all of Broad street back to people in the long-term."
The prioritisation of green space follow's the City Council's March decision to approve the UK's first Zero Emission Zone in parts of the city centre. In-keeping with the theme of introducing nature into Broad Street, the City commissioned muralist Bryony Benge-Abbott to create a large, floral artwork on the highway.
Plans are being discussed for community and arts weekend events to take place in Broad Meadow over the summer. The circumstances of these events will be determined following the Government's reevaluation of COVID-19 guidelines expected to be in effect from July 19th. On Saturday July 3rd, the White Rabbit from Alice in Wonderland paid the meadow a visit in celebration of Alice's Day, with the Alice street Theatre performing in Broad Meadow throughout the day.
People are being encouraged to meet up with friends and family in Broad meadow, meaning the space is designed to serve as a COVID-19-friendly social hub. Councillor Hayes said: "On a perfect summer day, children will be able to play, people will be able to pause for cool refreshments."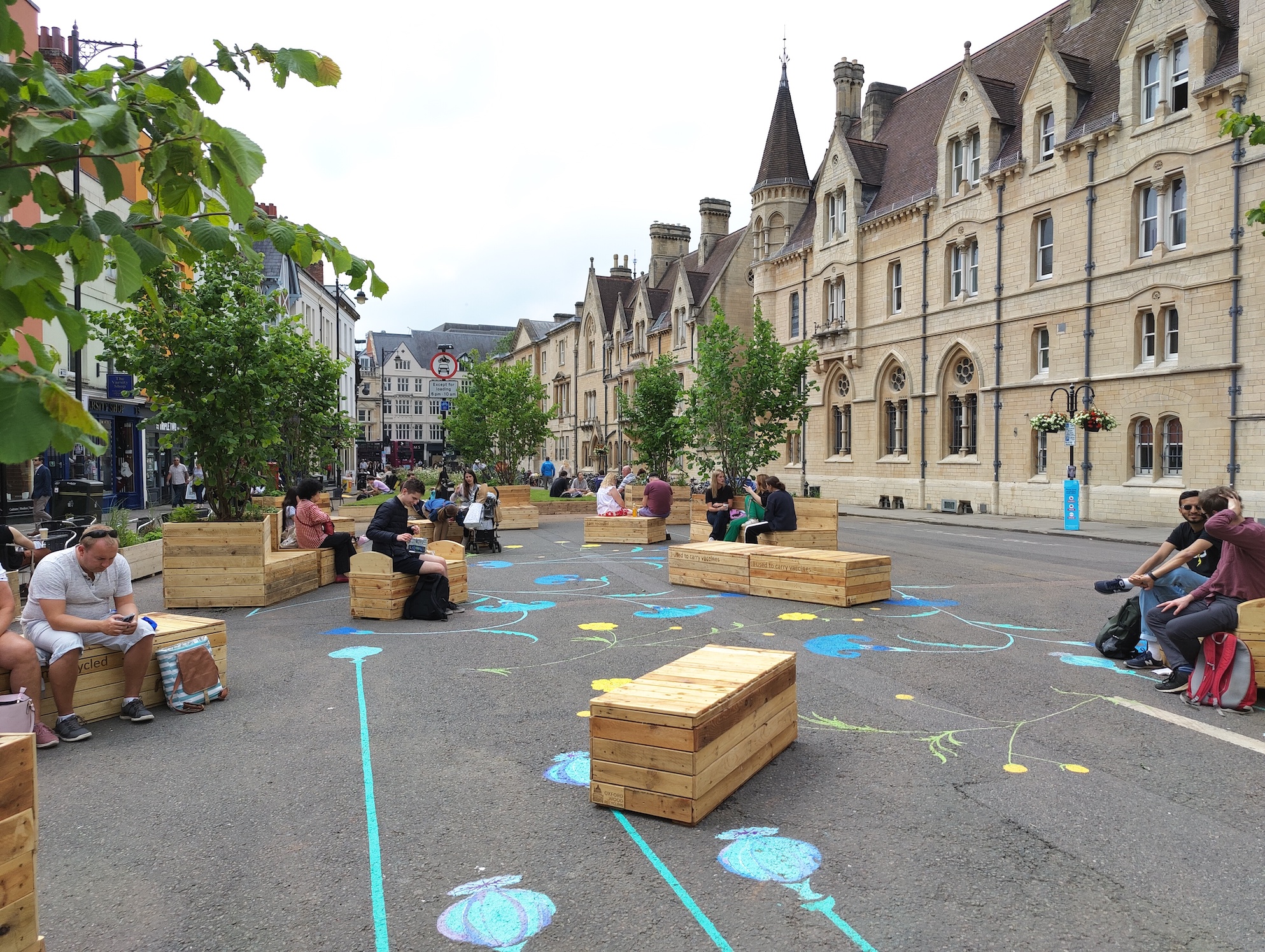 The City is encouraging Oxford residents, workers, students and visitors to offer feedback based on their experiences with Broad Meadow. In addition to the online survey, City Centre Ambassadors are asking for people's views in person on-site. Any feedback could potentially affect plans to permanently pedestrianise Broad Street.
Councillor Hayes said: "Broad Meadow will be a safe, welcoming, and green space for everyone to enjoy. Within a year we want to be in a position to give Broad Street back to the people, and we need to hear from everyone about how Broad Meadow has met their needs."
Broad Meadow will leave the public car park on Broad Street, bus stops, ad access from Broad Street to Market Street unaffected. Access from Magdalen Street East and Turn Street, however, will be restricted by drop-down bollards.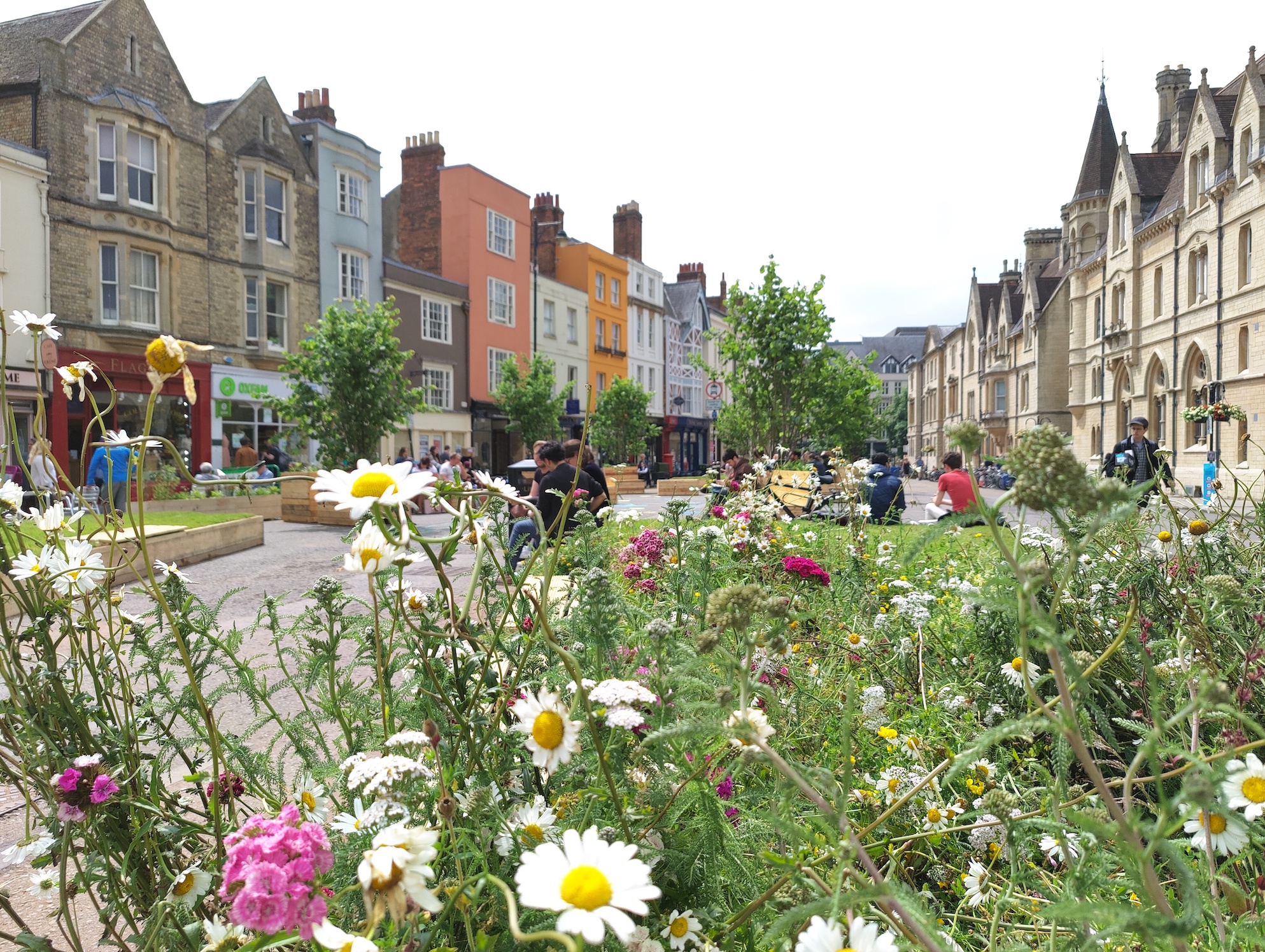 Image: Pierce Jones
---
For Cherwell, maintaining editorial independence is vital. We are run entirely by and for students. To ensure independence, we receive no funding from the University and are reliant on obtaining other income, such as advertisements. Due to the current global situation, such sources are being limited significantly and we anticipate a tough time ahead – for us and fellow student journalists across the country.
So, if you can, please consider donating. We really appreciate any support you're able to provide; it'll all go towards helping with our running costs. Even if you can't support us monetarily, please consider sharing articles with friends, families, colleagues - it all helps!
Thank you!