The first pioneering kebab van, Ali's, cowboy parked on the curbs of 1980s Oxford without a permit, serving students midnight feasts until the police jogged them on. Today, (huts and covered market stalls included) Oxford 'kebab van culture' is an institution, as entangled with boilerplate student life as over-caffeination and college puffers. Cherwell stringers did sober what many of you will have done drunk: chatting with the men and women behind the counter.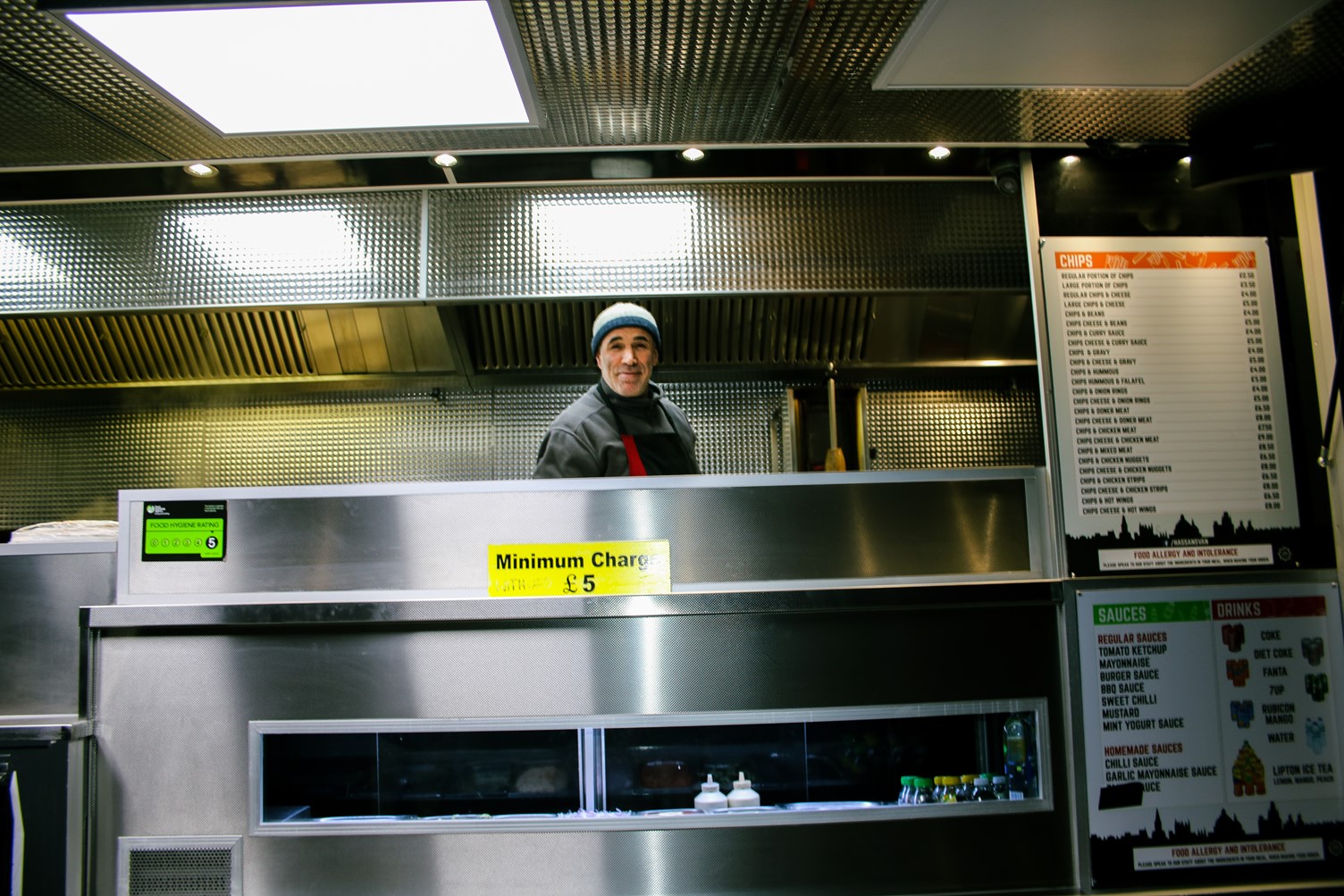 Hassan's
In our brief interview with Hassan's on Broad Street, it became evident that this ever-popular van is not afraid of rivalry. When asked about their biggest rival, Hassan adamantly assured us, "I'm not interested. I like to focus on myself." Even when asked the follow-up question of what makes his the best kebab van, Hassan was quick to flip the answer onto us, saying, "you answer this question, not me."
This confidence is not unwarranted given the popularity of his van and his longevity. Hassan told us that he has been "on the same road for the past 30 years", providing the Oxford community with some much-needed sustenance after a night-out or during a particularly hard essay crisis. My personal go-to order is chips, hummus and falafel with chilli sauce; try it and thank me later. But I'm not the only one that loves Hassan's. The owner told us that they still get customers from 20 years ago returning to this van: "when they visit Oxford, it's the first thing they have to do."
This cult following around the van has led the owner to start selling Hassan's merch. "You can buy [the sweatshirts] for 15 pounds," he told us, "I've got plenty. I don't get any profit, they are a souvenir." These legendary sweatshirts are a massive hit, not only surfacing here and there when walking down Cornmarket Street, but also popping up in London. Hassan even gave us an anecdote of two customers that bonded over their sweatshirts at a London gym.
Hassan's future is retirement, with the owner jokingly renouncing kebabs: "No more kebabs. I just want to sit down and relax." These plans are not in the works right now, so rest assured that Hassan will be livening up Broad Street for a little while longer.
Hussein's
Hussein's Kebab van has the lovely Nadiya who Cherwell spoke to. When asked about which van is her main competition, she told us, "none, they're all good and too nice to pick one out." However, if she had to pick, it would be "Kebab King."
What makes Hussein's stand out is that, in their own words, "the service is always great. Food comes second, service comes first!" An Oxfess about how lovely Nadiya is garnered 300 likes this term. Nadiya said "It's just natural. It runs in the family," adding, "the good vibes of customers helps a lot." Nadiya has not had any bad experiences with customers.
Hussiens started in 1992, after Nadiya's Grandad, Ali, started his kebab van on Woodstock Road. "There's no rivalry," Nadiya is quick to add, "Everyone has their own business and customers." Solomon's is also family – so no Kebab Wars here!
Nadiya thinks kebabs are so popular because they are the ultimate nightime food: "You're not going to ask for a tagine, are you?"
In the future Nadiya plans to bring different types of chicken to the van: "Peri Peri, Moroccan Chicken in the future. Jerk Chicken has just been added to the menu!" She also hopes to offer Peri Peri Salt soon.
Nadiya's favourite menu item is "Chicken wings with Peri Peri – OMG."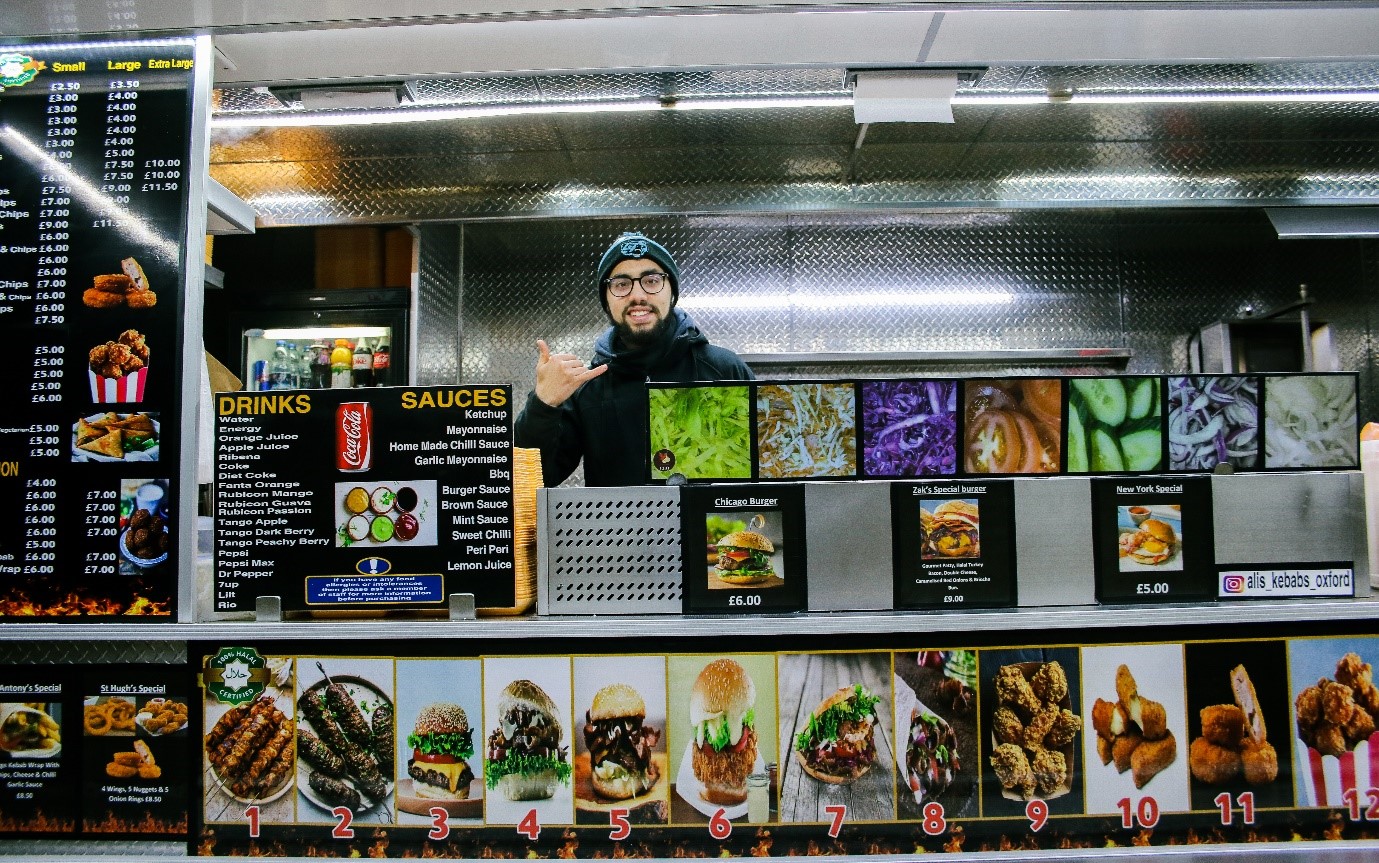 Ali's
I arrive at Ali's at 2am on a Monday, just as Ali is closing up and getting ready to go home. Famously friendly, he chomps on a homemade tomato pasta "made by the missus". The plus side of working here, he says, is you can get two full meals a day; "whenever I fancy something, I just eat it."
It's not long till we get to the topic of Ali's history. Set up by his grandad in the 80s, he maintains "we're the oldest kebab van in Oxford that's still working". How have things changed since the 80s? He explains that you used to be able to park anywhere you want, so all the vans were next to the clubs. But "right next to a nightclub there's a 95% chance your customers are going to be drunk, and then they get in trouble and in fights." His grandfather opted for a calmer setting, nestled between St Anne's and The Royal Oak. "To be honest I'm happy here. People are nice to me and I'm nice to them, and I have a good time, I wouldn't change that for anything."
It's not all friendly customers though, as he recounts an extremely drunk man at 4am, just before closing, asking for a burger. "I was cooking it for him but he didn't want to wait, so I gave him a can and he walked off. So I said 'pay for the can at least!' and he turned around and threw it at the van!"
When I ask what vans are his biggest rival, he laughs. "We are kind of far away from everybody, to be honest with you, they're not really rivals." What makes them different is their homemade food: "we do burgers that nobody else does, like New York, Chicago burgers. We try to be different from everybody else, while trying to keep it simple." He recalls that his Grandad has been working the "same hours, same days, same menus" since the 80s, though he's winding down a little now.
His favourite thing on the menu by far (eyes lit up) is the "Super Chicken Burger", which is "chicken burger, kebab meat, salad, cheese, chips" all in between one burger bun. "That's my favourite, I eat that almost every day," he says with a grin.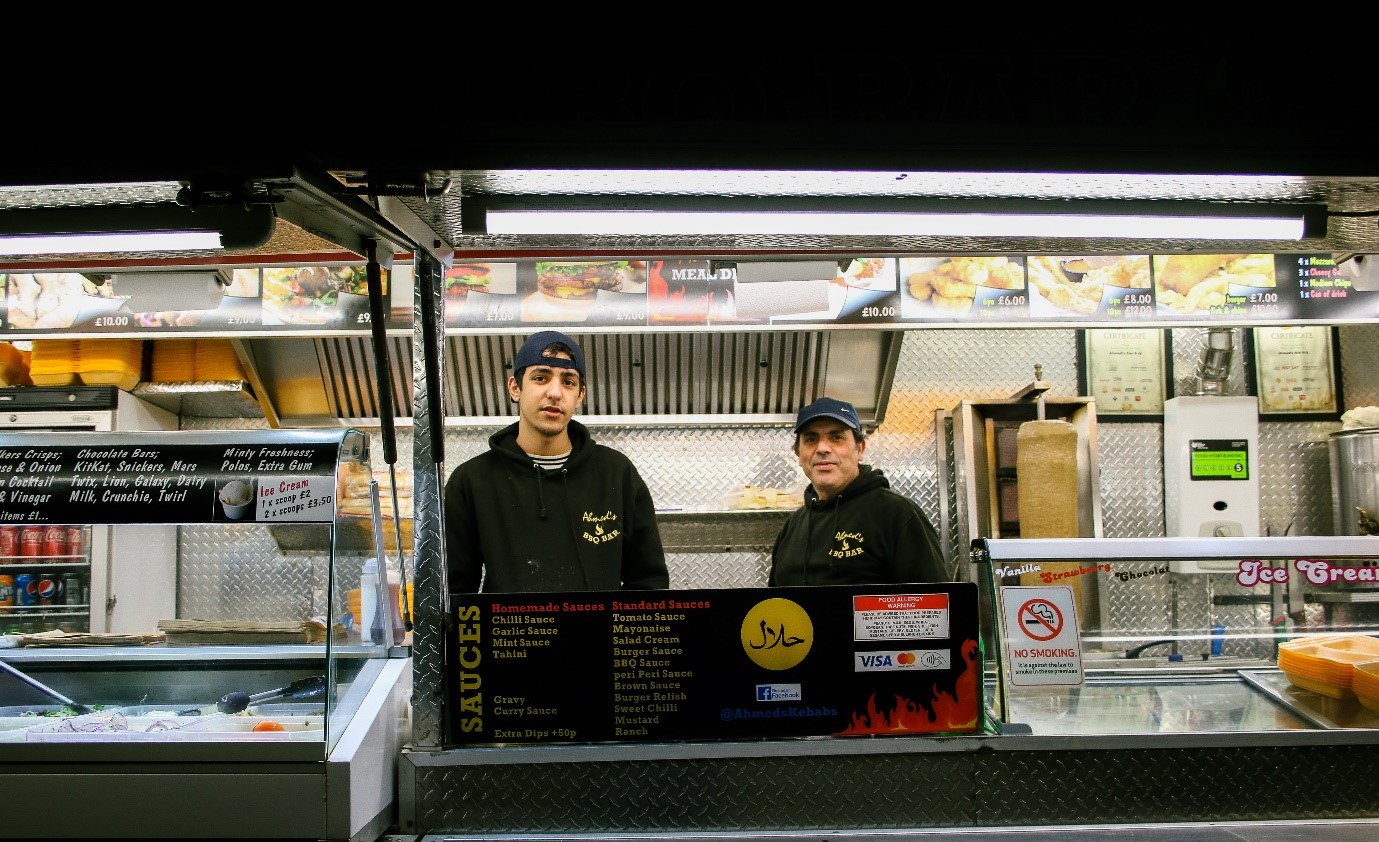 Ahmed's BBQ
We got to Ahmed's Bar BBQ on a weekday evening, before the midnight rush, so the 'main man' was quite happy to chat to Cherwell for a few minutes. Our conversation started off cheerfully; "One can of Diet Coke, and an interview please!" 
A kind and affable man, who answered our questions with a smile, Ahmed declared that he has no competing kebab vans. In fact, he feels a sense of community among all the kebab vans. This is, of course, backed up by the van's popularity, with its seemingly infinite menu and Ahmed's claim that he always has enough of every item. He told us that his consistency is what makes his van the best and the quality of his food has met the same, high standards for the 26 years that he has been running it.
In that time, he has gathered enough stories to "write an entire book". He did not name any names, but he has served quite a few government ministers and politicians from his perch on the High Street. Both his daughter and son said they were astounded by Ahmed's ability to recognise random figures on the television as someone he served from the van. Even well-known people have late-night essay crises and panic-stricken trips to get a Kebab, it seems.
The kebab is, of course, what got him into this business, with his previous experience in kebab catering leading to the purchase of his first van in the 90s. While his van has definitely come a long way, looking to the future, Ahmed is still waiting for "the second Ahmed who can take over" and then he might just move on, but for the moment, the kebab grill burns hot every evening, so please have a try (with or without a side helping of hangover and/or essay crisis.)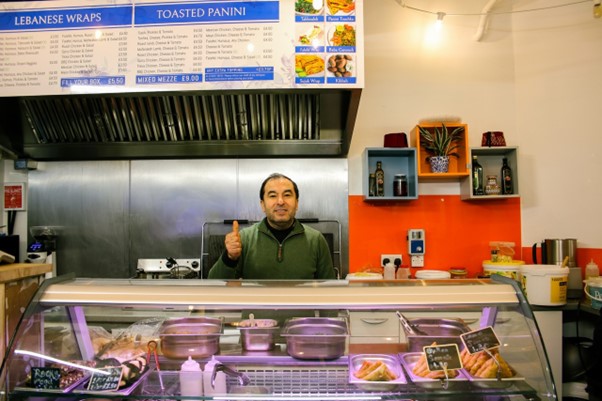 Rozana
The new kid on the block, Rozana in the Covered Market has become fondly known among Oxford Students since its opening in December as 'Fake Najar's'. The owners here are keen to distinguish this as fiction, not fact. Defined by Rozana's roots in Aleppo, the Syrian and Lebanese flavours run through the store that now has a daytime queue to rival any of its more established predecessors.
Rozana is quick to bat away rumours of Najar's links. "It's different, completely different, and completely different food too." She is quick to point out that people think falafel is all the same – in reality the differences from country to country, region to region, and city to city across the Middle East are complex and detailed.
Starting with the sujuk, Rozana infuses it with the 12 unique spices of her community in Aleppo. That community is made up of just a million people and is the reason that the flavour is so unique here in Oxford.
In the centre, the owners simply couldn't find the takeaway Lebanese and Syrian options they were looking for. Comptoir Libanais and other chains are no match for their authenticity and other kebab vans use different flavouring, so they simply started their own.
After coming from Aleppo in 2014, Rozana worked as a chef for four years at a larger restaurant before helping in her brother's restaurant for 12 months. After that experience she finally felt ready and equipped to set up shop on her own.
Her go-to option? The classic falafel and hummus. The hummus here is homemade by Rozana herself and is notably smooth. She attributes this to the cooking process, which is long and thorough. The chickpeas themselves are cooked first onsite before being used to create the spread. The next-best option is the sujuk because of the way the unique spice blend takes her back to her home city of Aleppo.
Among students, people go for the lamb, baba ganoush, and tabbouleh. These are the more established tastes of Middle Eastern foods in the UK and the owners think that is why they are perennially so popular.
Plans for the future? Rozana is thinking big. First she wants tables and chairs outside, but before long she wants outlets across the city and to make her family name famous. So, looking for an authentic Syrian twist on your standard order? Head to Rozana, but be prepared to wait…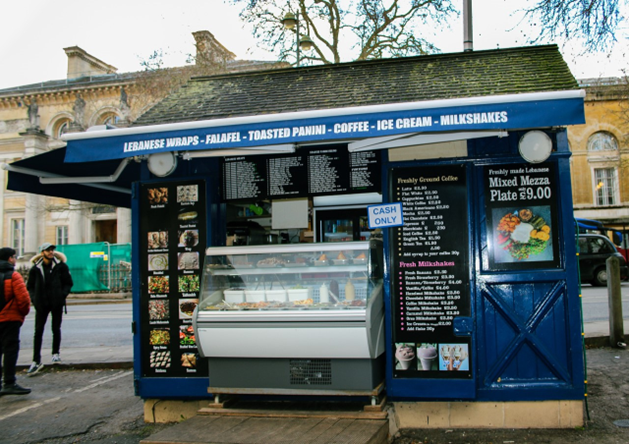 Najar's
Najar's is not a van – it's a listed building rented yearly from St John's painted Oxford blue. Alex told us, "we started almost twenty years ago. My brother-in-law started it, and I came over to give a hand. Back then, you could walk in. We liked it because we could keep you lot out of the rain. But actually, it's better now. A lot better."
Alex spoke to Cherwell with George, his pet pigeon, perched on the end of his right pointer finger. George the pigeon is Najar's regular – he lives in the eaves of St John's and he swoops down when Alex opens up. So much of Najar's revolves around looking after their relationships with regulars like George, hence their closing time at 9pm, which means they don't really have to deal with drunk people. Alex says, "we don't want to fall out with our regulars. People come in, you know, students that come in every day and they're different people when they're sober. The last thing we want to do is ruin that relationship that we have with them… we know a lot of people by their first name and they do the same with us.
"The pressure can get to us sometimes, but it's you guys that make our day, you know, you come in and you ask how's it going, and just that kind of snaps you out of your bad day."
And Najar's is, of course, an 'us' – Alex is just the maestro. He tells me, "everyone is from a different part of the world here as well. I'm from Syria, we've got one Bengali guy, we're Kurdish as well. So it's a real mix, and people come and go here, they don't tend to stay. The one's that do are the regular faces that you'll see here for a long time."
As for Najar's menu, Alex tells me, "I like the lighter stuff. I like the tabbouleh either by itself or with bread, a little bit of hummus and a couple of falafels. [I'm] trying to watch my weight after COVID… I guarantee you, go anywhere else and try anybody else's falafel. You're never going to taste something like this."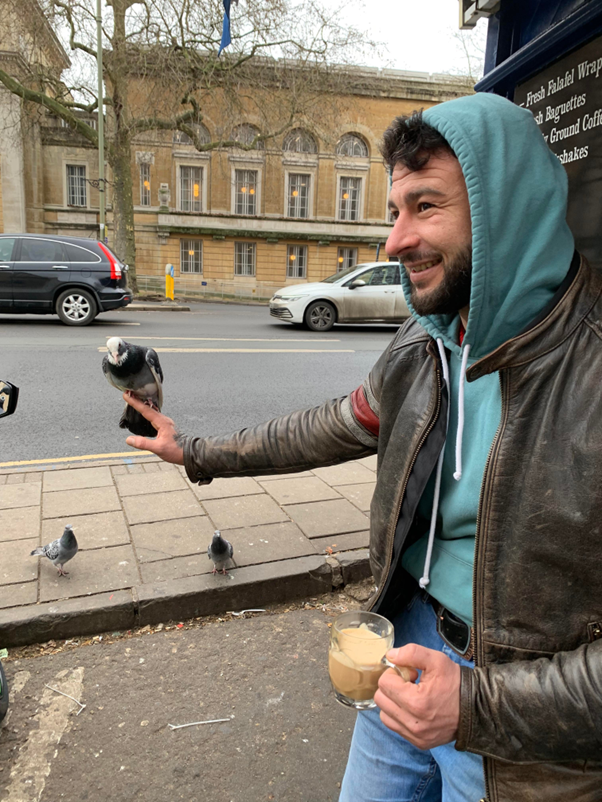 Image credits: Coco Cottam