The battle to free one of the most wanted men in the world, Julian Assange, founder of WikiLeaks, has a passionate, dedicated champion in Stella Assange. With the looming threat of Julian's extradition to the United States and the possibility of 175 years in prison, Stella fights tirelessly for her partner's cause, facing down the U.S. government. David against Goliath. Her eyes show the scars of ceaseless war. I see pain, immense suffering and a desperate plea to be understood.
While we meet on Zoom, sipping lattés, Julian is incarcerated in Belmarsh Prison, the most hellish maximum-security prison in the UK.
Turn the clock back. On 22 October 2010, WikiLeaks released more than 750,000 classified U.S. military documents, including nearly 400,000 U.S. Army-filed reports, called the Iraqi War Logs, which detailed 66,000 civilian deaths out of 109,000 recorded deaths during the Iraq War.
In 2012, Julian sought refuge in the Ecuadorian embassy in London. There he remained until 2019. However, after WikiLeaks reported on corruption allegations against the then Ecuadorian President Lenìn Moreno, on 11 April 2019 the Ecuadorian government invited the Met Police into their embassy and Julian was immediately arrested. On the same day in the U.S., a pre-prepared sealed indictment was opened and Julian was charged with conspiracy to hack into a government computer with a maximum five-year sentence.
In the UK Julian was quickly found guilty of breaching the UK Bail Act and sentenced to 50 weeks imprisonment. He has been locked up in Belmarsh Prison ever since while the U.S. sought to extradite him. On 23 May 2019, Julian was indicted on 17 charges relating to the U.S. Espionage Act carrying a maximum sentence of 170 years. There have been multiple UK court hearings and appeals since then. Julian, Stella and their legal team have tried every which way to fight the U.S. government's relentless attempts to extradite Julian.
On 17 June 2022, then UK Home Secretary Priti Patel approved Julian's extradition. On 22 August 2022, Julian's lawyers appealed to the UK High Court with new evidence. The result of that appeal is awaited.
I asked Stella what outcome she saw for her partner's Sisyphean struggle against extradition. Will he succeed?
"I'm hopeful. If public opinion properly understands the case, the case is completely intolerable, and the courts would never credibly go along with it. It's 99% politics and 1% law. You couldn't get a more political case than this – from the content of the publications, which were about U.S. conduct during the Iraq and Afghan wars, including torture, the U.S. leaning on governments in Europe to get certain outcomes and then the way that the U.S. government has conducted itself. I think there is a lot more that is known now than before. It used to be a grassroots movement of people who follow Julian and WikiLeaks very closely but it's grown, and in the meantime, there have been high-quality books that have come out by the UN Special Rapporteur on torture. I think there's a lot of people now that are quite educated on the stakes. I don't expect the general public to know 13 years of detail like I have it in my head because I have lived it, but there are some general issues that people are getting. And then there's Julian being in Belmarsh Prison for four years without serving a sentence. There are people who were convicted to say eight years in prison. They're out after 50% of their time for violent crimes and Julian's in there because he published evidence of government wrongdoing and he's not even convicted. For the regular bystander, they look at the situation and they can see immediately, instinctively that it's wrong."
Stella is completely determined to spread Julian's message to the world. Julian's father, John Shipton, a 76-year-old retired builder, has also been a hugely vocal campaigner for his son throughout the many years of legal proceedings. The recently released documentary 'Ithaka' follows the hard journeys Stella and John have travelled, shedding light on the brutal challenges Julian has faced and the broader implications for press freedom and democratic rights. I asked Stella what she wants viewers to take away from the documentary.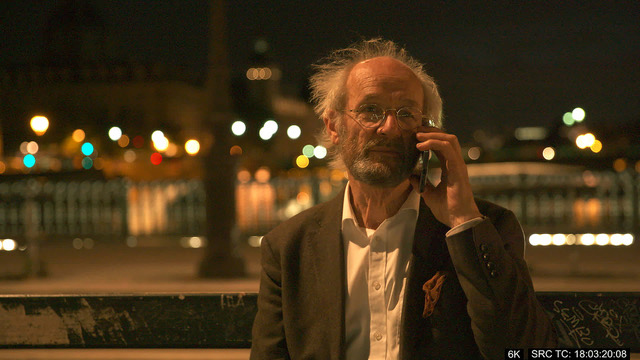 "I think a better understanding of not only what has happened to Julian but also the bigger implications of Julian's case for freedom of the press, for the public's right to know and for our basic democratic rights. Also to give them – the viewers – an alternate narrative to the way in which the story has been told for many years. The way we could do that was by letting people into our lives for them to witness what was happening in our lives and what was happening to Julian through our eyes."
During Julian's asylum in the Ecuadorian embassy, there were compelling allegations that the CIA conducted surveillance on the embassy. The Guardian and CNN reported that the CIA used advanced techniques such as hacking into cameras, microphones, and communication systems, to monitor Julian's movements and conversations. I was keen to hear about the extent of surveillance on Stella and John including during filming 'Ithaka'.
"There have been years and years of harassment in subtle and sometimes indirect ways by the governments involved. Sometimes it's overt like having a car with its engines on all night, with people sitting in the car in civilian clothing and leafing through a report about Julian – something which we captured with the cameras. It was a grab team. It ranges to quite outrageous things like previous Tory governments saying things about Julian, on the one hand trying to pretend that it was business as usual but then when it came down to it going out of their way to say despicable things."
Adrian Devant, the producer of 'Ithaka' and Stella's brother, was also present at the interview. I wondered how from Adrian's perspective as filmmaker the documentary might move the dial on issues such as press freedom, government corruption and human rights.
"We set out to connect with people on an emotional level. An emotional connection with the audience is the best way to tell a story, a story that's been in the hands of the media for such a long time. People's eyes are opened and that emotional availability allows for them to have a deeper understanding into Julian's situation. We hope that that speaks to the importance of Julian's work. WikiLeaks comes from a deeply humanistic impulse. For example, the Iraqi body count organisation says that it if it weren't for WikiLeaks the deaths of 15,000 Iraqi civilians would not be acknowledged and those people's lives would be dust in the wind – forgotten forever. Behind the lens of archive and documentation are people's lives and justice."
Before the interview I was fortunate to have exclusive access to 'Ithaka'. Something said by John resonated. People seem above all else to be interested in a narrative about Julian – in Hollywood fashion rather than understanding who Julian might be as a human being. I raised this with Stella, asking about the media's portrayal of Julian.
"When we started making the documentary, the narrative being pushed was extremely misleading and dangerously ignorant. If you read the newspaper, for years you would just not understand what was happening – there were claims that he was completely paranoid, that the U.S. didn't want him, that the U.S. would never prosecute him for publishing information. That started to change the day Julian was arrested because the U.S. revealed that it had a sealed indictment. It should have triggered a reflection on the part of the media – that Julian was right, but it didn't happen – perhaps because the media isn't very good at criticising itself."
It certainly does beg questions about the impartiality and journalistic integrity of much of the news media. I wondered if support for Julian didn't originate from the news media, where it came from. Was it really the grassroots movements which were independently taking a stand? I asked Stella whether there had been a shift in public perceptions of her partner resulting from her own grassroots activism and advocacy efforts.
"Over time, there has been a shift. That shift has come through several important processes. The documentary is one, another is a grassroots movement that has become increasingly organic and in Australia is very strong. The vast majority of Australians want Julian to come home. In the election last year Julian was an electoral issue. The Labour government was elected with the prime minister saying he wants to bring this – the extradition case – to an end. It was a fact that he expressed this opinion as part of his electoral campaign because it was OK to express that and he knew he would win votes."
Despite the support for Julian around the world and the belief that the case could be discontinued, Stella has nevertheless seen what can happen when journalists cannot or will not report on issues which demand a truly objective analysis of how their governments exercise power. If journalists cannot freely report and communicate information the public cannot make proper judgments about those in authority. Governments often prefer to operate in the dark. If they let in the light it will be on their own terms. They will shut down dissent. The negative consequences are both domestic and global, for journalists and the public. I was eager to ask what Julian's case means for transparency and freedom to communicate.
"This case is the single greatest threat to press freedom worldwide. The legal theory that the U.S. is advancing is that its domestic secrecy laws have extraterritorial effect and affects every single person on the planet. The people who owe a duty of secrecy to the United States are not just its civil servants and its military personnel, but every single human being on the planet. It's an assault on the public's right to know and it makes journalism impossible because journalists are only allowed to publish what the U.S. deems that the press should publish and that means that the press is an amplifier of what the government wants the public to know. It's not just about the U.S., it's about any other country using the same argument and the same goals. Saudi Arabia can say – there's a British reporter who insulted Mohammed bin Salman, that's illegal in Saudi and you have to stand trial in Saudi. That's the same premise. What it means is that there's a global reduction of standards of protection for journalists. We're seeing this right now. For instance, I see the arrest of Evan Gershkovich in Russia as a direct effect of the U.S. using espionage laws against Julian. Russia had not done this since the Cold War. What they had done in the past to journalists was to expel them, but they now have taken a policy change and it (the arrest of journalists) has become normalised. The U.S. normalised it with Julian and as a result, being a journalist, especially in situations that are dangerous or politically hairy is becoming more dangerous and their life and liberty are at greater risk."
Stella's thoughts on the grim landscape for journalists makes me question the extent to which our freedom of speech is illusory. I asked Stella exactly what she believes the pursuit of Julian reveals about U.S. democracy.
"It tells us two things about the U.S. The first is that its freedom of speech protections are in crisis. The U.S. has very strong constitutional protections, and the most significant is the First Amendment. The First Amendment puts the constraint on the executive, that they cannot abridge people's ability to speak. The case is unconstitutional. The problem is that the U.S. is in quite a reactionary phase and with the composition of the U.S. Supreme Court, the outcome is extremely uncertain. They've said things like, Julian is not a U.S. citizen, therefore, the First Amendment doesn't apply to him, which is crazy. It's a principle that they've extended from, for example, the Drug Enforcement Agency raids in Colombia or Mexico. The people who they arrest in Mexico and bring to the U.S. then try to say – 'this arrest violates my constitutional rights', they say – 'well, you're not American so it doesn't apply for you'. They're doing that for speech. That brings me to the second thing – how the U.S. is wielding its power through the judiciary onto other jurisdictions. This is where the UK has a responsibility to stop a foreign power from abridging freedom of speech here or impinging on protections that should be robust. It's not foreign laws that should apply here, it's UK laws, and journalists should be able to publish without having to know secrecy laws in Turkey or Benin or the United States."
My final question was about Stella's views on the treatment of Julian by the UK government and its courts. What does this reveal?
"One of the interesting points that this case concerns is whether the UK has a ban on extraditing people for political offences or not. The U.S.-UK extradition treaty says it does, but the courts say that they can extradite because the Extradition Act did not include that ban. There are also credible reports that at the highest levels of the United States, there were discussions about assassinating Julian. There is evidence that his legal meetings were being deliberately recorded, and a whole range of criminal activity on the part of the extraditing state, and the British courts cannot credibly be seen to be acting fairly or impartially if they go along with it. Their credibility is under scrutiny, not just just domestically, but also internationally. The fact that Julian has been in Belmarsh Prison of all places, that he's been there for four years that the UK courts have had ever every opportunity until now to stop this, makes the UK court and political system look extremely compromised. The UK is advertising itself as a place where other countries can outsource repressive actions against dissidents. This is a country where dissidents, political opponents and intellectuals used to come because it was a place that was open-minded and safe, but now is giving off completely opposite signals."
Watch Ithaka, https://www.dartmouthfilms.com/ithaka, screening at The Oxford Union at 18.00 on Friday 28 April 2023 and The Ultimate Picture Palace at 14.45 on Saturday 29 April 2023.
Dartmouth Films are pioneers in Britain of independent documentaries – finding new ways of funding, making and distributing films which have an impact.
Recent titles include the summer box office success 'Eric Ravilious: Drawn to War', Grierson-nominated and the UK's 2022 entry to the Oscars® 'Dying to Divorce', BAFTA-winning 'Men who Sing' and BIFA-winning 'Children of the Snow Land'.
Non-theatrical successes include 'Resilience', which had a direct impact on the health policy objectives of the Scottish government and "Magic Medicine', which continues to be used as a crucial resource in cross-party efforts to reform drug policy.
---
For Cherwell, maintaining editorial independence is vital. We are run entirely by and for students. To ensure independence, we receive no funding from the University and are reliant on obtaining other income, such as advertisements. Due to the current global situation, such sources are being limited significantly and we anticipate a tough time ahead – for us and fellow student journalists across the country.
So, if you can, please consider donating. We really appreciate any support you're able to provide; it'll all go towards helping with our running costs. Even if you can't support us monetarily, please consider sharing articles with friends, families, colleagues - it all helps!
Thank you!