Kathleen Stock's address at the Union has attracted hundreds of protestors, both outside the Union and within the chamber. A 500-person strong "protest party" played loud music outside the Union, and a protestor glued themselves to the floor during the event in protest of the talk by the gender-critical feminist.
Guests queued for hours to get a spot in the packed chamber, with the queue at one point stretching past the Union and St Peter's college. Soon after the event began, a protester, who has since identified themself in a tweet as Riz Possnett, glued themself to the floor of the chamber. The event was temporarily suspended and police officers were brought in to dissolve the glue, causing a delay of around ten minutes. Protesters within the debate chamber distributed leaflets which read "No more dead trans kids."
On Twitter, Possnett explained that they firmly believe "trans lives and rights should not be up for 'debate'" and vowed to continue fighting for trans rights.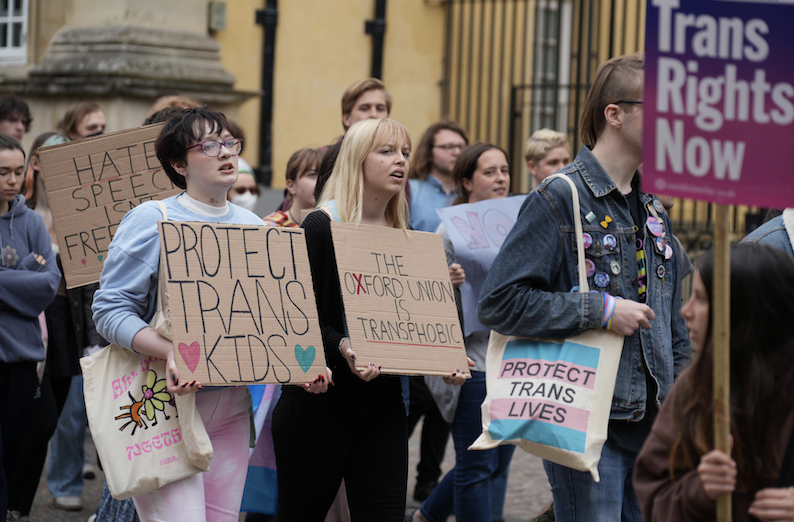 The protest, organised by Oxford LGBTQ Society, began at Bonn Square. The "protest party" of 500 marched to the Union, where protests continued outside the event. Loud music and chanting could be heard from inside the debate chamber and continued throughout the event. Placards from the protests read "our existence is not a debate" and "crash the Stock market." Protesters came to show their support of trans students of Oxford and reflect trans joy. One trans student, Elliott, told Cherwell "you cannot imagine the feeling of stepping into a room and sitting next to someone who five minutes ago tweeted against your existence".
As Stock exited the Union, she was met with chants of "Terf lies cost lives".
This article will be updated to reflect ongoing events.