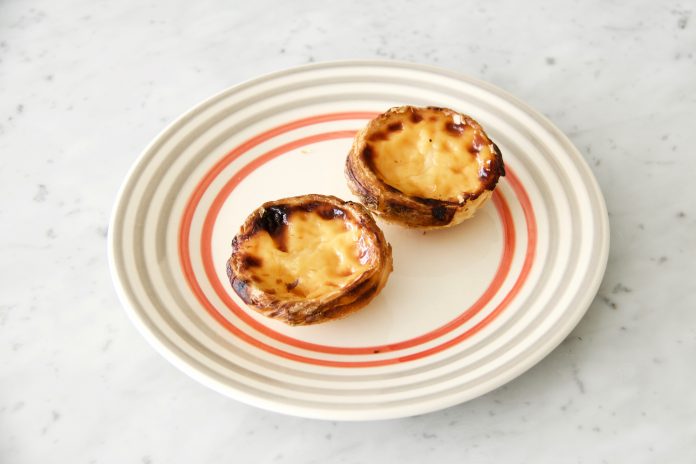 Portugal became the hot travel destination this past year. Naturally, with that, its popularity has translated into a new food trend in England. Nando's hasn't become Instagram worthy yet, but some of London's top foodies (i.e: @clerkenwellboyec1) are contributing to the recent hype around Portugal's iconic custard tarts, also known as 'pasteis de nata' (singular: pastel).
It is no surprise that people are turning to these bite-size and golden pastries as an alternative source of joy, especially this time of year when our lack of vitamin D makes us crave anything which looks remotely like the sun. Pasteis de nata fulfil criteria number one when it comes to delicious food: they're simple. Composed of creamy and smooth custard, perfectly balanced by crispy puff pastry and caramelised on the top, they're a daily treat in Portugal, and usually accompanied by an espresso.
Their simplicity doesn't make them any less precious—the recipe to make them is as secret as the Coca Cola recipe, says Jose Cardoso, owner of Tuga Pastries. He told us that pasteis are sold in almost every coffee shop or bakery in Portugal, and that a competition awards the best pastel de nata every year. In that spirit, we've explored Oxford's food scene to save you the flight to Portugal and to present you with a ranking of the pasteis de nata which can be found and enjoyed right here in your city!
#4 Taylor's, 1 Woodstock road
They were the most expensive we found and yet they lacked crispiness in addition to being overfilled and under-caramelised. £1.70 will buy you imbalanced and heavy pastel. Our advice: stick to their sandwiches.
#3 Green's café, 50 St Giles
A little bit cheaper (£1.50), Green's pasteis hit all the right spots of a good pastel. Open everyday, and rather central, this café is the easiest access you'll have to a fine pastel de nata.
#2 Akiport café, 192 Abingdon road
No, you did not read the address wrong. Akiport is definitely far out on the Oxford distance scale. This yellow-ish little Brazilian and Portuguese café definitely hasn't caught up to the Instagram coffee shop vibe but it's where you'll find delicious and authentic pasteis, and for only £1.20. So, which of you will be the most dedicated of foodies and walk or cycle all the way down there?
#1 Tuga pastries, Gloucester Green Market (Saturday), one day a week.
That's your window if you want to taste what we consider to be the best pasteis de nata in Oxford. Last summer, Jose saw an opportunity in the still unknown traditional pastry of his home country and has been selling them since. What makes them so special, apart from the reasonable price of £1.30? A hint of cinnamon, which adds another depth of flavour to this sweet treat, and makes us come back for more every week.
@thecroissantpostcards
---
For Cherwell, maintaining editorial independence is vital. We are run entirely by and for students. To ensure independence, we receive no funding from the University and are reliant on obtaining other income, such as advertisements. Due to the current global situation, such sources are being limited significantly and we anticipate a tough time ahead – for us and fellow student journalists across the country.
So, if you can, please consider donating. We really appreciate any support you're able to provide; it'll all go towards helping with our running costs. Even if you can't support us monetarily, please consider sharing articles with friends, families, colleagues - it all helps!
Thank you!