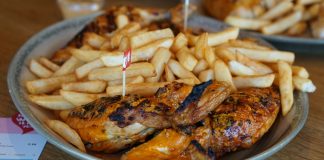 Food is more than just a means of sustenance; it can take on significant political and social meaning.
Mowgli's level of confusion and menu felt unimpressive
A taste of the new pop-up on Little Clarendon — a shared workspace that offers conversation as well as a caffeine kick
It seems man can indeed live on Huel alone. The question is, why would he ever want to?
Balliol's 'Combine Harvester' is as lethal as it sounds
Cat Bean chats student cooking with Mob Kitchen's Ben Lebus
There's nothing life affirming about your fifth helping of chickpeas in a week, writes Daisy Chandley
Matt Roberts contemplates the variety (or lack thereof) of eateries at Dartmouth College
Franco Manca calls food chain creativity into question, writes Cat Bean.
Joe Inwood recounts an unexpected summer love affair