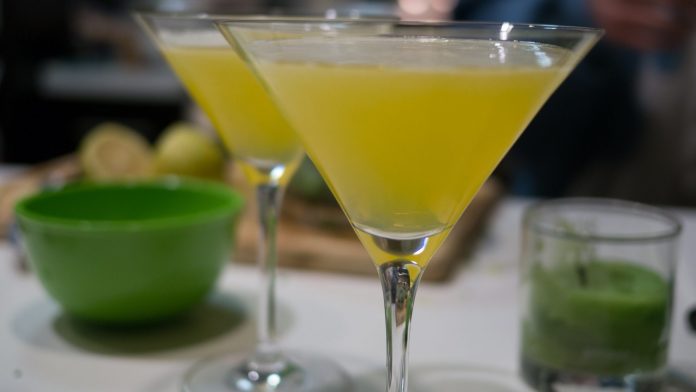 Who didn't love sherbet drops as a kid? Those hard lemon sweets filled with sherbet that you would always find at your grandparent's house. This cocktail is the adult equivalent of that childhood favourite. It combines citrus, orange liqueur and vodka for the perfect blend of tart and sweet. It's also incredibly cheap, with vodka and triple sec being two of the cheapest spirits you can buy. Thanks to the small measurement sizes, you can also make quite a few of these from your litre bottle of vodka, saving even more money in the long-term.
Ingredients:
50 ml Vodka
15 ml Triple sec
25 ml Fresh lemon juice
Lemonade
1 tbsp sugar
Ice cubes
1 fresh lemon
Method:
1. Wet the rim of the glass with some lemon juice and then dip this in some sugar to rim the glass. Do this a few minutes ahead of time so the sugar can dry and adhere well to the glass.
2. Place Vodka, Triple Sec, and lemon juice into a cocktail shaker with four-five ice cubes. Sugar can be added to your taste, although 1 tbsp should be about right.
3. Shake this vigorously for about 30 seconds and then strain into your glass.
4. Top up with lemonade to help stretch the alcohol and provide you with a bigger drink.
5. Garnish the drink with a lemon twist by cutting a circular slice of lemon, and then detaching the peel from the pulp. Cut the peel into a single strip and then twist it into a spiral and place it in the glass.
---
For Cherwell, maintaining editorial independence is vital. We are run entirely by and for students. To ensure independence, we receive no funding from the University and are reliant on obtaining other income, such as advertisements. Due to the current global situation, such sources are being limited significantly and we anticipate a tough time ahead – for us and fellow student journalists across the country.
So, if you can, please consider donating. We really appreciate any support you're able to provide; it'll all go towards helping with our running costs. Even if you can't support us monetarily, please consider sharing articles with friends, families, colleagues - it all helps!
Thank you!