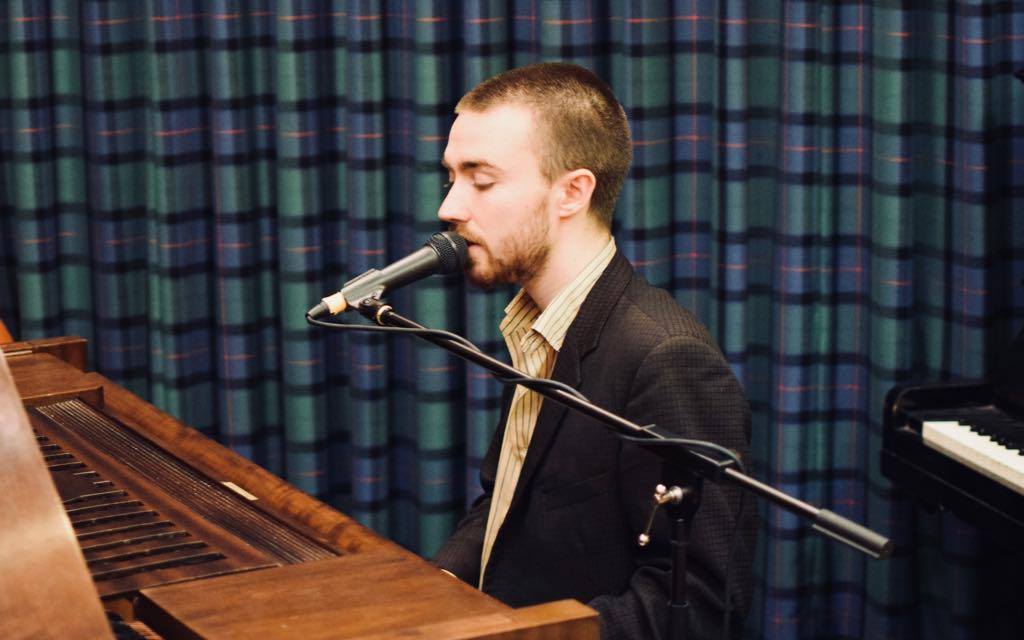 Matt Maltese is definitely one of the most intriguing and exciting new artists that I've come across in a while. At just 21 years of age the South London-based singer-songwriter has got a growing repertoire of crooner-like ballads exploring everything from the usual love interest to taking ketamine at a party, getting with his best mate's girlfriend and then having to go ice skating with his mum the following morning (which is quite a musical rollercoaster, I can assure you).
There's a tremendous level of expectation on his shoulders, having been compared to the likes of Leonard Cohen and Jarvis Cocker – NME even referred to him as the UK's answer to Father John Misty. However, whilst Matt shows all the signs of having the raw talent to become one of the best songwriters of his generation, there are questions that still need to be answered.
Since March he's released three singles. The first two: 'No One Won The War' and 'As the World Caves In' (an intriguing number depicting Donald Trump and Theresa May "getting it off" after starting nuclear warfare) are highly political and highlight large scale world problems.
He also did a small UK tour in May with the Rhythm Method to promote voting in the general election. Not to mention his Twitter bio "brexit pop", Matt's own take on the regeneration of Britpop. When I asked him about this political engagement he highlighted his move to London as a catalyst. "You see a lot more, you're in the midst of a lot more, so my social conscience kind of doubled when I moved to London".
Whilst this metropolitan shock might well be the cause for Matt's writing, there's no doubt that South London, in particular, is currently producing a lot of politically raw musicians, with the likes of Dave, King Krule and Loyle Carner.
Matt is very in touch with the music made in his part of town – last year he hosted a residency at the Effra Social in Brixton where he invited fellow new artists to perform alongside him every week. "It was a great way of feeling which songs are shit and obviously listen to loads of musicians that I adore" he explains; and I must say, the commanding performance I witnessed later demonstrated that he must have learnt something.
In the evening Matt performed in the basement space of Modern Art, off Pembroke Street. He jokes that it's "the most high-art thing I've done", although the performance area seemed to fit his style. There was no raised stage area or other separation between the audience and Matt – he was one with the people. Tickets were also given out for free, something I thought would match his seemingly maximal engagement approach established by his May tour. Although the ticket giveaway strategy was apparently not his own decision, but that of his promoter.
And this perhaps demonstrates nicely the crux of my opinion on Matt Maltese. He seems engaged, exciting, and demonstrates an extremely high level of raw talent, both with his song writing and performing abilities. However, I question his drive and his sincerity. It's all very well and good writing a song about nuclear warfare, but to make it a rampant love song between two quite volatile world leaders seems almost too satirical – what level of piss-taking is too much?
Perhaps it's my own expectations that were misplaced. I wanted to find a young man who was trying to change the world with his smartly placed and extremely considered music, not just making flippant general observations and comments. Instead I find someone who seems to be drifting along, making songs because "you can be pretty ridiculous with the lyrics" (Matt's explanation for 'As the World Caves In').
That being said, I reserve complete judgement until his debut record is released, which he hopes will be next May time. There's a lot riding on it. Will he produce something with purpose and nuance? Will it be a considered effort that seeks to actively alter the status quo? Or will it just be the wilful musings of a young man having a laugh? I hope it's the former, and there are definitely signs that show it could be as much. But I guess we'll just have to wait and see.
You can listen to the interview in full here on Oxide radio.
---
For Cherwell, maintaining editorial independence is vital. We are run entirely by and for students. To ensure independence, we receive no funding from the University and are reliant on obtaining other income, such as advertisements. Due to the current global situation, such sources are being limited significantly and we anticipate a tough time ahead – for us and fellow student journalists across the country.
So, if you can, please consider donating. We really appreciate any support you're able to provide; it'll all go towards helping with our running costs. Even if you can't support us monetarily, please consider sharing articles with friends, families, colleagues - it all helps!
Thank you!