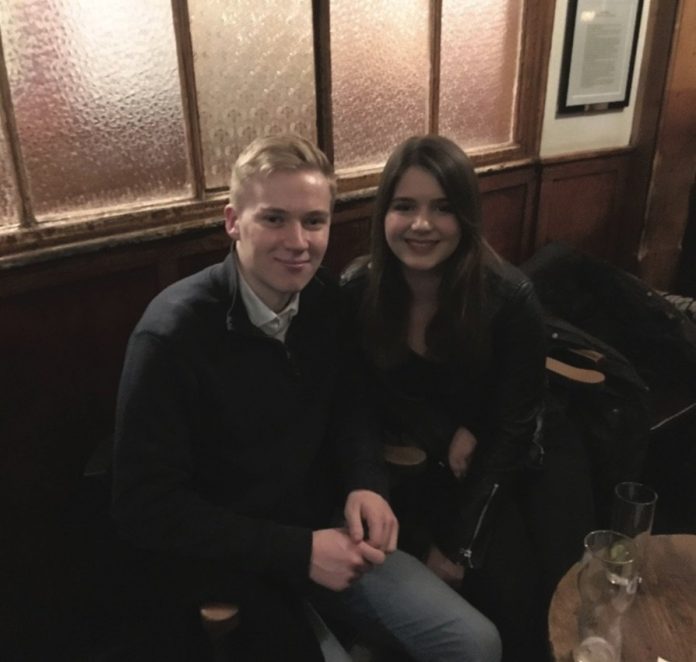 Adam Large, First Year, Theology, Regent's Park
Painfully early, after taking a five minute detour to peruse the dis- count aisles of Tesco, I headed to the Kings Arms – little did I know it was the most expensive pub in Oxford. After re-mortgaging the house and settling down to a pint of Kronenburg and a rum-and-coke, the conversation with Jeanne was flowing like bop-juice. We quickly discovered that we both do the somewhat niche subject of Theology, and had actually been in the same Bible class earlier that day (not God squad, just Theology fresh). After a thorough dissection of our course and tutors, we eased into some excellent rowing chat (the staple of any great relationship). Despite some awkward geography mishaps, the conversation was easy-going and enjoyable… hopefully we'll see each other before our next class on the big JC?
First impressions?
She was two minutes late.
Quality of the chat?
Good, but was mildly distracted by the beaut French accent.
Most awkward moment?
Brexit.
Kiss or miss?
Miss.
Jeanne Lerasle, First Year, Theology, Mansfield.
I spent a lovely evening at the Kings Arms – Adam was already there when I arrived, and was waiting attentively for me as I walked in (ever the gentleman). The conversation flowed really well, and there wasn't a dull moment or an awkward silence – which is something that cannot be said for a conversation with some Oxford students I've met. It was lovely to get to know him, but the highlight was when I found out that I had a better 2K time than him (yes… we both row, and no, his chat wasn't that bad, and nor was mine). It was a slight shame that he thought that Malta is in Gibraltar and that he lied about his cooking skills. Honesty tends to be the best policy, and basic geography is also definitely a must. Overall, he seems like a really nice guy with great fashion sense!
First impressions?
Very sweet and gentlemanly.
Quality of the chat?
A rower who was not dull, nor boring, nor awkward.
Most awkward moment?
We're in the same Bible class.
Kiss or miss?
Miss.
---
For Cherwell, maintaining editorial independence is vital. We are run entirely by and for students. To ensure independence, we receive no funding from the University and are reliant on obtaining other income, such as advertisements. Due to the current global situation, such sources are being limited significantly and we anticipate a tough time ahead – for us and fellow student journalists across the country.
So, if you can, please consider donating. We really appreciate any support you're able to provide; it'll all go towards helping with our running costs. Even if you can't support us monetarily, please consider sharing articles with friends, families, colleagues - it all helps!
Thank you!