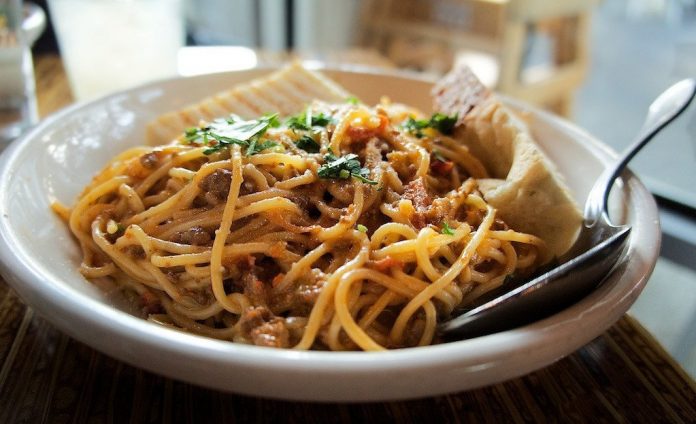 Batch cooking is one of the easiest ways to eat well whilst saving yourself time, money, and effort during a busy week. Though it's been done for years, students are only just starting to fully appreciate the method.
If you can find a couple of hours on a Sunday afternoon then you can prep meals for a week, so you'll have to spend no more than ten minutes getting dinner ready each day.
I think a huge batch of bolognese is ideal for meal prep: mince is one of the cheapest ways to buy meat; you can chuck in as many veggies as you want to add to the nutritional value; and once all of the ingredients are in the pot you just have to leave it alone, making it easy for newbies in the kitchen.
Start by browning 500g of minced beef with olive oil in a large saucepan on high heat; use a wooden spoon to break it up into small pieces.
Add two onions, two carrots and two celery sticks (all diced) and cook for about ten minutes, before adding three cloves of (crushed) garlic.
Now add two 400g tins of chopped tomatoes, two tablespoons of tomato puree, some oregano and a glass of red wine.
Season with salt and pepper and leave everything on a simmer for an hour.
Keep this in the fridge in an airtight container, and when ready to eat just boil some spaghetti and top with cheese.
The great thing about making bolognese in bulk is that with the addition of only a couple of things it can be turned into a delicious chilli con carne, which will stop you from getting bored of your dinners.
All you have to do is add ground cumin, ground paprika, red kidney beans, and chilli powder if you like some heat.
Serve this with rice and cheese for another speedy, delicious dinner!
---
For Cherwell, maintaining editorial independence is vital. We are run entirely by and for students. To ensure independence, we receive no funding from the University and are reliant on obtaining other income, such as advertisements. Due to the current global situation, such sources are being limited significantly and we anticipate a tough time ahead – for us and fellow student journalists across the country.
So, if you can, please consider donating. We really appreciate any support you're able to provide; it'll all go towards helping with our running costs. Even if you can't support us monetarily, please consider sharing articles with friends, families, colleagues - it all helps!
Thank you!