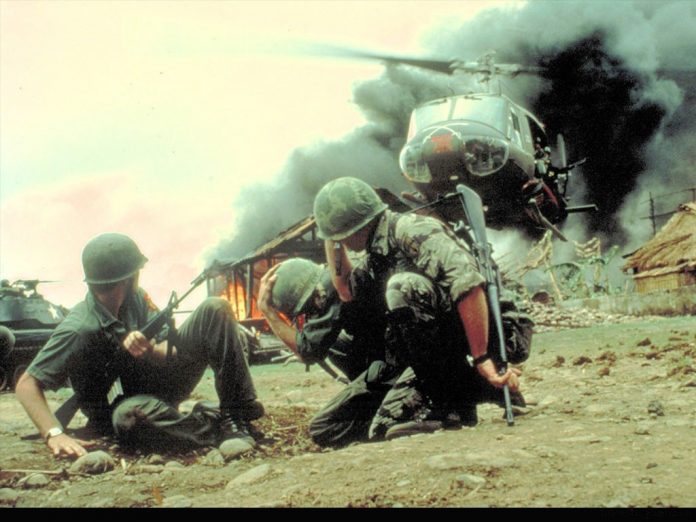 Very few films are as rewatchable as Apocalypse Now. Francis Ford Coppola's tale of Martin Sheen's Captain Willard travelling upriver and through war-torn Vietnam, to assassinate Marlon Brando's once promising but now "completely insane" Colonel Kurtz, is surely one of the most memorable films ever made. If you've seen it, you might recall the hazy emergence of a face-painted, lightning-illuminated Martin Sheen from a dank jungle swamp. You'll probably remember an elephantine, gibberish-muttering Marlon Brando brooding in the shadows of his temple-ruins. And who could forget (and yes, I cringed as I wrote that, but how else to put it?) the guiltily exhilarating, Ride of the Valkyries sound-tracked helicopter raid on a helpless Vietnamese village?
But do you remember Harrison Ford's coughing, awkwardly punctuating his confessional revealing of Willard's outrageous mission? What about the gloriously mish-mashed nonsense Dennis Hopper's indoctrinated photojournalist spouts manically? How about the airlifted cows?
OK OK, enough with the details (and, please, enough with the lists and rhetorical questions). If you haven't seen it, you're probably still asking what it's actually about.
Well, it's difficult to say. But stop the eye-rolling, I'll try.
It's about obsession, for one thing. The narrative through-line of finding Colonel Kurtz is less backbone and more shattered ribcage, barely holding together Coppola's boundlessly ambitious fictive energy, which supercharges every mammoth set-piece. But while these gargantuan, operatic sequences (hotel room, helicopters, temple etc.) burn into the viewer's mind, they merely pass in and out of Willard's peripheral vision. Finding Brando is the narrative cornerstone in a story that occasionally risks falling into the fractured state of Willard's own mind.
So, what's the big deal with Kurtz? Well, "it wasn't just insanity and murder". We only need Robert Duvall's Colonel "I love the smell of napalm in the morning" Kilgore to show us that in this film these attributes are more than occupational hazards, and can be badges of honour. Kurtz has to mean more. If Willard- obsessive, tortured, made brutal by the brutality around him- is the logical extension of the American solider in this most traumatic of American wars, then perhaps Kurtz is supposed to embody the wider conflict itself. Idealising brutality and ruthlessness, he's (pseudo)profoundly self-righteous with a barely repressed burden of guilt.
Still, I'm only theorising. I don't know what the film 'means'. I don't actually know if the film itself knows its own 'meaning'. But then this thematic uncertainty and indeed narrative contingency is entirely representative of the essence of the Vietnam War itself. In a very non-Hollywood way, the film represents an attempt to deal with the haze and confusion, the consummate otherness but also durable sympathetic humanity, of even recent history. Indeed, that noble ambition is reason enough for you to make a first, or return, trip up the river.
---
For Cherwell, maintaining editorial independence is vital. We are run entirely by and for students. To ensure independence, we receive no funding from the University and are reliant on obtaining other income, such as advertisements. Due to the current global situation, such sources are being limited significantly and we anticipate a tough time ahead – for us and fellow student journalists across the country.
So, if you can, please consider donating. We really appreciate any support you're able to provide; it'll all go towards helping with our running costs. Even if you can't support us monetarily, please consider sharing articles with friends, families, colleagues - it all helps!
Thank you!