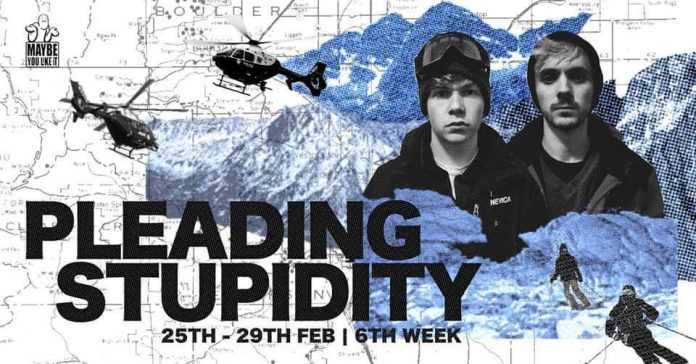 As Storm Dennis raged, I wondered if it was strictly necessary that I went to the preview of Pleading Stupidity.It was a whole six minutes' walk away. But, eventually, I chose to face the wind and rain and do my duty. Thank goodness I did because staying in would have been a far more stupid choice than any decision in the play.
While Brad (Barney Newman) and Chad (James Akka) were on their gap year from Oz, they made the… bold choice to rob a bank at pseudo-gunpoint. They also made the even bolder decision to wear name tags from work while doing so. Shockingly, they're on trial. Now, this might sound like a grand spoiler, but this is all revealed in the first minute as the Prosecution (Ellie Cooper) outlines their crime. The Defence (Gemma Daubeney) argues that they simply are too stupid to face harsh consequences. A fluid narrative then pulls us between the trial and the boys' time in Vail, Colorado. A minimalistic set is advantageously used for these narrative jumps; witness boxes are slid around the stage to become whatever the plot requires. The audience is addressed as judge and jury but, don't fear, it won't be a night of agonising moral dilemmas. Instead, it's funny, fast-paced and a fantastic night.
The references are firmly of their time – Point Breakand Blockbuster. iPods are innovative rather than retro. Ferraris, not Teslas, are the car of choice. Goon, drongos and Shannon Noll also feature. It's quite the Australian education. There are also some brilliant one-liners, too explicit to place in print but making a significant impression. Pens on chains, Mormonism and 'exciting B-plots' all come under fire.
There are a lot of characters in Pleading Stupidity but few actors. Their ability to multirole is a tribute to their skill, vocally and physically. By the end, it was a shock to hear Barney Newman slip out of an Australian accent. Although some accents aren't fully polished yet, this appears to be deliberate experimentation rather than confusion. Ellie Cooper and Gemma Daubeney flip between characters with astonishing ease. It's their constant variation which accommodates the narrative. As Jenny and Laura, they provide a beat of pathos within the otherwise breakneck-speed performance. They then suddenly flip into boisterous comedy as Agents Bear and Jones (their history together is a sit-com waiting to happen).
James Akka is relentlessly funny as Chad, making all the wrong choices in the best possible ways, then switching into the useless police officer MacPherson so swiftly that I had a second where I thought Chad was impersonating him. Barney Newman, as Brad, is thoughtless and comic, wobbling on the edge of doubt and then firmly throwing himself over the edge with more aplomb than Chad.
If Pleading Stupidity is this good already, then I can't imagine what it'll be like on opening night. I'm already pleading with my friends to see it.
---
For Cherwell, maintaining editorial independence is vital. We are run entirely by and for students. To ensure independence, we receive no funding from the University and are reliant on obtaining other income, such as advertisements. Due to the current global situation, such sources are being limited significantly and we anticipate a tough time ahead – for us and fellow student journalists across the country.
So, if you can, please consider donating. We really appreciate any support you're able to provide; it'll all go towards helping with our running costs. Even if you can't support us monetarily, please consider sharing articles with friends, families, colleagues - it all helps!
Thank you!