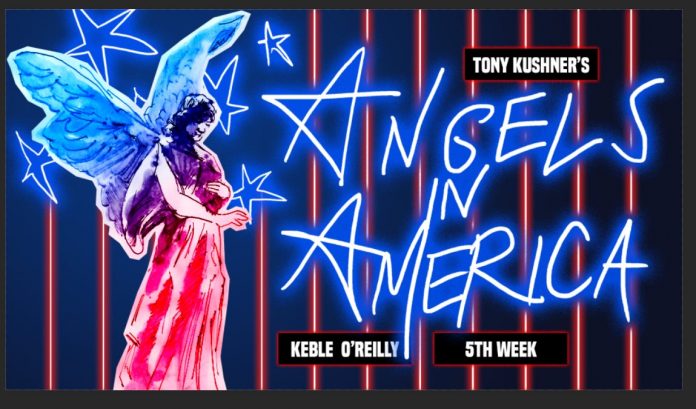 "Holocausts can occur," Larry Kramer asserts in his Reports from the Holocaust: The Making of an AIDS Activist, "and probably most often do occur, because of inaction." Indeed, it's no mistake that in advocating awareness for AIDS, the Silence=Death project adopted the pink triangle as its emblem, a stark reminder of LGBTQ persecution. It is precisely this danger of silent oppression, of 'inaction', that makes Tony Kushner's Angels in America such an important work of theatre. It presents to us the effects of the AIDS virus in its aggressive and distressing reality: the night sweats, the lesions, and the emotional turmoil. It ensures that the devastation suffered by communities vulnerable to AIDS is not censored nor forgotten. Between its heavy subject matter and significant length, Angels in America Part One: Millennium Approaches is a substantial undertaking by Matter of Act Productions, but one that is executed with great sensitivity and sincerity.
Set in 1980s New York City, Kushner's 1991 play retains its pertinence to a contemporary audience as it grapples with questions of tolerance, identity, and the effects of both physical and mental illness. Louis Ironson (William Ridd Foxton) struggles to come to terms with the AIDS diagnosis of his lover, the exuberant Prior Walter (Zakkai Goriely) who becomes steadily more vulnerable as his health declines. Meanwhile the Republican lawyer Joe Pitt (Connor Johnston) wrestles with his sexuality as well as a strained relationship with his Valium-addicted wife, Harper (Maya Jasinska).
What is most striking about this production is the talent of its cast. I was particularly moved by the performance of Zakkai Goriely as Prior Walter who brings a tenderness and charm to his role, whilst his evocation of the distress of illness is committed and emotionally charged. William Ridd Foxton is also superb as the fraught Louis Ironson. The precision of his mannerisms and subtlety of expression are expert and contribute to a truly authentic performance.
It was a shame, then, that such wonderful performances should be marred by lighting difficulties. On a few occasions the actors' facial expressions were masked by shadow which unfortunately impacted the emotional resonance of their performances. Eddie Margolis, for instance, delivers a spectacular speech as the lawyer Roy Cohn: "AIDS. Homosexual. Gay. Lesbian.[…] Like all labels they tell you one thing and one thing only: where does an individual so identified fit in the food chain, in the pecking order?" It is a wonderfully vitriolic tirade that introduces a powerful discourse about the way in which, as Susan Sontag puts it, AIDS "confirms an identity" and, in doing so, "isolates the ill and exposes them to harassment and persecution." However, the full dramatic force of such a moment is dampened slightly by ill-lighting. Evidently, this is an easily-rectifiable fault that will hopefully be adjusted for upcoming performances.
Whilst the set wasn't particularly arresting, Luke Dunne's direction ensured that space was used well. Particularly effective was the spacial interweaving between scenes. As dialogue between two distinct scenes began to converge, location boundaries began to dissolve and characters occupied each other's performance spaces, allowing multiple events to run concurrently without feeling spatially restricted. This helped propel the pacing and flow of the performance which ultimately felt slick, excepting a few laboured transitions.
Such minor technical issues are easily overshadowed by both the actors' and the creative team's sympathetic engagement with the text and subject matter. The depiction of the AIDS crisis is both raw and heartbreaking. However, amidst the bleakness, precious moments of humour, warmth, and tenderness ripple to the surface, reminding us of the bonds that connect people, even as illness rips them apart.

---
For Cherwell, maintaining editorial independence is vital. We are run entirely by and for students. To ensure independence, we receive no funding from the University and are reliant on obtaining other income, such as advertisements. Due to the current global situation, such sources are being limited significantly and we anticipate a tough time ahead – for us and fellow student journalists across the country.
So, if you can, please consider donating. We really appreciate any support you're able to provide; it'll all go towards helping with our running costs. Even if you can't support us monetarily, please consider sharing articles with friends, families, colleagues - it all helps!
Thank you!