"Holocausts can occur," Larry Kramer asserts in his Reports from the Holocaust: The Making of an AIDS Activist, "and probably most often...
Louise Wallwein, the acclaimed poet and playwright, gave an impassioned call for progress and equality in a speech in the Sheldonian last...
Christ Church Cathedral will host a series of inclusive church services for Oxford's LGBT+ community. The services, called Sacred, will take place...
TW: contains discussion of hate crimes, especially anti-trans violence Navigating the world as a queer person is exhausting....
Dear Lady P, I was so excited to come to Oxford: nights out, new people, and...sex. A far cry...
Tena Thau on her failed attempt at netball, and why we should rethink how we play sports.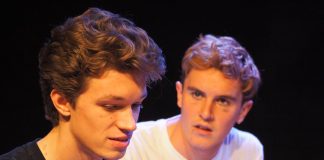 Phoebe Hennell reviews Tom Gould's new play 'Section Two'
We must never forget: Pride is a protest.
"While the Queer movement has accomplished so much, there is so much left to be done."
The events aimed to explore the intersection between sex, gender, disability, sexuality, and race in STEM