FIREUP is a new Oxford cookware spinout founded by Raghav Agarwal and Professor Thomas Povey at the Department of Engineering Science. It recently launched a Kickstarter campaign to market and drive sales for a Dutch oven, which incorporates a unique design inspired by jet engine technology.
The conception of this idea originated a decade ago with Povey, whose research involved designing cooling systems for jet engines. On one mountaineering trip, Povey struggled to get a pot of water to boil at high altitude. When a conventional pot is placed over a stove, a lot of heat dissipates into the environment after the flame goes around the edges, thereby reducing the cooking efficiency. He and his students spent the next three years prototyping with different pot designs and came up with a cast aluminum saucepan with tapered fins replacing the otherwise smooth cylindrical edge. They called this invention the Flare Pan.
The inclusion of the unique fin design guided the flame around the pan and into the fins, allowing the pan to retain heat more effectively. This enabled the pan to utilize 40% less energy and cook 30% faster than comparable saucepans. This novelty earned Povey's group a coveted Hawley Award from the Worshipful Company of Engineers for "the most outstanding engineering innovation that delivers demonstrable benefit to the environment".
In 2019 Raghav Agarwal, a former entrepreneur who launched a cookware manufacturer in India, earned his MBA from Saïd Business School. Whilst at Oxford, Agarwal was chair of the Oxford Entrepreneurship Network and represented the business school on the Oxford Foundry's Student Advisory Board. Through an Oxford University Innovation (OUI)-sponsored programme, he met Povey and the two hit it off immediately given their mutual interest in cookware and innovation.
After exploring different applications, base materials and marketing directions, they decided to launch their new company, FIREUP. Their first product is a 5 litre cast iron Dutch oven which uses the signature tapered fins of the Flare Pan.
Raghav cites the versatility of the Dutch oven to saute, sear, fry, braise, roast, and use in the oven as the primary reason for launching with this product. He also cites amount of hype that home cooking trends like "No-Knead Bread" received on Instagram during the pandemic. What did they bake their bread in? Not in a pan, but quite often in a Dutch oven.
He also cites the lack of innovation in under a century in cast iron cookware, and the potential of a market currently worth $2.8 billion globally to grow to $3.3 billion in the next four years, as the key reasons for his optimism. The total UK cast iron cookware market is worth £1.3 billion. Raghav told Cherwell: "On one hand you have painstakingly expensive French brands, like Le Creuset, that force you to almost sell your house to buy a long-lasting premium product. If you look at the history of these brands, they're almost 100-200 years old [that only come in] different shapes, sizes, and colors. That's not innovation. [Then there are] smaller trendier startups [that are] investing a lot of marketing dollars to market a product that's not as premium." 
Initial financial support was provided by OUI and FIREUP was built up by a global team during the pandemic. The plan is to produce aesthetic and environmentally friendly cookware primarily for home chefs, finance its production through online pre-orders and sell units directly to customers. FIREUP also stands out amongst OUI spinouts as the first to use Kickstarter as its key funding source. The campaign began on 19 October and as of 18 November, £144,511 has been pledged by 1,276 backers. Due to popular demand, this campaign will continue for the next month on Indiegogo.
The FIREUP Dutch oven will be manufactured in Belgium with a nod to the sustainability profile of its predecessor. As Agarwal puts it: "The materials we use are long-lasting and non-toxic. We manufacture in an 80-year old foundry […] [which] is fully compliant with the highest environmental work standards. It pays fair compensation for workers, complies with global safety procedures and environmental standards."
For now, FIREUP is completely focused on launching their Dutch oven but they do have plans to incorporate the heat retaining tapered fin design to additional cookware down the line. Affirming his vision, Raghav said: "We are here for the long term. We want to build a brand that the ultimate customer can believe in."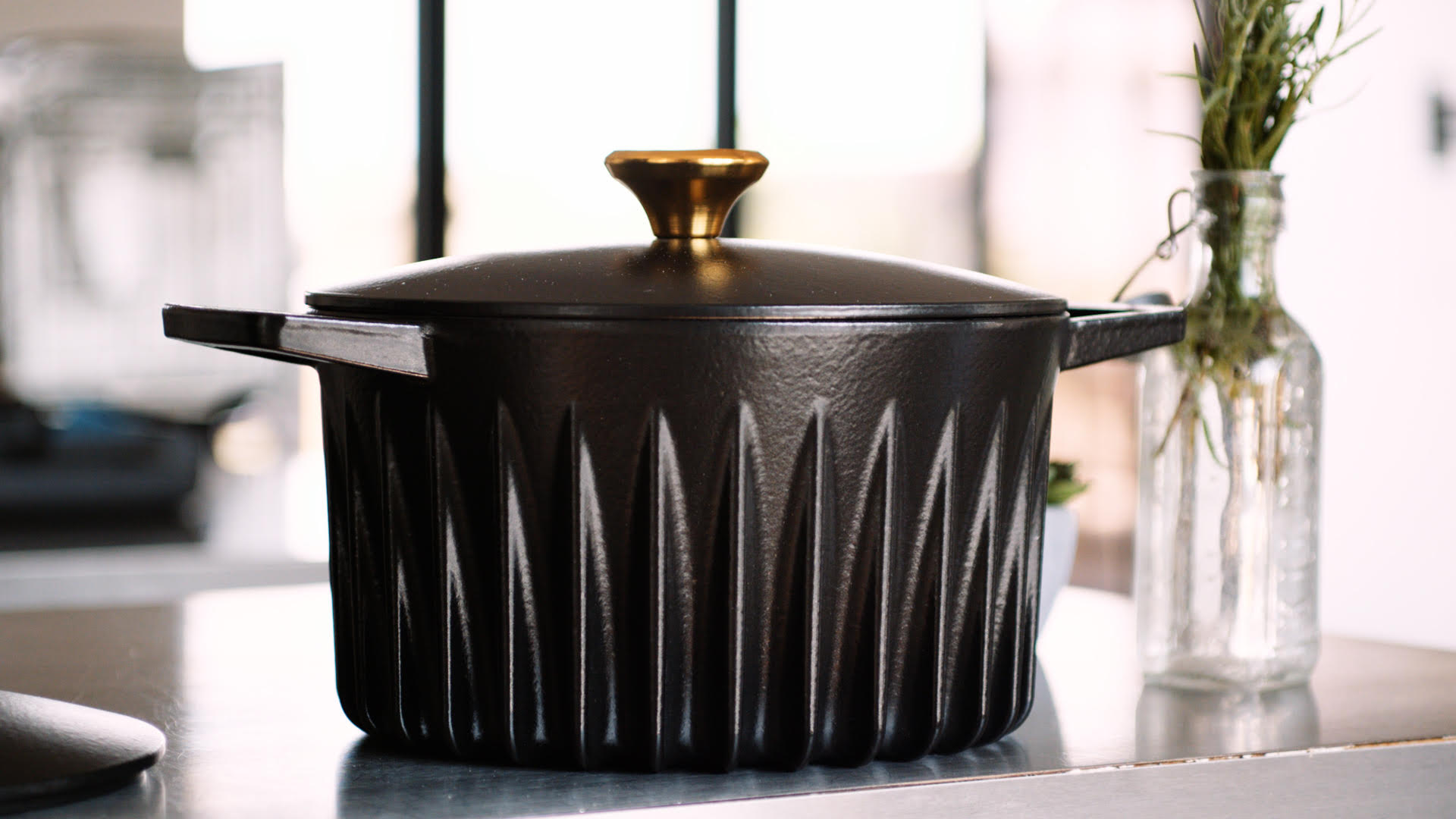 To learn more about FIREUP, go to www.fireupuk.com.
Image Credits: FIREUP Cookware Limited