Television has become an endless stream of reality TV, drama and sport. These categories make up the top ten television programmes viewed in 2019, according to the Broadcasters Audience Research Board. There is now a dwindling array of documentaries, particularly history documentaries. Whilst there are still a few historians (some of whom are our tutors) on our screens, the number of historical documentaries on TV has dropped to just a third of its 2007 figure, according to research by the Content Club.
Why does this matter? Have consumers simply lost interest in history documentaries?
The importance of having history documentaries on our television screens is manifold: they promote the advancement of knowledge, increase equality and progression to higher education, spread public awareness in the preservation of our heritage, and are funders of archaeology in the UK. Without history documentaries, we are on the precipice of losing these benefits.
The Channel 4 series Time Team ran for 20 years and was one of the UK's largest independent funders of archaeology. Such was Time Team's importance that its presenter, Tony Robinson, in a Channel 4 interview, stated that the archaeologists involved with the programme had published more papers on the Time Team excavations than all British university archaeology departments over the same period. The BBC's television documentary series, 'Meet The Ancestors', which ran between 1998-2004, even had a dedicated archaeology department which funded, or partially funded, digs involved in the series. Since government funding for university archaeology departments has been cut by 50% in 2021 as part of their prioritised teaching strategy, there is an even greater need for TV companies to fund and promote archaeological activities.
These documentaries also form a key role in promoting public awareness and the preservation of heritage sites. This was most keenly seen in the case of Stonehenge. Numerous TV documentaries have recorded and documented this well-loved UNESCO World Heritage Site. When plans to build a four-lane road tunnel close to the site were discovered, it was public outrage and organising that prevented the plans from going ahead. If allowed to go ahead, it would have caused irreversible damage to the sensitive archaeological area surrounding the site, which is rich in Neolithic and Bronze Age history.
The educational impact of the decline of the history documentary
The phasing out of history documentaries has a serious effect on education and amounts to a declaration of war on equality and diversity.
While we all know the importance of the outreach work Oxford conducts to make the City of Dreaming Spires accessible, enthusiasm for pursuing higher education in history and a passion for it, and reaching diverse communities, is being phased out by the lack of documentaries on television. History documentaries provide a wealth of knowledge for the viewer into all different types of history, be it classical antiquity, medieval Britain or global history. They allow children from a range of socio-economic backgrounds to learn in the absence of books and foster a passion for history, opening paths to further education and University.
When I contacted the art historian, author, and TV presenter (as well as Oxford tutor) Dr Janina Ramirez, she noted the importance of documentaries in educating and inspiring a love of history, "It is essential that factual television continues to be commissioned, since for many it is the place where people find a passion for history they never knew they had. Television has a duty to educate, inform, and entertain."
It is the most vulnerable in society that will suffer from a lack of access to good quality educational documentaries. Indeed, 20% of the UK population is functionally illiterate, meaning that they have poor literacy skills and find it difficult to read information from unfamiliar sources or topics. However, almost 95% of UK households in 2019 owned a television licence. Thus, many functionally illiterate people educate themselves on history from television as opposed to books. These individuals, who may have struggled with school or have learning disabilities, are being stripped of the ability to learn independently about history without the need to access books.
Such television politics has stripped viewers who had very little access to history education in the first place, of the opportunity to learn more about history and explore that which has been left behind.
I decided to study Classical Archaeology and Ancient History because of the documentaries I watched as a child. I am not the only one: another CAAH student said that they were inspired to pick their subject by watching the serious history documentaries of David Starkey on the monarchy of Henry VIII and Elizabeth I.
The British military historian, novelist and broadcaster Saul David, when asked to comment, noted the increasing trend in the decline of documentaries on television and their educational importance, "When I started in broadcasting more than 20 years ago, Britain made the best history documentaries in the world. They provided a vital educational resource and made the subject accessible to all. Now, thanks to the demise of strands such as BBC's Timewatch and Channel 4's Secret History, quality programmes are few and far between; most TV history is underfunded, repetitive in subject and simplistic in tone."
The current decline in history documentaries paired with the cost-of-living crisis will only exacerbate the issues outlined above. It will become harder for families to access history sites both locally, nationally and abroad. Indeed, currently, it can cost a family more than £60 to visit Stonehenge. Privately owned heritage sites can cost considerably more to visit. Holidays to archaeologically or historically significant sites have become impossible for many. It is now more than ever that documentaries must fill in the educational gaps which have widened into a gulf by the economic crisis.
Speaking with another second year History student at Oxford, they raised an important point, "Documentaries are an essential resource for historical education, specifically for visual and auditory learners. They can be vital in dispelling historical myths, some of which can be used to underline contemporary political ideologies (e.g., Holocaust denial)."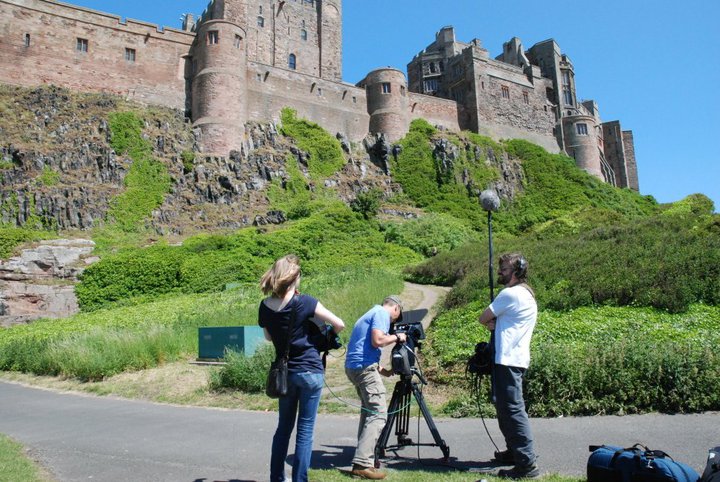 The growth of history documentary subscription services
Out of this abyss, there are a number of innovative approaches to making history more accessible, namely through subscription services, such as Time Team Patreon, History Hit by Dan Snow and the Content Club. The Content Club was founded by ex-BBC documentary makers and historians, who are disheartened that much less money is given to the commissioning of history programs, which has led to a decline in quantity and quality. Their ethos is to fill this gap in television, and they aim to fund ten high-quality documentaries a year. This approach is radically different from the traditional funding model, where broadcasters, who are currently reluctant to put forward the funding for history television programmes, commission the documentaries.
The Content Club is a project that is crowd funded by membership and brings together fans, historians, and producers to collaborate on the documentaries that they make. I interviewed one of the founding members, the television producer and director Sarah Jobling. Jobling explained, "We want to give people the quality history programming we all used to make for the BBC". Their first film 'Rome's Forgotten War' was originally pitched to traditional broadcasters; although production companies were very excited about it, the broadcasters shut them down and "invariably what we were told is television is just not making Ancient History anymore, and that people aren't interested… and we don't believe that". Sarah went on to say, "We know there is an appetite for history because of the popularity of history podcasts."
Their first film project, 'Rome's Forgotten War,' which will be filmed between April and December of this year, explores the Cantabrian War fought between Rome and Spain from 29-19 BC. This fierce war raged against Celtic tribes living in the Iberian Peninsula of Spain during the reign of the first 'Emperor' Augustus, and on the defeat of the tribes in battle, all of Spain came under Roman control. Augustus took part in this 10-year war directly, sending eight legions of soldiers and a fleet of ships into the battle. When he returned to Rome, the Senate commissioned the Ara Pacis in 13BC to commemorate his return. The idea for a project on the Cantabrian War was seized upon during the production of another history series of the type that is on mainstream television today, which had less depth and jumped from topic to topic. Sarah Jobling stated that "I immediately thought this deserves more than 5 minutes of the show".
The archaeological excavations currently being undertaken to reconstruct the wars have so far revealed fascinating insights into an area which isn't widely known about; "this was a story that needed to be told". The discoveries made on one of the archaeological sites suggests that it has the largest collection of spent arrowheads in the Roman world ever discovered. These arrowheads lend to the idea of the intensity and brutality of the war, which are currently being reconstructed piece by piece. The site is frozen in history; it is a record of the lives of these people, each day that passed in the battle, each life that was lost and the final war they fought.
Arrowheads remain lodged in some of the remains of the walls. Sarah told me with such enthusiasm and passion that the stories of individual battles can be seen through this archaeological excavation. It is possible to see where the Romans camped and attempted their first approach, the direction of the artillery barrages and where they burst through gates, you can see down to the final moments of the battle where there was "hand to hand fighting in the streets of the Iron Age fort". This detail beautifully exemplifies the importance of documentaries working on archaeological sites; these stories may have been discovered and pieced together by the archaeologists, but the events which took place 2,000 years ago have been brought to life in the hands of the TV producers. Saul David added that the "Content Club will reverse the trend [of poorer quality programmes], open the mysteries of TV production to the members, and give power back to the creatives. Sarah's first film Rome's Forgotten War will help return nuanced, ground-breaking history to our TV screens."
At the very heart of documentaries lies the fact that it allows the viewer to feel involved and connected with history in a meaningful way without actually seeing the object, place or experiencing the events. It is most exciting that this new approach innovatively allows the viewer to become engaged in the production process for the history documentary, allowing student and amateur enthusiasts alike to sit in on production meetings, review scripts, and vote on production elements, along with hearing daily reports from the location.
Sarah Jobling stated, "We want it to operate as an ideas incubator; a really exciting place where students could get involved". Not only can young people have a say in the content that reaches our screens, but they can help in its creation, giving insight into the filming industry and helping others pursue an interest in History.
These opportunities allow students and academics alike to gain experience and forge links into previously very insular career pathways; each part of the production process is laid open and can even be influenced by your own thoughts and views. As Sarah Jobling told me, "Opening up the production process gives students invaluable career insights […] acquire hard skill tips like interviewing and applied research skills from the best practitioners [and] get a head start on that first step into TV. For academics and postgrads looking to pitch ideas and forge a career path, it offers a clear understanding of what ideas producers are looking for and how to shape your research and present your work so TV producers will grasp its value quickly."
The current state of historical television documentaries has deteriorated; it is harmful to equality and higher education, but there is a glimmer of hope in the form of streaming services. Hopefully, one day, with the rise in popularity of these streaming services, historical documentaries will once again grace our screens, and mainstream broadcasters will acknowledge their merit and demand.
If you would like to like to learn more about the Content Club: https://www.content-club.xyz
Dan Snow's History Hit: https://www.historyhit.com/
Time Team's Patreon: https://www.patreon.com/TimeTeamOfficial