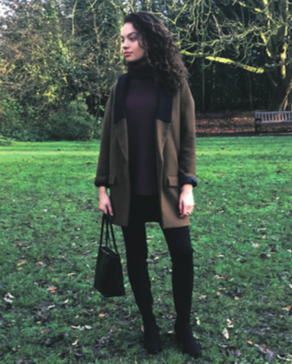 Warmth was my priority in picking this outfit. Being out in London for the day, I knew that I'd want to be well wrapped up in the January freeze.
I paired an oversized burgundy turtle neck jumper with a medium brown open coat throw-on—to my surprise, the colours really complemented each other!
The jumper is super thick but the coat is light, so I knew I'd be warm without having to experience that classic winter feeling of layering so much that you feel ready to set foot in Antarctica. Not to mention the Michelin Man-type silhouette which ridiculous layering creates.This type of outfit is perfectly suited for a chilly day when you'll be running around a little bit—you don't want to be sweating every time you head inside.
Not wanting to go overboard with the colours, I kept the bottom half of the outfit simple in high waisted black leggings, a little black tote bag and some black knee high boots.
---
For Cherwell, maintaining editorial independence is vital. We are run entirely by and for students. To ensure independence, we receive no funding from the University and are reliant on obtaining other income, such as advertisements. Due to the current global situation, such sources are being limited significantly and we anticipate a tough time ahead – for us and fellow student journalists across the country.
So, if you can, please consider donating. We really appreciate any support you're able to provide; it'll all go towards helping with our running costs. Even if you can't support us monetarily, please consider sharing articles with friends, families, colleagues - it all helps!
Thank you!