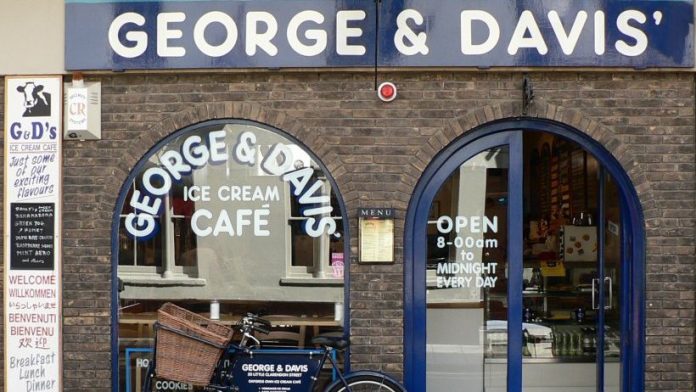 After about 200 more votes than our original estimate of ten replies, we had some surprise winners and some that everyone knew would also win.
Star Baker: Ben's Cookies (64.4%)
A true star of Oxford, Ben's has the best cookies you'll ever eat and they're always unbelievably warm and fresh. Located in the Covered Market, they're the perfect pick-me- up or guilty snack.
Best place for a Rad Cam snack-break: Alternative Tuck Shop (47.9%)
You probably won't have a sandwich as fresh or as high quality anywhere else in Oxford. They have a huge range of fillings and everything is made-to-order. It is easy to see why there is often a queue stretching down Holywell Street but, because of their lightning fast sandwich abilities, you'll be re-energised for a soul-destroying afternoon stint in the Rad Cam.
Best post-club kebab van: Hassan's (64.5%)
After causing brief outrage amongst many members of Corpus Christi JCR at Ahmed's omission from the original list, Hassan's stormed ahead. If you haven't been post-club, have you really had a true Oxford night out?
Best place to get smashed but stay classy: Turf Tavern (38.4%)
I'm slightly annoyed that Freud came second: it's near to perfect, with the pricing being its only downfall. However, Turf Tavern is the best place to be in the summer—sitting outside there with a drink and top-notch conversation will be one of your best memories of Oxford.
Best hangover brunch: George Street Social (22.9%)
This category had the most "other" votes—we all obviously love our brunch here at Oxford. We've already reviewed the George Street Social once this term, so it's obvious that we love the food here. There were also a high number of colleges represented here (St. Anne's, Mansfield, Hertford, St Hugh's, Corpus), so it's pretty clear that we all also love our college's unique versions.
Best alt-indie eating experience: Gloucester Green Food Stalls (43.3%)
Three days a week Gloucester Green fills up with a myriad of international food stalls and each one doesn't fail to impress—whether you go for some fried gyoza, mac and cheese or burgers, your appreciation for the Oxford food scene will forever be changed. This is the pinnacle of independent cooking in Oxford, so go stuff your face and feel good whilst doing so.
Most Instagram-able coffee shop: Vaults & Garden Café(29.2%)
Located just across from the Rad Cam is this highly picturesque coffee shop. With its high arched ceilings, long windows, and stunning exterior, it makes the perfect backdrop for any photo. I hear they even make some good coffee too.
Best vegetarian/vegan options: Vaults & Garden Café (33.3%)
I'm confused as to why Organic Deli didn't win this, but oh well. This café has some stellar vegetarian options, such as its Goats Cheese gratin that will leave you wanting so much more.
Best hidden gem: Georgina's Café Oxford (28.9%)
With a single vote deciding the winner (38 votes to 39), Georgina's just edged out Pomegranate. Nestled away in the Covered Market is this quaint coffee shop, which offers a great selection of food and drink with a friendly smile.
Special Achievement award for best restaurant in Oxford: G&D's (34.8%)
Did anyone ever doubt who would win this? G&D's is an Oxford institution, as integral to the place as the Rad Cam. They have the best ice cream flavours and names, and everything is made on the premises. Everyone already knows how good they are, I don't really need to say much else.
On a closing note, whoever said Spoons was the best brunch in Oxford, you're wrong and you deserve better.
---
For Cherwell, maintaining editorial independence is vital. We are run entirely by and for students. To ensure independence, we receive no funding from the University and are reliant on obtaining other income, such as advertisements. Due to the current global situation, such sources are being limited significantly and we anticipate a tough time ahead – for us and fellow student journalists across the country.
So, if you can, please consider donating. We really appreciate any support you're able to provide; it'll all go towards helping with our running costs. Even if you can't support us monetarily, please consider sharing articles with friends, families, colleagues - it all helps!
Thank you!