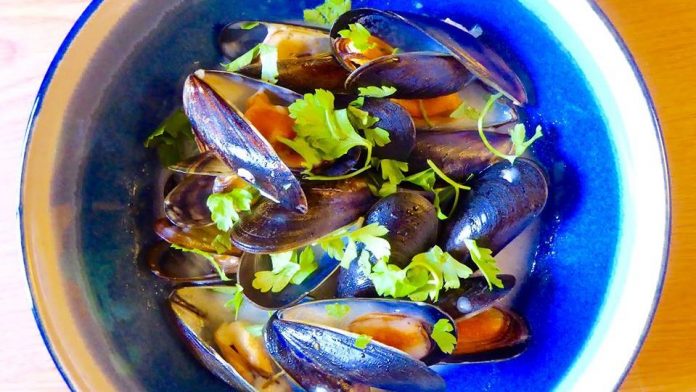 Moules marinière with a mustardy green salad and crusty bread
£2.20/head
Hidden in the fish aisle of most major supermarkets, is a secret weapon for impressing on a budget: mussels.
Ingredients:
1 packet of mussels in white wine and garlic sauce (vacuum packed in the fish section of most supermarkets)
2 bake at home baguettes
A bag of mixed lettuce leaves
For salad dressing:
3 tbsp olive oil
A dab of mustard
1 tbsp balsamic vinegar
1 clove of garlic
To serve:
A handful of parsley, chopped
Method:
1. Preheat the oven according to the instructions on the baguettes, and stick them in.
2. Finely chop the parsley and garlic. If your chopping board is slipping around, put a damp paper towel underneath it.
3. Put the garlic in a small bowl and mix well with the oil, mustard and vinegar, then season to taste (and do taste it—once it's on the salad you can't take it off!)
4. Tear or chop the lettuce leaves into bite-size pieces, but not too small.
5. Put the mussels in a pan on the hob and warm through, or microwave according to the instructions.
6. Plate up, mixing the dressing through the salad with a dish on the table for the mussel shells and plenty of butter for the bread. Scatter the parsley over the mussels.
Tomato and egg stir fry with spicy smashed cucumber salad
£1.50/head
There is something about a dimly lit Chinese restaurant that I associate with burgeoning romance. This vegetarian dish is very easy, although perhaps heavier on the garlic than is wise. Never mind—it's delicious.
Ingredients:
For salad:
1 cucumber
A handful of coriander, roughly chopped
1 tsp sugar
2 tsp sesame oil
1 tbsp vinegar, preferably black but any will do
2 tsp chilli oil (see notes)
1 clove of garlic, minced
For stir fry:
3 eggs, beaten and seasoned with salt and pepper
3 tomatoes, medium, cored and chopped
sugar
2 tsp ketchup (optional)
spring onion, chopped (optional)
1 head of broccoli, cut into florets
2 gloves of garlic, minced
Method:
1. Put the kettle on and get the chopping done. Beat the egg with salt and pepper.
2. Bash the cucumber with the flat of a large knife until it splinters, and then chop roughly.
3. Mix the cucumber, garlic, coriander, sugar, oil, and vinegar. Set aside.
4. Boil/steam the broccoli in a couple inches of water, leaving the lid on the pan, for five minutes.
5. Heat some oil on a medium heat. Add the egg to the pan, stir fry, but transfer out while still soft. Heat up some more oil, then add the tomatoes to the pan, and stir fry. Add a little water and the ketchup and simmer until the tomatoes are broken down a bit. Season with sugar and salt—it should be slightly sweet. Mix the egg back in, then set aside.
6. Heat up some oil in a pan and add the garlic for the broccoli. When fragrant, add the drained broccoli and stir fry until mixed together.
7. Serve with white rice, and garnish the tomato and egg with spring onion.
---
For Cherwell, maintaining editorial independence is vital. We are run entirely by and for students. To ensure independence, we receive no funding from the University and are reliant on obtaining other income, such as advertisements. Due to the current global situation, such sources are being limited significantly and we anticipate a tough time ahead – for us and fellow student journalists across the country.
So, if you can, please consider donating. We really appreciate any support you're able to provide; it'll all go towards helping with our running costs. Even if you can't support us monetarily, please consider sharing articles with friends, families, colleagues - it all helps!
Thank you!