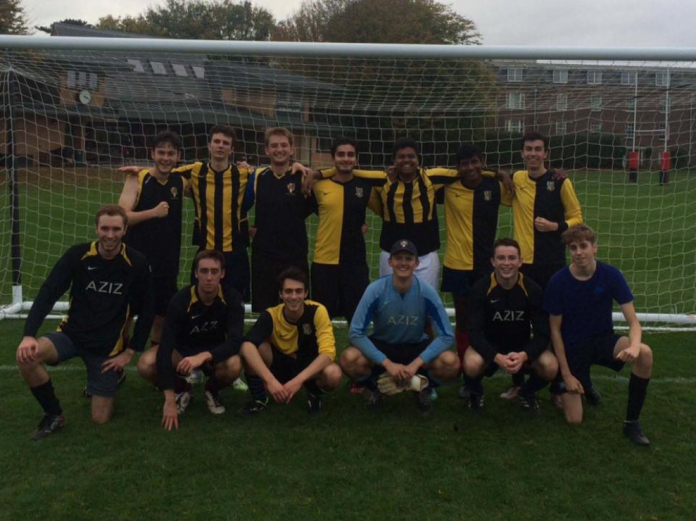 Whilst Corpus Christi continues its quincentenary celebrations, a piece of sporting history was made. The 2nd XI side, led by captains Jack Counsell and Maxi Brook-Gandy, won their first game in over two years, with an emphatic 7-1 victory over local rivals Christ Church.
An ominous start to the season saw Corpus defeated by Benet's 8-4, as the monks from the suburbs competed in their first ever game in college football. This was followed by an early Cuppers exit after only eight Corpus players were available.
Fresher James Dempsey, known around college as 'Sports Guy', was man of the match having signed for the side in a drunken deal the night before at Ahmed's kebab van. Two goals and an assist, including a delightful near-post twenty-yard curler that somehow managed to bounce over the keeper's head on its way in, marked an astounding debut.
Tactics and endeavour proved critical in a game of little skill. Christ Church tactics composed of sending up hopeful long balls to two tall strikers. However, despite constant chat, they provided no threat to the Corpus Christi back line.
The 4-5-1 formation, however, allowed Corpus to dominate the midfield. The Merton Street college seemed to want it more and this dedication was exemplified by fifth goal.
Counsell, chasing an over-hit through ball, clattered into the keeper, and knocked the ball out of his hands.
Showing the predatory instinct for which he is now famed, the skipper slotted the loose ball into the net, and then jogged towards the centre circle with such confidence that the referee – who happened to be from Corpus – had no choice but to award the goal.
To truly understand the importance of this result, consider the historical relations between the two colleges.
Encircled by their larger neighbour for many centuries, exacerbated by the annexation of the garden in the 19th century, Corpus has often felt like an underdog in size, if not in spirit.
Even though they lack the resources of Christ Church, with two Corpus players in basketball tops juxtaposed with the matching socks of their opposition, Corpus won the battle between the worst two teams in college football.
It was a fixture steeped in history, but a fixture that gives hope for a new generation of sub-par Corpuscle footballers.
---
For Cherwell, maintaining editorial independence is vital. We are run entirely by and for students. To ensure independence, we receive no funding from the University and are reliant on obtaining other income, such as advertisements. Due to the current global situation, such sources are being limited significantly and we anticipate a tough time ahead – for us and fellow student journalists across the country.
So, if you can, please consider donating. We really appreciate any support you're able to provide; it'll all go towards helping with our running costs. Even if you can't support us monetarily, please consider sharing articles with friends, families, colleagues - it all helps!
Thank you!