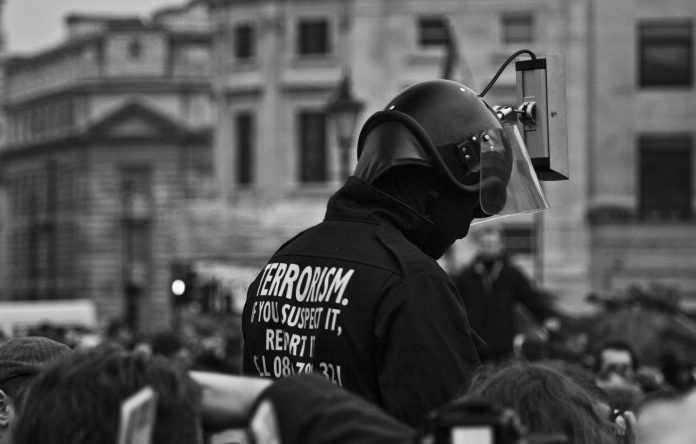 We let things happen for as long as they don't shock us, as long as they don't look scandalous. And our threshold for something to shock us, or to look scandalous, may well have shifted dramatically in the age of terrorism, where "threat think" is the new normal.
Tellingly, Netflix's most recent addition to its colourful men-with-guns portfolio is Bodyguard, an allegedly Islamophobic show about a heroic war veteran turned bodyguard and part-time terrorist-hunter. The show features Muslims only as victims or as perpetrators, or both. It has also received praise as the "best show of 2018". If this is mainstream (and a 94% score on Rotten Tomatoes certainly suggests that), it shouldn't come as a surprise that mounting abuses of counter-terrorism regulation don't raise red flags for most of us.
And they go beyond anti-Muslim prejudice: counter-terrorism, in the UK and elsewhere, is increasingly being used against left-wingers and artists.
Two recent cases lay bare the extent of this politicisation, suggesting that counter-terrorism has a serious problem: a democratic deficit at best; fundamentally anti-democratic leanings at worst. First came last year's decision of the University of Reading to ask students to be "cautious" when reading a left-wing essay on their reading list, in the alleged interest of Prevent. Prevent is part of the UK's counter-terrorism strategy known as CONTEST, first released by the Home Office in 2006 with its latest revision last June.
It consists of "four P's": prevent, pursue, protect, prepare. Prevent is effectively a call for citizen paranoia — since 2015, all NHS staff have to pass "radicalisation awareness training", and nation-wide schools are asked to safeguard against radicalisation.
The practice has crept into universities. In a 2017 article for the London Review of Books, Karma Nabulsi, Associate Professor for Politics and International Relations at the University of Oxford, gives a whole range of scary examples: a Sikh student praying in her room is overheard by cleaning staff, so her room is searched; a student's request for permission of a film screening on Palestin- ian refugees is denied on the grounds of "extremism" legislation; a Muslim student explains she'd been suffering from depres- sion — in response she's asked whether she was "being radicalised". The list goes on.
The fact that an essay assigned for course reading is labelled a threat should raise more eyebrows than it did. Do we really believe that students reading "Our morals: The ethics of revolution" are in danger of radicalisation? Are we next going to purge Marx and Lenin from the classroom? If CONTEST is supposed to protect "British values," is outright censorship one of them? How on earth did this become acceptable?
The UK is not the only example of this. As a German citizen, I've been following the news about an investigation against Berlin-based artist collective Centre for Political Beauty with disbelief. The group frequently makes the headlines with its combination of provocative satire and guerrilla art-activism: in 2015 they exhumed the bodies of refugees that had died at Europe's external borders, flew them to Germany, and buried them on a Berlin graveyard to bring home the consequences of European refugee politics.
Sympathisers dug symbolic graves across Germany. Later that year the group launched a crowdfunding campaign for a bridge that would connect Europe and Africa; the money raised was then spent on a rescue platform in the Mediterranean Sea. In 2017, they invited high-school students to compose anti-Erdogan flyers which were then printed remotely in a hotel room in central Istanbul and sailed out of the room's open window over Gezi Park.
And finally last year, when far-right politician Björn Höcke, Thuringia delegate for "Alternative für Deutschland" (AfD), publicly called the Berlin Holocaust Memorial a 'memorial of shame', the Centre crowdfunded a replica of the memorial which was then installed next to the politician's private home. Thuringia had previously become infamous for the complicity of its branch of the German secret service in the activities of the "National Socialist Underground" (NSU) terrorist network. With that in mind, the artists called for a "civil secret service" to surveil Höcke's home for as long as he wouldn't kneel before the replica memorial.
The collective has received death threats in response. Höcke himself proclaimed that whoever "does this is, in my opinion, a terrorist." Thuringia delegate Christian Carius (CDU) empathised, arguing the artists used "Stasi methods" which had "nothing to do with art".
This month, a freedom of information request by a Thuringia delegate for Germany's left-wing party (Die Linke) revealed that an undercover criminal investigation against the collective had been underway for the past 16 months — on the legal grounds of "suspicion of formation of a criminal group" under article 129 of Germany's penal code (StGB). Prosecutor Martin Zschächner justified this by referring to the group's declared intention to spy on Höcke, which he argues constitutes a criminal offence. Other groups investigated under 129 are right-wing extremist hooligans, Holocaust deniers, and suspected members of the Islamic State — natural company for an artist collective of course.
There is reason to doubt prosecutor Zschächner's neutrality: he is known to be close to AfD, has donated money to that party, and initiated the prosecution a mere four days after Höcke had publicly called the artists "terrorists". This doesn't look like a pure coincidence. Just recently, less than a week after it became publicly known and numerous German artists and intellectuals expressed their fierce objection, the investigation was closed with immediate effect. Thuringia's minister of culture has called the message this prosecution sends to Germany's art scene "disastrous".
But this is more than just a disastrous prosecution, more than just a scandalous denial of artistic freedom, and certainly more than just a bad apple: it is symptomatic of an unacceptable ambiguity at the heart of counter-terrorism regulation.
It shouldn't be hard to decide where to stand on this. Of course, terrorist attacks must be taken seriously as a threat, that's out of the question. But it is out of the question, too, that "terrorism" and "counter-terrorism" are wildly vague terms. Strategies and frameworks devised by governments can use that vagueness for political purposes. And that is exactly what has happened: counter-terrorism, as it stands now, is not just a strategy — it's politics. It is not some objectively devised measure to combat suicide bombers, but a powerful instrument.
Policing efforts aside, what counter-terrorism has empowered in practice — be that through Prevent's vigilante fantasies or by censoring art in the name of 129 — is right-wing paranoia. This becomes perhaps most obvious in the guise of anti-Muslim prejudice, but counter-terrorism's red scare reveals an- other depth to its politicisation. And we've let that happen.
So yes, it is out of the question that terrorism is a threat. But it is out of the question, too, that we are entitled to our opinions. It is out of the question, too, that art must be free. And it is out of the question that a democracy must tolerate if not embrace dissent, contention, opposition, satire, humour. Without it, what's left?
---
For Cherwell, maintaining editorial independence is vital. We are run entirely by and for students. To ensure independence, we receive no funding from the University and are reliant on obtaining other income, such as advertisements. Due to the current global situation, such sources are being limited significantly and we anticipate a tough time ahead – for us and fellow student journalists across the country.
So, if you can, please consider donating. We really appreciate any support you're able to provide; it'll all go towards helping with our running costs. Even if you can't support us monetarily, please consider sharing articles with friends, families, colleagues - it all helps!
Thank you!